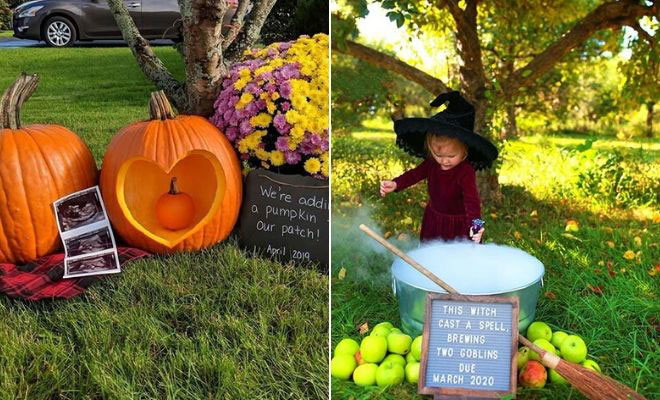 Instagram
Lifestyle
21 Halloween Pregnancy Announcement Ideas
By
|
If Halloween is one of your favorite holidays and you have found out that you are expecting a baby, then this is place for you. Today, we have 21 of the best Halloween pregnancy announcement ideas. With these you can make this year extra special by sharing your exciting news. We have announcements with classic pumpkins, magical witches and more. Take a look and make your pregnancy announcement spooktacular!
1. Hocus Pocus Themed Announcement
The first pregnancy announcement has a theme based on one of the classic Halloween movies. As you can see, an announcement photo has been taken. The image includes a pumpkin, Hocus Pocus sign, scan photo and a baby suit that reads "Winnie I Smell A Child" with the due date. This is a fun and spooky idea and it is perfect for the fans of Hocus Pocus.
2. Mummy To Be T-Shirt
If you want to share your exciting news at a Halloween party or maybe even with a photo, then you should consider wearing a pregnancy t-shirt. There are so many fun designs available for Halloween such as this "Mummy to be" shirt. This is a fun and easy way to reveal you're expecting and these t-shirts are available on the Instagram page below.
3. No Tricks Just a Treat Pregnancy Announcement
Next, we have another cool Halloween theme reveal. Here we have a sign that reads "No tricks, just a treat our family is growing by two little feet". The sign is surrounded by flowers, a pumpkin and a scan. This is a fun way to reveal at a Halloween party, as you can use this as decor and everyone will find out at once. You could also use this as a photo reveal to share with family and friends online.
4. Something Special Is Brewing
This next idea is one of our favorites. Here we have a baby onesie that reads "This Halloween something special is brewing" with the due date underneath. It is such a fun idea and it is perfect for a witch themed announcement. You can buy this suit online and easily recreate a magical Halloween pregnancy reveal. Add a scan photo, a pumpkin and some Halloween decorations to make this announcement even more special.
5. Sibling Halloween Pregnancy Announcement
If you love the witch and magical theme, then you need to see this idea too. Here we have an announcement that includes the sibling. So, the brother-to-be is sat on a chair holding a sign with a cute rhyming spell on it about him becoming a big brother. It is such a unique and fun idea and it is perfect for photo reveals for social media and it will be a special memory to look back on to.
6.  Skeleton Bump T-Shirt
If you are thinking of hosting a Halloween party and revealing your news at the same time, then this is for you. This shirt features a classic Halloween skeleton design. Near the bottom of the t-shirt there is a skeleton baby! This is such a unique way to tell everyone you're expecting. Everyone will get such a surprise when they see you wearing this.
7. Halloween Twin Pregnancy Reveal
Expecting twins? If so, you need to see this idea. For this announcement we have a bucket with two pumpkins floating in it. There is a sign below that reads "two more pumpkins due" with the due date underneath. It is a great idea for the fall and Halloween. This is an amazing way to reveal twins, too. Of course, this idea would work for any number of babies!
8. Very Special Treat with a Pumpkin
Earlier in the post we featured a sign about how there is no trick just a treat. If you liked that reveal, then here is another version. This time we have the same phrase wrote on a different sign. This one has a more classic Halloween look with the pumpkin. It just shows how you can create different reveals based on a similar idea.
9. Deady and Mummy T-Shirts
This next idea is so fun and unique! These parents-to-be have created a photo announcement. So, they are both stood together holding a small pumpkin with a scan photo attached. Mom is wearing a 'mummy' t-shirt and dad is wearing 'deady'. It is a cute reveal that shows your sense of humor. This is easy to recreate and it will be a great memory to look back on.
10. Halloween Pregnancy Announcement with Pumpkins
With this next idea you can get the whole family involved. Here we have mom, dad and the big brother-to-be. Each is holding a pumpkin with their roles and there is a pumpkin heart with the due date too. We love mom's pumpkin because there is a tiny pumpkin inside. It is a unique idea and you can try this with any family members from more siblings to aunts, uncles and grandparents too.