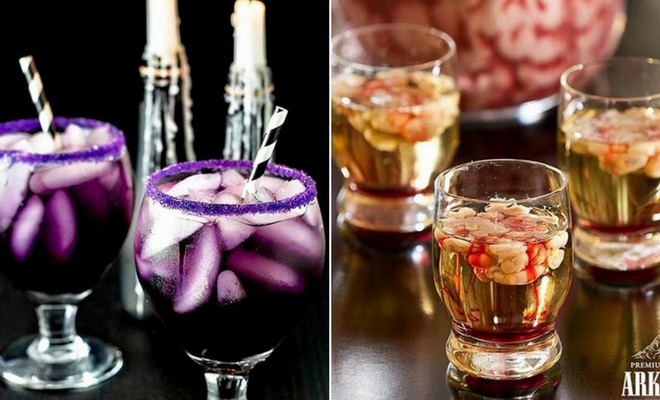 Instagram
Lifestyle
21 Halloween Party Drinks Your Guests Will Love
By
|
11. Pumpkin Juice
Next, we have a drink that will suit all ages. These cute drinks are made from orange soda, whipping cream, vanilla syrup, green sugar and sprinkles. The drinks are served in glasses with little pumpkins on the front. Party drinks like these will be a hit with every guest.
12. "Blood" Test Tubes
Here is another unique Halloween party drinks idea. This one features a tub of test tubes filled with "blood". The test tubes look realistic enough for a party and even have a blood type label. You could fill test tubes up with any red drink to recreate these gruesome drinks.
13. Candy Corn Vodka
Our next drinks idea has a subtle Halloween idea. This drink uses candy corn infused vodka that is served in a classy martini glass. Drinks like this will give you the taste of Halloween but it will look tasty, chic and not too gory. It is the perfect drink for someone who wants to celebrate without being too over the top.
14. Halloween Party Drinks
Next, we have another awesome idea on how to serve your drinks. These drinks have been served in bottles with funky Halloween labels. There is something for everyone from blood to potions. You could create some labels like these and put them on any bottle filled with any drink. It is a simple way to jazz up your cocktails for a party.
15. Halloween Cocktails
You do not need to dress your drinks up or create something gory if you don't want to. You could go for a simple drink for a Halloween party like this one. The drinks are served in normal glasses and use a fruit garnish. The color of the drink is what makes it suit Halloween. So, when you are thinking about drinks for Halloween make sure you pick creepy color. This will make it an instant hit.
16. Zombie Shot
If you liked the Zombie Brain shot from earlier in the post, then you might like this one to. This is one is called the Zombie shot. It uses similar ingredients but it creates a slightly different look. The ingredients do vary from recipe to recipe. You can create a zombie shot like this one with peach schnapps, Irish cream liqueur, blue curacao and grenadine. Perfect for any zombie fan.
17. Skulls and Skeletons
For your Halloween party drinks to be a hit, you should consider what you will serve the drinks in. This idea features a glass skull to hold the drinks and skeleton glasses to drink out of. Funky serving ideas like this will make your party epic. You could put any cocktails in drinkware like this.
18. Spider Cocktail
A very simple way to transform any drink into a Halloween hit is to add a garnish and/or decoration. This cocktail has a spider on the top and has a skull mat underneath. Simple extras like this transform any drink. You could create something similar with any Halloween item from eyeballs to bugs and more.
19. Gory Cocktail
Fruit not only tastes great but some fruits are also perfect for creating gory Halloween party drinks. This cocktail uses a fig to create a scary looking drink. It looks like something out of an Alien movie. A simple slice of fruit can transform your cocktails!
20. Witches Potion
This witch potion is perfect for any party! This drink has been served in a black glass with an eyeball and spider straw. You can make any drink a Halloween drink with extras like these. You could use different decorative touches depending on your theme. The green color drink is perfect for a witch!
21. Green Zombie Cocktail
Last on our list is this green and ghastly cocktail. This would be perfect for any Halloween party. To make it you will need: vodka, kiwis, cocktail rim sugar, simple syrup and ice. It is simple to make and it will be a hit with all your guests.
We hope you have found some inspiration from our Halloween party drinks!