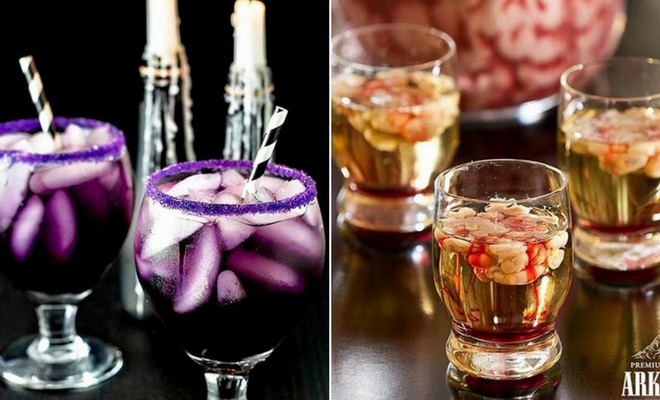 Instagram
Lifestyle
21 Halloween Party Drinks Your Guests Will Love
By
|
Throwing a Halloween party? Then you need to check out our 21 Halloween party drinks. We have a drink for everyone! Alcohol, no alcohol, scary, ghastly, ghoulish and more. Any of these drink ideas will wow your guests. Take a look to find your favourite.
1. Halloween Gummy Punch Bowl
First on our list is this Halloween punch bowl. Punch bowls are great for parties because guests can serve themselves and their glasses will always be full. These bowls are also good if you are expecting a lot of guests. You can fill you your bowl with any alcoholic or non-alcoholic drink. Add the gummy worms for a special Halloween finishing touch.
2. Zombie Brain Shots
If you are a zombie fan then this next drinks idea is for you! This one is called a Zombie Brain Shot. It is made with raspberry vodka, grenadine, lime juice and Irish cream liqueur. The key to this cocktail is the lime juice and cream liqueur as these two ingredients make the "brain".
3. Potion of Death
Next, we have a funky cocktail called Potion De Muerte or Potion of Death. This is a drink that looks like it tastes good whilst keeping in the Halloween theme. Something like this is perfect if you do not want gruesome drinks like the Zombie Brain. To make this cocktail you will need tequila, orange juice, lemon juice, beet juice, Agave Syrup and orange bitters.
4. Purple Halloween Drinks
Our next Halloween drink idea is perfect for any party. It looks spooky, tasty and is easy to make. All you will need is vodka, blue curacao, grenadine, cranberry juice, sweet and sour drink mix, simple syrup and purple sugar/sprinkles. Wet the rim of the glass to make the sprinkles stick, mix your drink, pour, add ice and you're good to go!
5. Blood Bath
If you are having a party with quite a few guests then consider making a sharing cocktail. These can be filled up and shared between more than one person. This next idea is the perfect way to create a Halloween cocktail to share. It is called the Blood Bath! To make the cocktail you will need: blackberry liqueur, elder-flower liqueur, Prosecco, raspberries, blackberries and lemon. A drink like this is scary and fun, making it perfect for any party.
6. Witches Brew
Our next pick is perfect for any party, it is the witches brew! This drink looks spooky and delicious. It was made with vodka, Strega, beer, lemon, coriander-lager syrup, and a Peychauds bitters float. Just add a spider to the top for the finishing touch. Drinks like this will be a hit with every guest.
7. Candy Corn Shots
Next up we have a fun shots idea for your Halloween party. These are candy corn shots. Every guest will love these cute jello shots. There are different recipes online to make these. You can make shots like these with orange jello, unflavored gelatin, condensed milk, water, yellow food coloring and vanilla vodka. There are plenty of recipes available online.
8. Syringe Shots
Want unique Halloween party drinks? Then this next pick is for you. These drinks use lab beakers as cups with syringe shots. You could recreate this with any drink you like. The syringes can be filled with liquid or jello shots to. We love this creative idea.
9. Classy Witch's Brew
If you don't want your drinks to look to disgusting or gory then this next drink is for you. This green cocktail is served in a martini glass with a witch's hat and spider for decoration. The simplicity of the drink makes it look classy but the color and decorations make it suit Halloween. You could recreate this with any cocktail.
10. Eyeball Cocktails
You can jazz up any drink for a Halloween party. These feature a spider and floating eyeballs. Little extras like these make the drink perfect for a Halloween party and all your guests will love them. You could use any cocktail alcohol or non-alcohol and add decorations to create an awesome Halloween drink.