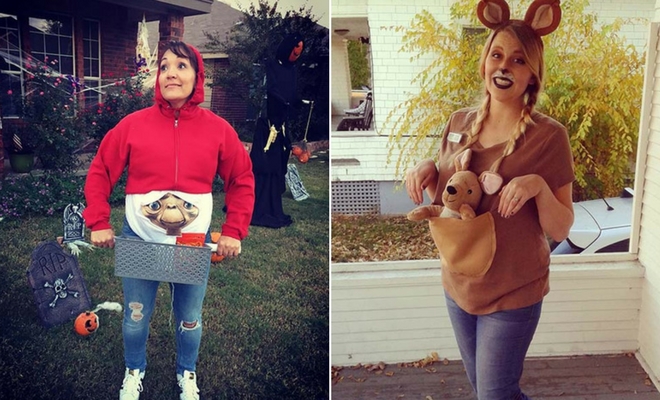 Instagram
Lifestyle
41 Halloween Costumes for Pregnant Women
By
|
Looking for a maternity Halloween costume? Then you are in the right place! We have found 41 Halloween costume ideas for pregnant women. Whether you are looking for something classic and spooky or fun and unique, we have the costume for you. There are so many ways that moms to be can dress up their bump to create an awesome costume. Have a look to find your favourite.
1. Day of the Dead Skeletons
First up we have this Day of the Dead skeleton costume. The Day of the dead skeletons are a great costume choice for Halloween. This spooky skeleton is wearing a top that features a little baby skeleton which sits over the bump. A costume like this would be a fun choice for any Halloween party.
2. Cute Pumpkin Top
If you want to join in the fun of Halloween but don't want to be too over the top, then this next pick is for you. This costume idea is a simple orange t-shirt with a black pumpkin face. You could use black paint for this or create the pumpkin face out of paper, fabric or felt. It is a creative idea that is easy to recreate.
3. Juno Costume
Fan of the movie Juno? Then you will love this! This couple have dressed up like the characters. It is a fun way to dress as a couple and include the baby bump to. The costume is also great if you want to dress up but don't want to be anything scary. We love this unique and fun idea.
4. Fun E.T. Costume
E.T. is an iconic movie. Create an out of this world costume by recreating the famous bicycle scene. On this costume, the bump has been turned into the cute little alien while the mama is dressed as Elliot. A costume like this will require some effort to recreate but it is an awesome idea. It is perfect for the ladies who love D.I.Y projects and crafts.
5. Spooky Witch
If you want to dress up but don't want to make a feature out of your bump, then this next pick is for you. This mom to be has dressed up as a classic witch. It is a spooky and magical look that is perfect for Halloween. You can still see the bump but is not the focus of the costume. Something like this would be very easy to recreate too.
6. Scary Alien Costume
Want something gruesome and scary? Then this next idea is might be what you are looking for! This mama has recreated the iconic Alien scene. Something like this is a way to be scary but also include the bump. We love this creative twist on the classic horror movie.
7. Scarecrow and Pumpkin Costume
Scarecrows are classic Halloween characters. You can create a scary scarecrow or a cute one. This mom to be has created a super cute scarecrow costume. It has all the essentials like a hat, straw and makeup but with an extra special finishing touch. This scarecrow has an adorable pumpkin design over the baby bump. It is a fun way to dress you and the bump this Halloween.
8. Mummy To Be
Our next pick has taken the phrase mummy to be to a whole new level! This mama is dressed as a mummy with an extra pair of eyes over the bump. It is a costume that has the classic Halloween fun and it creates a great pun that everyone will love.
9. Feed Me Costume
Next, we have a costume that is creative, scary and fun. It has everything a Halloween costume needs. It features baby arms and legs with a trick or treat bag with the words feed me. Something like this is perfect for any mamas looking a unique costume or anyone who wants a D.I.Y project.
10. Funny Castaway Couples Costume
Dressing up with your other half is a fun option for Halloween. This couple have dressed up as Chuck and Wilson from the movie Castaway. Not only is it a creative costume for the occasion, but you can dress up the bump as volleyball Wilson. You could easily recreate both costumes this Halloween.