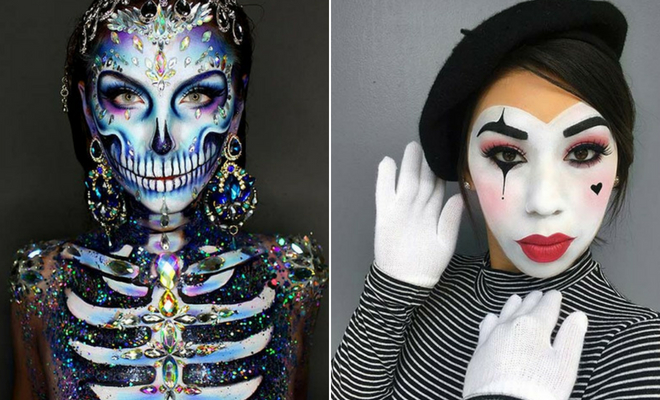 Instagram
Lifestyle
45 Cool Halloween Costume Ideas for Women
By
|
21. Pocahontas Halloween Costume Idea
Last on our list is this amazing Pocahontas costume. We love this idea because when people dress up as Disney characters, Pocahontas isn't a common choice. It is a different costume that will look great at parties and other celebrations. This would be perfect for someone attending a party with little ones or if you don't want to look scary.
22. Daenerys Targaryen Halloween Makeup
Daenerys Targaryen is one of the most loved characters of the show because she is a badass woman and a mother of three terrifying dragons. If you want to dress up like the Mother of Dragons, there are some interesting costume options. Dany is known for her platinum blonde hair, most amazing braided hairstyles, and of course, her dragons – Drogon, Rhaegal and Viserion. Fans of the show know that Daenerys is a true dragon and has  dragon blood, and the look below combines the two perfectly. This is such a unique and creative look – one of the best we've seen so far!
Luckily, we've found a YouTube tutorial for the look by the talented Keilidh, so you can easily transform yourself into a Dragon Queen.
23. Pretty Scarecrow
Scarecrow is an easy and fun Halloween option for women because you can easily recreate it with makeup you probably already own. The costume created by Tannetta is the perfect way to look pretty and cute for the party. You will need: some makeup, scarecrow hat, and burlap top or plaid shirt.
Here is a recreation of the look by Allie Burt Chesnut (cinder_allie on YouTube):
24. Pretty Sugar Skull Makeup
We saw this look done by Yalitza Monnè and instantly fell in love. This look requires black, white and red makeup for spider web and skeleton details, gold glitter, dark matte lipstick and some red roses for your hair. Super simple, right?
25. Jack-O'-Lantern Halloween Makeup
Nothing screams Halloween quite like Jack O'Lantern. This makeup artist got inspired by it, and created a glamorous makeup look. Products used for the look are: Juvia's Place 'Zulu' palette, Jeffree Star Cosmetics Skin Frost in 'Ice Cold', Wet n Wild 'Brights' paint palette, J. Cat Beauty 'Golden Pumpkin' glitter, Mehron Makeup 1927 Liquid Vinyl, and Suva Beauty Moisture Matte in 'Awakening'.
26. Astronaut Costume
Next, we have an out of this world costume idea. For Halloween, this lady dressed up as an astronaut. We love this costume because many have dreamed of being an astronaut and for one night you kind of can be! You can buy NASA costumes online and you can choose from a selection of different colors.
27. 1920's Flapper
Bring glamour to Halloween events this year by choosing a costume inspired by the 1920's. Here is a gorgeous example. This look is based on the flappers. A flapper was a woman of the decade who wore the popular bob hairstyle and was known for having a rebellious attitude. This look has all the key features including the makeup style worn at the time. It is a stylish and beautiful costume and it is perfect for a party.
28. Sally Costume Idea
The Nightmare Before Christmas is a movie loved by generations and costumes inspired by the characters always make an appearance at Halloween. This costume is based on Sally. The look is complete with the dress, red hair and stitched blue skin. You can buy the costume online and you can also find Sally makeup tutorials too. This is a cool costume that everyone will love.
29. Evil Queen
Love fairy tales and villains? If so, this idea could be perfect for you. Here we have a costume based on the Evil Queen from Snow White. This is a very glam version with a gold crown and accessories and the makeup is stunning. It is the perfect idea for those who want to dress up for Halloween but also look pretty too. You can find a full list of the makeup products used to create this look on the page below. So you can recreate it yourself.
30. Catwoman Costume
The next costume idea is inspired by Catwoman. There are many different versions of Catwoman and this one looks based on the character from the movie Batman Returns. It has the classic tight suit with the stitched black makeup. This costume will be simple to recreate. You can buy the Catwoman suits online or just wear a black jumpsuit and complete the look with the mask. There are makeup tutorials online for the mask too.