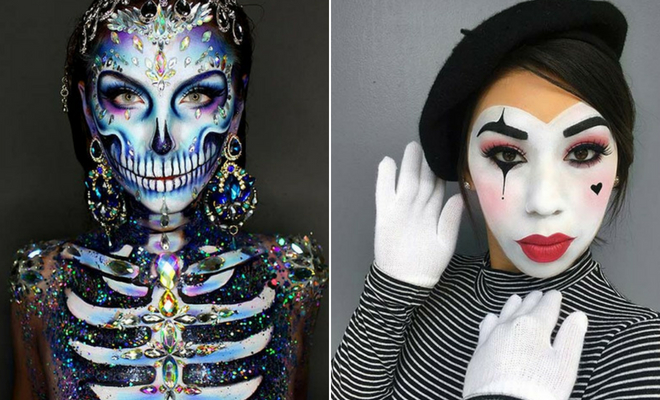 Instagram
Lifestyle
45 Cool Halloween Costume Ideas for Women
By
|
Thinking about what costume to wear this Halloween but want something different from the classic vampires, ghosts and zombies? Then you are in the right place. We have found 45 cool Halloween costume ideas for women. We have something for everyone, from costumes inspired by TV shows to makeup that will fright or delight.
1. Unicorn Halloween Costume
Our first cool Halloween costume idea for women is a magical unicorn. There are lots of different ways to create unicorn makeup and costumes but we love this one. The makeup is bright with pastel tones and matches the hair and tail. Her outfit is white and accessorized with crystals. Take inspiration from this and recreate something similar or use your own color palette.
2. Betty Boop Costume Idea
Betty Boop is one of the most popular animated characters ever created and our next idea is a brilliant example of a Betty Boop costume. The artist has created the large eyes and hairline with makeup, you don't have to create the doll like eyes, you can just have glam eyes with red lips. Then all you need is a red dress, gold jewelry and maybe a short wig to complete the look.
Follow Promise Tamang's simple tutorial and you'll end up looking like the real-life version of Betty Boop!
3. Pin Up Zombie
There are many costume and makeup ideas around that feature half of one design and half of another. We love this idea because you get two looks in one. This next idea features half zombie and half vintage/pin up makeup. With this, you get a popular Halloween costume and can join in the scary fun, but you can still look glam too. Try makeup like this or create your own horrifying zombie design.
This makeup look is not the easiest, so a YouTube tutorial is a must!
4. Beetlejuice Costume
Beetlejuice is an iconic movie that is loved by many. Here we have an awesome Beetlejuice costume idea for the ladies. The artist has recreated key elements including the stripe suit and green hair but has used makeup in a new and fresh way, resulting a unique look. You can try this idea or maybe create the classic Beetlejuice makeup.
If you're sick of the classic Halloween makeup looks and want to be different and unique, just follow Desi's YouTube tutorial and we bet you'll have the coolest costume at the Halloween party!
5. Rhinestone Skeleton Makeup
Skull makeup and skeleton costumes are super popular at Halloween. This next idea features an artist who has taken the classic and turned it into something unique and awesome. Illusion makeup has been used for the skeletal mouth along with rhinestones and brilliant body paint. You can take inspiration from this and create glam skull makeup or go all out and paint the ribs on the body too.
6. Cute Mime Makeup
Next, we have a mime makeup and costume idea. Mime artists do not talk they just use movement and expression to communicate. This would be so much fun at parties, you can use this to play jokes on people and more. If you like the mime idea then a costume like this would be perfect. The makeup is quite simple and you will need a beret, stripe top, white gloves and black pants or skirt. Super simple, right?
7.  Fortune Teller Pregnancy Halloween Costume
We have seen a lot of fortune teller costumers however this one is a little different. This lady has had her baby bump painted to look like the crystal ball. It is such a fun idea and is the perfect way to include your bump in your costume. If you are not expecting, you can take inspiration from the rest of the outfit for an awesome Halloween look.
8. Lara Croft Costume Idea
Fan of Tomb Raider? Then this next idea is for you. Here we have a kick ass Lara Croft costume. The look features a tank top with shorts, long boots and gun holsters. This is quite an easy costume to recreate and will look great at parties.
9. Two Face Halloween Makeup Idea
Next, we have another half and half idea. One side features beautiful makeup while the other features old, ghostly makeup. We love how the hair is grey one side to as it really suits the look. You can use this technique in your outfit too, maybe one side is clean and pretty while the other is ripped and old.
10. Eleven Stranger Things Costume
Our next idea is an Eleven costume inspired by TV show Stranger Things. The look features the dress, wig and Eggos that all the fans will know. You can also take inspiration from other characters or create a costume based off one of Eleven's different looks.