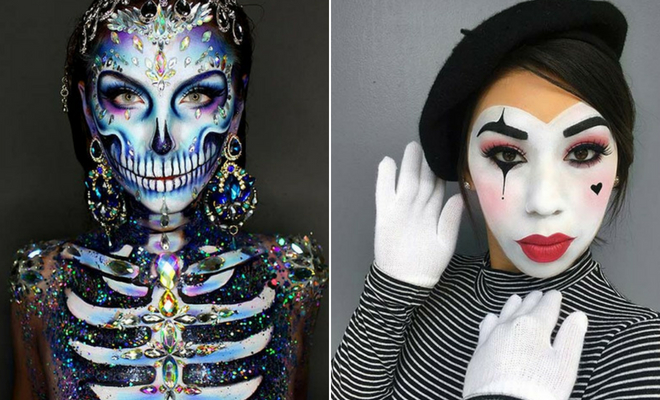 45 Cool Halloween Costume Ideas for Women
Thinking about what costume to wear this Halloween but want something different from the classic vampires, ghosts and zombies? Then you are in the right place. We have found 45 cool Halloween costume ideas for women. We have something for everyone, from costumes inspired by TV shows to makeup that will fright or delight.
1. Unicorn Halloween Costume
Our first cool Halloween costume idea for women is a magical unicorn. There are lots of different ways to create unicorn makeup and costumes but we love this one. The makeup is bright with pastel tones and matches the hair and tail. Her outfit is white and accessorized with crystals. Take inspiration from this and recreate something similar or use your own color palette.
2. Betty Boop Costume Idea
Betty Boop is one of the most popular animated characters ever created and our next idea is a brilliant example of a Betty Boop costume. The artist has created the large eyes and hairline with makeup, you don't have to create the doll like eyes, you can just have glam eyes with red lips. Then all you need is a red dress, gold jewelry and maybe a short wig to complete the look.
Follow Promise Tamang's simple tutorial and you'll end up looking like the real-life version of Betty Boop!
3. Pin Up Zombie
There are many costume and makeup ideas around that feature half of one design and half of another. We love this idea because you get two looks in one. This next idea features half zombie and half vintage/pin up makeup. With this, you get a popular Halloween costume and can join in the scary fun, but you can still look glam too. Try makeup like this or create your own horrifying zombie design.
This makeup look is not the easiest, so a YouTube tutorial is a must!
https://youtu.be/SD2_rWYzR40
4. Beetlejuice Costume
Beetlejuice is an iconic movie that is loved by many. Here we have an awesome Beetlejuice costume idea for the ladies. The artist has recreated key elements including the stripe suit and green hair but has used makeup in a new and fresh way, resulting a unique look. You can try this idea or maybe create the classic Beetlejuice makeup.
If you're sick of the classic Halloween makeup looks and want to be different and unique, just follow Desi's YouTube tutorial and we bet you'll have the coolest costume at the Halloween party!
5. Rhinestone Skeleton Makeup
Skull makeup and skeleton costumes are super popular at Halloween. This next idea features an artist who has taken the classic and turned it into something unique and awesome. Illusion makeup has been used for the skeletal mouth along with rhinestones and brilliant body paint. You can take inspiration from this and create glam skull makeup or go all out and paint the ribs on the body too.
6. Cute Mime Makeup
Next, we have a mime makeup and costume idea. Mime artists do not talk they just use movement and expression to communicate. This would be so much fun at parties, you can use this to play jokes on people and more. If you like the mime idea then a costume like this would be perfect. The makeup is quite simple and you will need a beret, stripe top, white gloves and black pants or skirt. Super simple, right?
7. Fortune Teller Pregnancy Halloween Costume
We have seen a lot of fortune teller costumers however this one is a little different. This lady has had her baby bump painted to look like the crystal ball. It is such a fun idea and is the perfect way to include your bump in your costume. If you are not expecting, you can take inspiration from the rest of the outfit for an awesome Halloween look.
8. Lara Croft Costume Idea
Fan of Tomb Raider? Then this next idea is for you. Here we have a kick ass Lara Croft costume. The look features a tank top with shorts, long boots and gun holsters. This is quite an easy costume to recreate and will look great at parties.
9. Two Face Halloween Makeup Idea
Next, we have another half and half idea. One side features beautiful makeup while the other features old, ghostly makeup. We love how the hair is grey one side to as it really suits the look. You can use this technique in your outfit too, maybe one side is clean and pretty while the other is ripped and old.
10. Eleven Stranger Things Costume
Our next idea is an Eleven costume inspired by TV show Stranger Things. The look features the dress, wig and Eggos that all the fans will know. You can also take inspiration from other characters or create a costume based off one of Eleven's different looks.
11. Unique Ice Cream Halloween Makeup
If you want a fun and unique Halloween makeup idea, then check out our next pick. This artist has created a melted ice cream look. She is wearing a cone hat with pink makeup on her face to look like melted ice cream. This is a great idea for anyone who wants to join in the celebrations but doesn't want to go all out. You can choose any flavor too!
12. Gremlin Costume Idea
Fan of the Gremlins? Then this unique costume idea is for you! Here we have a costume inspired by Greta. She is the first female gremlin and appeared in Gremlins 2. This is an awesome Halloween party idea and everyone who has seen the movies will love it. You can create detailed makeup like featured or make it more simple.
13. Half Robot Halloween Makeup
If you prefer sci-fi to horror, this next idea is for you. Here we have half robot, half human makeup. You can recreate a similar look to this one or recreate it with your own colors instead of blue. Anything goes for the outfit, but try and make it look futuristic with silver clothing or details.
14. Hocus Pocus Group Halloween Costume
Hocus Pocus is a classic Halloween movie and we have seen a few costumes. Usually only one witch is chosen, but if you have two friends or family members that are dressing up too, then you can create the whole coven. This would be awesome at a party.
15. Mermaid Costume
Next, we have a mystical mermaid makeup and costume idea. The artist has create a stunning mermaid look with shells, pearls, makeup and accessories. Take inspiration from this to create your own mermazing look. For the outfit, you can wear a shell bra and skirt for the classic mermaid costume.
16. Jack Skellington Costume
Our next idea was inspired by the Pumpkin King of Halloween Town, Jack Skellington. Now this artist has taken the iconic character and created a unique Halloween costume for women. As you can see, the key elements are there with the suit and skeletal face. She has just glammed it up a bit with a gorgeous wig. We love this look and want to wear it this Halloween!
17. Mother Daughter Halloween Costume
The Addams Family have inspired so many Halloween costumes. However, this one has made the list because here we have Morticia and Wednesday. The mother and daughter duo have created a costume idea that they can wear together. If there are other family members, they can join in too. You can maybe add Gomez, Pugsley, Uncle Fester, Grandmama and more. With this, the whole family can get involved.
18. Half Butterfly Skull Makeup
Next, we have a unique skull idea. Half the makeup is dark and beautiful and the other half is a skull. What makes this look extra special is the butterfly elements. As you can see, around the eye, there is a butterfly wing. We love this idea because is different and looks perfect for Halloween.
YouTube tutorial for the look is below!
19. Handmaid's Tale Costume
The Handmaid's Tale is a TV show and novel. Now the story is inspiring Halloween costumes too. Here we have a the iconic red dress and white hat. This is also a great costume because it has included the baby bump. Whether you are expecting or not, this will make an awesome costume for Halloween celebrations.
20. Creative Ice Cream Skull Makeup
If you liked the melted ice cream idea from earlier in the post, then you may like our next pick too. Here we have a melted ice cream look but it has been combined with skull makeup. This is such a unique Halloween makeup idea. You can recreate this look with any skull design and ice cream flavor.
21. Pocahontas Halloween Costume Idea
Last on our list is this amazing Pocahontas costume. We love this idea because when people dress up as Disney characters, Pocahontas isn't a common choice. It is a different costume that will look great at parties and other celebrations. This would be perfect for someone attending a party with little ones or if you don't want to look scary.
22. Daenerys Targaryen Halloween Makeup
Daenerys Targaryen is one of the most loved characters of the show because she is a badass woman and a mother of three terrifying dragons. If you want to dress up like the Mother of Dragons, there are some interesting costume options. Dany is known for her platinum blonde hair, most amazing braided hairstyles, and of course, her dragons – Drogon, Rhaegal and Viserion. Fans of the show know that Daenerys is a true dragon and has dragon blood, and the look below combines the two perfectly. This is such a unique and creative look – one of the best we've seen so far!
Luckily, we've found a YouTube tutorial for the look by the talented Keilidh, so you can easily transform yourself into a Dragon Queen.
23. Pretty Scarecrow
Scarecrow is an easy and fun Halloween option for women because you can easily recreate it with makeup you probably already own. The costume created by Tannetta is the perfect way to look pretty and cute for the party. You will need: some makeup, scarecrow hat, and burlap top or plaid shirt.
Here is a recreation of the look by Allie Burt Chesnut (cinder_allie on YouTube):
24. Pretty Sugar Skull Makeup
We saw this look done by Yalitza Monnè and instantly fell in love. This look requires black, white and red makeup for spider web and skeleton details, gold glitter, dark matte lipstick and some red roses for your hair. Super simple, right?
25. Jack-O'-Lantern Halloween Makeup
Nothing screams Halloween quite like Jack O'Lantern. This makeup artist got inspired by it, and created a glamorous makeup look. Products used for the look are: Juvia's Place 'Zulu' palette, Jeffree Star Cosmetics Skin Frost in 'Ice Cold', Wet n Wild 'Brights' paint palette, J. Cat Beauty 'Golden Pumpkin' glitter, Mehron Makeup 1927 Liquid Vinyl, and Suva Beauty Moisture Matte in 'Awakening'.
26. Astronaut Costume
Next, we have an out of this world costume idea. For Halloween, this lady dressed up as an astronaut. We love this costume because many have dreamed of being an astronaut and for one night you kind of can be! You can buy NASA costumes online and you can choose from a selection of different colors.
27. 1920's Flapper
Bring glamour to Halloween events this year by choosing a costume inspired by the 1920's. Here is a gorgeous example. This look is based on the flappers. A flapper was a woman of the decade who wore the popular bob hairstyle and was known for having a rebellious attitude. This look has all the key features including the makeup style worn at the time. It is a stylish and beautiful costume and it is perfect for a party.
28. Sally Costume Idea
The Nightmare Before Christmas is a movie loved by generations and costumes inspired by the characters always make an appearance at Halloween. This costume is based on Sally. The look is complete with the dress, red hair and stitched blue skin. You can buy the costume online and you can also find Sally makeup tutorials too. This is a cool costume that everyone will love.
29. Evil Queen
Love fairy tales and villains? If so, this idea could be perfect for you. Here we have a costume based on the Evil Queen from Snow White. This is a very glam version with a gold crown and accessories and the makeup is stunning. It is the perfect idea for those who want to dress up for Halloween but also look pretty too. You can find a full list of the makeup products used to create this look on the page below. So you can recreate it yourself.
30. Catwoman Costume
The next costume idea is inspired by Catwoman. There are many different versions of Catwoman and this one looks based on the character from the movie Batman Returns. It has the classic tight suit with the stitched black makeup. This costume will be simple to recreate. You can buy the Catwoman suits online or just wear a black jumpsuit and complete the look with the mask. There are makeup tutorials online for the mask too.
31. Unique Bride of Frankenstein Makeup
Another Halloween classic is the Bride of Frankenstein. This next idea features a unique take on the costume. Here we have amazing makeup with a stitched illusion. Some of her skin is painted green like you would expect with Frankenstein and the rest is left natural. This creates a cool and unusual look and it will make you stand out from the spooky crowd. You can find a mini tutorial for the makeup and see the products used on the Instagram page below. There is also a link to a full YouTube tutorial too.
32. Game of Thrones Inspired Costume
This next idea is for the fans of Game of Thrones. Here we have a costume inspired by the Mother of Dragons Daenerys Targaryen. The makeup artist has painted dragons on her face and the look is complete with hair like the character wears on the show. It is a fun and unique look that is perfect for Halloween parties. You can see the products that were used to create this makeup on the page below.
33. Cruella de Vil Costume Idea
Next, we have another costume inspired by a famous villain. This costume is based on Cruella de Vil. Everyone knows the classic story and even though she is one of the baddest villains we love the costume because it is so glam and very stylish. This look is complete with a fur coat, black dress, two tone hair and a cigarette. You can buy costumes online or you could DIY this one and make it yourself.
34. Classic Wicked Witch
We couldn't have a list of Halloween costume ideas without showing you a classic wicked witch. So, this next idea features just that. Here we have a witch costume complete with green makeup, black hat, stripes and a broomstick. This is a fun and easy to wear look. All you will need is the makeup and outfit, you could also wear a dress too. You can find witch makeup tutorials online.
35. Wounded Deer
The next idea features a gory twist on the classic and cute deer makeup. This makeup artist has created beautiful deer makeup complete with an antler headband. She has finished off the look with a bloody gunshot wound. This is a look for those who like deer makeup but who want to be more scary for Halloween. You can, of course, wear the deer makeup without the wound too.
36. Undead Bride
Want to look pretty and scary too? Well, this idea could be perfect for you. Here we have an undead bride. She is wearing a stylish white dress complete with a bridal veil and glam necklace. Her makeup is beautiful and she is wearing creepy contact lenses too. This is a spooky and easy to create costume for Halloween. Recreate this or you can go for more scary makeup, maybe even some blood.
37. Ninja Costume Idea
Next, we have a fun costume idea. This is a ninja costume complete with a cool dragon design and a fierce samurai sword. A costume like this is perfect for those who want to stand out and wear something different this Halloween. You can buy this outfit online and there are other styles available too.
38. Halloween Cheerleader
Like the skeleton makeup but need a cool outfit to go with it? Then why not recreate something like this. Here we have a Halloween cheerleader. She has painted her face and body to look like a skeleton and worn a black cheerleading costume too. This is a unique and fun idea. You can buy Halloween cheerleader costumes online and there are lots of different styles to choose from.
39. Unique Princess Fiona Costume
This next idea is perfect for those who love the movie Shrek! Here we have a costume inspired by Princess Fiona. One side of her face looks like the princess in the day and the other side looks like an ogre which Fiona turns into a night. It is such a unique and awesome idea. You can buy Fiona dresses online and you can check out the products used to create the makeup on the page below. There are makeup tutorials online too.
40. Mermaid Pirate Costume
Pirates and mermaids are both popular costumes for Halloween and this next idea is a combination of the two! The makeup artist has created beautiful mermaid makeup complete with gills. She has finished off the costume with a pirate inspired look that is finished off with a gold earring. This is a very cool idea and it is very unusual too. You can see what products were used for the makeup on the page below. You can also find tutorials online which can show you how to create gills.
41. Harley Quinn Costume Idea
Next, we have a Harley Quinn costume idea. There are different versions of the character but this one is inspired by the movie Suicide Squad. Again, this is a fun and easy to create costume and you can buy the complete costume online. This would be perfect for a party as you could get someone else to dress up as the Joker.
42. Playboy Bunny Costume
Want to look more sexy than scary this Halloween? If so, this idea could be perfect for you. Here we have a Playboy bunny costume. An outfit like this would be great for parties or if you are going out to celebrate Halloween at a club. You can buy these costumes online but this would be an easy DIY costume too. For a more scary look, you could add a Halloween twist with some contact lenses or dark makeup.
43. Wonder Woman
If you would rather be a Halloween hero, then you need to see this next idea. This costume is inspired by Wonder Woman. It is a cool look that is worn in the latest movie. You can buy wonder woman costumes online, the only thing you will have to decide is whether to choose the modern look or the classic wonder woman with the stars and cape.
44. Gangster Clown Costume
Another popular costume for Halloween is the gangster clown. Here is a great example of it. This makeup artist has created classic clown makeup with a gangster twist. The costume is complete with a bandanna and shirt. You can check out all the makeup used to create the look on the page below. There will be tutorials online for makeup like this too.
45. Queen of the Undead
The next idea that we have to show you has been described as Queen of the Undead. This costume is complete with scary makeup, a crown and a cute outfit. A costume like this will be quite simple to recreate and it will be great for any last minute Halloween events. Recreate this look or try the Queen costume with even scarier makeup. You could even add some wounds.
We hope you've got inspired by our cool Halloween costume ideas and have found the perfect look you'll be rocking this Halloween!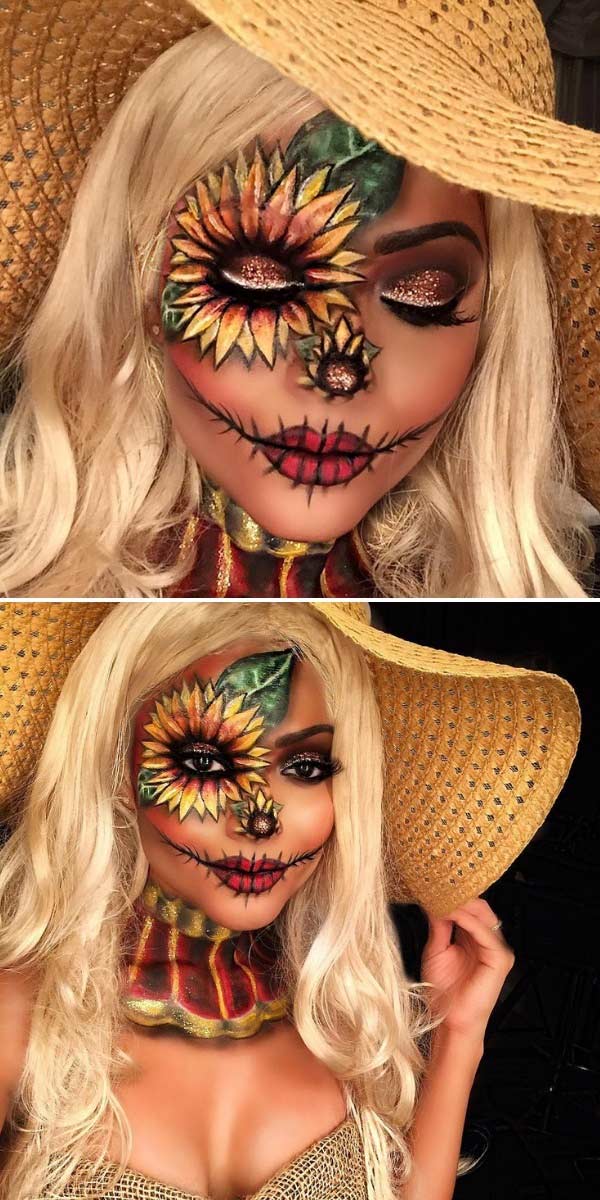 Last modified on November 15, 2022