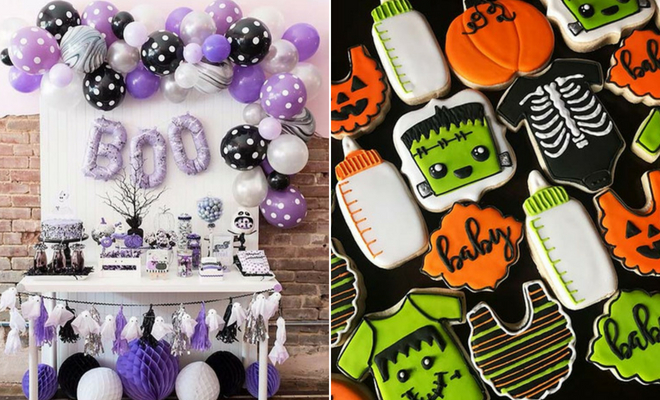 Instagram
Lifestyle
41 Halloween Baby Shower Ideas for Boys and Girls
By
|
If you are planning a baby shower that will take place in the late fall, why not have a Halloween theme?! You can celebrate both occasions in one and it will be a baby shower to remember. We love this unique idea and think you will too. So, we have put together 41 of the best Halloween baby shower ideas. We have cakes, decor ideas, games and more. Take a look, there is a spooktacular idea for everyone!
1. Halloween Baby Shower Cake
The first idea we have to show you is this Halloween baby bump cake. Baby bump cakes are very popular at baby showers and this one has had a Halloween twist. The cake features a cute skeleton baby over the bump. It is a creative cake, perfect for Halloween. Cakes like these can be made in any flavor and with any design.
2. Halloween Baby Shower Decor Idea
The decor ideas for a Halloween baby shower are endless. You can have any decor from spooky to chic like this one. This idea is like Halloween and glam mixed together. You have the classic pumpkins with added painted pumpkins. The boo sign and banners are also cute. Take inspiration from this to celebrate in spine-chilling style.
3. Gender Reveal Pumpkin & Smoke Idea
Many parents-to-be choose to share the gender of their baby with everyone at baby showers or gender reveal parties. If you are choosing to do this at Halloween, you could use a pumpkin like this. The pumpkin has been carved with a traditional face and has purple smoke coming out of it. For your baby shower, you could have pink or blue smoke.
4. Halloween Theme Baby Shower Cookies
Every baby shower needs sweet treats and our next pick is spooktacular. Here we have Halloween inspired cookies. These feature pumpkins, baby Frankenstein, pumpkin bibs and more. Every guest would love to eat one of these. Bake your own if you like baking or buy similar ones.
5. Family of Pumpkins
Next, we have a super cute decor idea. Here we have three pumpkins that represent the family. The large pumpkin has daddy wrote on it, the next one says mommy and the smallest pumpkin has baby wrote on it. This idea is easy to recreate and will look great. If you have a bigger family, add more pumpkins.
6. Unique Cauldron Cakes
Our next idea are these adorable cauldron cakes. For these, small cakes have been placed inside small cauldrons. You can bake any flavor cakes and decorate them however you like. Little cauldrons like these can be bought online. You can serve these on a buffet table or give them out as party favors.
7. Boo Decor Idea
Here we have another decor idea. This one is super cute and has a purple, black and white color scheme. We love this because it is beautiful and perfect for Halloween. There are ghosts and a boo sign, as well as Halloween inspired treats. Recreate something like this or put your own style into it, maybe change the colors but have similar decorations.
8. Photo Booth Frame
A fun activity you can have at your baby shower is a photo booth. Photo booths allow guests to take photos and you can even have props like wigs. For a photo booth you will need a frame, and this one is perfect for a Halloween baby shower. It has spiders, rats and more. If you have a name for the baby, you can have a welcome sign like this one. The photos can be kept as a memory and the baby will be able to look at them one day.
9. Nightmare Before Christmas Cake Idea
The Nightmare Before Christmas is a classic Halloween movie so it is no surprise it has made an appearance in this list. Here we have a baby shower cake inspired by the movie. It has the classic black and white stripes, moon and more. A cake like this is a must-have for any fan!
10. Funny Baby Pumpkin
Bring some humor to the baby shower with a baby pumpkin like this. The baby pumpkin has a traditional carved face and is being sick guacamole. This is quite funny because all parents know that babies can be sick quite a lot! You can serve other dips but the green guacamole will look the best.
11. Nightmare Before Christmas Baby Shower
Next, we have another idea for the fans of the Nightmare Before Christmas. Here is a way to decorate by using inspiration from the movie. The classic stripes are used in the decor and the table is full of the Nightmare Before Christmas treats. You may even spot a familiar cake!
12. Welcome Little Monster Cake Idea
Our next idea is inspired by monsters. The cake has a green tier and a blue tier that looks like the monsters from Monsters Inc. There is also a sign that reads welcome little monster. We love the baby monster pumpkin next to the cake too. There is also facts about the baby in the background. Something like this can easily be recreated for your Halloween baby shower.
13. Halloween Welcome Sign
Everyone needs to know where the best baby shower is taking place! Show everyone with a sign like this. It reads "Welcome, a baby is brewing. Let's celebrate". There are also pumpkins decorated as babies in front of the sign too. This would look amazing at any baby shower.
14. Halloween Baby Shower Cookies
Next, we have another cookie idea. These ones are inspired by pumpkins. One biscuit reads "welcome lil' punkin" and there are others decorated as baby bottles and more. Cookies like these are perfect for Halloween. You could add some spooky pumpkin faces if you don't want cookies that are too cute.
15. Baby Pumpkins Decor Idea
Our next idea features baby pumpkins. Each pumpkin has been decorated to look like a baby by using eyes and pacifiers. You can create some of these as decorations or maybe have plain pumpkins and get guests to decorate them as babies. Whoever creates the best pumpkin baby wins a prize.
16. Halloween Dessert Idea
You can jazz up the simplest of desserts so they are perfect for parties and celebrations. Here is a great example, here we have dessert jars. There is a different cake in each one and the jars have been decorated. You can recreate these or create your own spooky creations. Have them available for guests to eat or give them as party favors.
17. Fun Halloween Buffet Table Idea
Every party needs a buffet table and here is a great one for Halloween. The table is full of Halloween candy, pumpkins and more. You can have a lot of fun creating a buffet table like this one. Take inspiration and have a similar table or add your own spooky touches.
18. Cute Ghost Cupcakes
Next, we have another cake idea. These ones are cute cupcakes that feature a ghost design. Each ghost also has a little pink bow but you can take this off or add a blue decoration for a baby boy. Cakes like these are spooky and perfect for a Halloween baby shower.
19. Cute Cookies
Love the cookie ideas? Then you may like these cookies too. These cookies are also Halloween inspired. There are baby clothes and a pregnant witch cookie. You can recreate these or mix and match them with the cookie designs we shown earlier.
20. Cupcake and Drink Idea
You can jazz up the simplest of cakes and drinks with decorations like these. There are scary eyes in the drinks and a skull and boo sign in the cake. You can make decorations like these with cocktail sticks or you can buy decorations already made.
21. Haunted House Cake Idea
Next on our list is this haunted house cake. It is cute and has all the classic Halloween themes – graves, pumpkins, spiderwebs and more. A cake like this would be amazing at a baby shower. You can recreate a similar cake or make your own haunted creation.
22. A Baby is Brewing Baby Shower
Next, we have the cutest baby shower theme. This baby shower has a witch theme with a banner that says "A baby is brewing", there are Hocus Pocus cushions and a black cauldron. This is a fun and unique decor idea and it will look great in the photos. Recreate a version of this or try your own witchy design. You can go a little darker with the decor.
23. Baby Horror Character Cookies
This next idea is another one of our favorites. Here we have cookies in the shape of a baby suit. Instead of the classic and cute baby designs these cookies feature the outfits of iconic horror movie characters. So, it is like a baby version of each one. It is a unique idea and these are perfect for the baby shower dessert table.
24. Lil Pumpkin Joining The Patch
If you want cute and family friendly baby shower decor instead of spooky, then this could be perfect. Here we have hay that is decorated with pumpkins. One of the pumpkins has a pacifier so it looks like a baby. There is also a sign that reads "a little pumpkin is joining our patch". This is a fun idea for the fall and Halloween and it is quite simple to recreate too.
25. Welcome Little Nightmare Cake
Next, we have another Nightmare Before Christmas inspired design. This time we have a large cake with a baby Jack Skellington on the top. The cake also has a sign that reads "welcome little nightmare". This is such an awesome cake. Recreate this or you can add more baby versions of the characters on the top. If you know the gender you can also use this to create the design, so maybe if the baby is a girl you could have a Sally version.
26. Spooky Invitation Design
Every Halloween themed baby shower needs spooky invitations and these could be perfect! Here we have simple invites with a spider, webs and more. Of course, you would change the name on the invites! This is a cool idea and you can buy these on the Instagram page below or you could make a version of these yourself if you like crafts.
27. Fun Baby Shower Games
If you are looking for some fun baby shower games, then take a look at these. On this spooky table we have two games. For one, you have to write a funny message on a diaper for the parents-to-be. They can read it later on or when they are changing late night diapers to keep their spirits up. There is also blind folded diaper changing. So, guests have to wear a blind fold and put a diaper on the doll. Both games are fun and easy to recreate.
28. Creepy Dessert Table
Love the baby is brewing idea? If so, this is for you! Here we have a creepy dessert table with the baby is brewing sign above. This is a spooky and awesome way to present cakes, cookies and more. The banners also have a retro vibe which we love. If you want spooky, fun and stylish decor at your baby shower, then this is the way to do it.
29. Ready to Pop
Next, we have cute party favors that you could give out to guests. Here we have small black bags with a "ready to pop" sticker on the front. This is a sweet treat that guests will love and usually these bags have popcorn inside. These bags are placed in a cauldron which keeps with the spooky theme.
30. Witch Theme Guestbook
Many choose to have a guestbook at a baby shower. Here guests can sign their name to show they were there and they can also write little messages for the parents-to-be and the baby. This one is very unique and it has a witch theme. As you can see, a children's book called "Room on the Broom" is on the table. Guests can sign and write messages in the book and it can be kept as a special memory and it can be passed down to the baby.
31. Halloween Theme Cake Pops
The next idea features another sweet treat. This time we have Halloween themed cake pops. As you can see, there are four different designs. Cake pops are great for parties because everyone gets an individual piece of cake and they are so fun. You can buy cake pops or you if you like to bake you can buy cake pop molds.
32. Halloween Theme Gift Table
Many guests will bring a gift to a baby shower so it is a good idea to have a gift table and this is a cute and spooky one. As you can see, the table is decorated with a cauldron, broom and more. There is also a witch theme diaper cake too. A table like this is easy to create and it is a safe place for everyone to put their gifts.
33. Lil Boo Baby Shower
Next, we have another decor and dessert table idea. This one has a "Lil Boo" theme. It features lots of ghosts and other spooky decor such as bats. Something like this is fun and it is perfect for those who love classic Halloween decor and themes. Other areas of the baby shower such as the gift table can have the same ghost and purple theme too.
34. Pretty Baby Shower Cookies
Looking for sweet cookie designs for your dessert table? If so, check out these cookies. As you can see, the cookies are different shapes and they feature different cute and spooky Halloween theme designs. These give you the best of both worlds – you get the classic baby designs with a Halloween twist.
35. Spooky Guestbook
The next idea is another guestbook design. This one features a black frame with purple baby suits on strings. The frame is also decorated with flowers. For this one, each guest will write their name and a message on a suit. It is a spooky and fun idea. If you like crafts, you could easily make one of these yourself.
36. Bottle Labels
Another popular party favor are drinks such as small bottles of wine, champagne, cocktails and more. If you are giving out drinks, then why not add personalized labels? You could choose something like this. Each label reads "baby making potion" with the date of the shower and the names of the parents-to-be to. This is a fun and unique idea. Similar labels are available online and these ones can be bought on the Instagram page below.
37. Mummy-To-Be Costume Ideas
If you are having a Halloween themed baby shower, then why not wear a costume too! A perfect one for the mom is a mummy costume because then you can be a mummy-to-be! It is a fun idea and the guests can also get involved and wear a spooky costume. You could even give a prize to the best costume too.
38. Witch Pitch Game
Next, we have another game to show you. This one is called Witch Pitch. For this, there is a large and flat witch's hat. Small cauldrons have been placed on the hat. The aim of the game is to throw candy corn into the cauldrons from a distance. It is a fun game and you could even put a number of points next to each cauldron which you win if you get the candy corn inside. That way there can be a winner.
39. Halloween Theme Guess the Baby Food
Love the game ideas? If so, check this out. Here we have a Halloween themed Guess the Baby Food game. So, each guest tastes the food and has to guess what flavor they think it is. The food in the jars are also spooky and gross colors such as green and red so they really fit with the theme.
40. Baby Monster Cake
The next idea features another cake. This one has two tiers and each one looks like a baby monster. The bottom layer is a baby mummy and the top one is Frankenstein with a pacifier. This is such a cute and unique idea. Recreate this or you can use two different iconic Halloween characters instead.
41. Cute Floral Wreath with a Halloween Theme
If you want decor that is pretty but Halloween themed, then this perfect. Here we have a floral wreath. The flowers are in classic Halloween colors and one even has a stitched pattern. There are also two black webs. Something like this would look beautiful on the wall or on a door. If you like crafts, you could make one yourself.
We hope you have been inspired by these Halloween baby shower ideas!