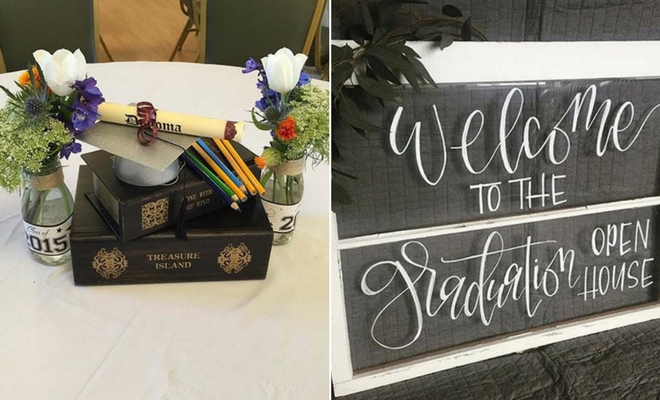 21 Graduation Party Ideas Any Grad Will Love
Are you planning a Graduation party? Then you need to check our best party picks. We have a selection of fun and creative ideas for food, decorations and more. The party won't last forever but the memories and photos will. So, get some inspiration to help you throw a Graduation party to remember.
1. Welcome to the Graduation
Show your guests where the graduation party is in style with a creative sign like this. It is a window redesigned into a welcome sign. You could create something like this with any wording and any color scheme. It's a unique way to add trendy decor to your party. Great as a diy project.
2. Class of 2017 Balloons
An easy way to decorate for a graduation party is with balloons. Class of 2017 balloons like these are perfect for a graduation party. The balloons are bold and will jazz up the room. Gold is a great color choice as it is the color of winners and suits the special occasion.
3. Advice for the Grad
Going out into the world after graduation can be both scary and exciting. Why not have advice for the grad like this. Each attendee writes down some wise words that the new graduate can use throughout their lives. It's a fun decoration that can also be kept as a keepsake.
4. Graduation Cakes
It isn't a party without cake! There are endless ways to decorate cupcakes. Consider using awesome graduation toppers like these. You get a neat finish, it suits the theme perfectly and will jazz up the plainest cake. Toppers will be a hit with every guest.
5. Save the Date Cards
Save the date cards have had a graduation party makeover. These cute little cards feature all the important info and have a grad cap design. Cards like this are the perfect way to let your guests know about your epic party. You could create any design you want to, would be a great craft project.
6.  Shoot for the Stars
If you're looking for a graduation party table inspo then check this out! This amazing table features shoot for the star's balloons and graduation cap decorations. The shoot for the stars theme is perfect for encouraging the new graduate to achieve their new goals. It's a beautiful table idea that will wow the guests.
7. Balloon Centerpiece
Balloon centerpieces are a fun decoration that can created in so many ways. These ones feature graduation balloons with money inside. Then the grad pops the balloon and gets the cash. It's a decoration and gift all in one. If the money idea isn't for you then you could fill the balloons with notes or memories, the choice is yours.
8. Personalized Welcome Sign
Here is another way to welcome your guests. Try a personalized sign like this. You could have any name, frame and font. You could even have the frame idea and write other things such as congratulations. This could be a fun diy project that will add a unique touch the party.
9. Graduation Congratulations Banner
Every party needs a banner, especially a graduation party. A congrats banner like this is just perfect. It is stylish and will suit any venue. You could have a few of these dotted around the room. The star adds a nice touch that would go perfectly with the shoot for the stars theme.
10. Photo Booth Frame
Photo booths are a fun must have for any party. These make your pictures unique and will be great to look back on. You could have any props you like but a frame like this would be a good choice for graduation. All the guests would love a photo booth frame.
Last modified on June 5, 2018