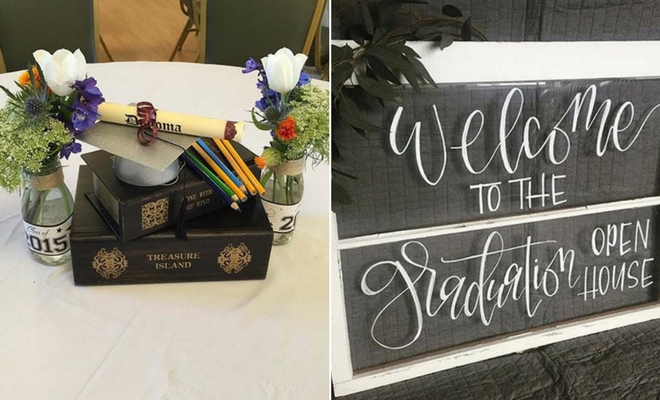 Instagram
Lifestyle
21 Graduation Party Ideas Any Grad Will Love
By
|
 11. Diploma Centerpiece
Here is a centerpiece with style. This one features a grad cap, books, diploma and cute vases. Something like this would look amazing on any table. You could add different books or some other bits and pieces like photos to make it unique.
12. Graduation Cap Cake
A graduation cap is the perfect design for a cake! This awesome cake looks too good to eat. You could have the cap in any color and have your own words added. It is a great place to start for cake inspiration. The guests and graduate will love a cake like this.
13. Party Plates
If you want to go all out on the graduation theme then check out these fab party plates. The plates come in gold and silver with a choice of class of 2017 or a graduation cap. Plates like these would look epic on a buffet table.
14. Congrats Balloon
We have another jazzy way decorate with gold balloons. Try creating a banner design with the word congrats. It is just a fun and easy way to make the room like nice. You could have it over your dining table like this or in any other party room.
15. Grad Cap Candy and Drinks
Like crafts and diy projects? Then this is perfect for you. Try giving your food, candy and drinks a graduation makeover with grad caps. You could create something like this with black card. It is just a cute and quirky way to decorate for a party. Your guests will love these.
16. Graduation Card Box
Card boxes are great to have at special events. It's a way for your guests to share their best wishes. You could have a statement card box at a graduation party. Take inspiration from this one. You could have any color scheme and even stick on a graduation cap. Create something that will wow.
17. Memory Jar
Another way to remember the good times is with a memory jar. It's a fun way to share memories between friends and family. Not only will it look awesome at the party but it will be great for the grad to look back on in years to come.
18. Graduation Napkins
Looking for a creative way to decorate the tables then check out these napkins! These funky napkin knots can decorate napkins and cutlery. You can have these personalized in any name and in many colors. If you are bit crafty you could even make something like this yourself.
19. Drinks Carrier
Here is something that will add a chic touch to your graduation party table. A wooden wine carrier. This is a cool and unique way to put wine on the tables. You could have one like this with a special graduation message. You could even have a go at making one yourself. Put a bit of paint on a plain carrier and you have a trendy centerpiece.
20. Cake Topper
We have another fabulous cake topper idea for you. Put something like this on the top of a cake and you'll have a cake that will wow. It has everything a graduation cake needs. You could use as inspiration for you own design.
21. Graduation Chocolates
Last on our list is these amazing graduation chocolates. These feature caps and scrolls and are personalized. A selection of chocolates like this would be great at a party. The chocs not only look fab but will taste good to! What more could you want. The guests will love these!
We hope you found the perfect party ideas. For all the graduates out there congratulations!