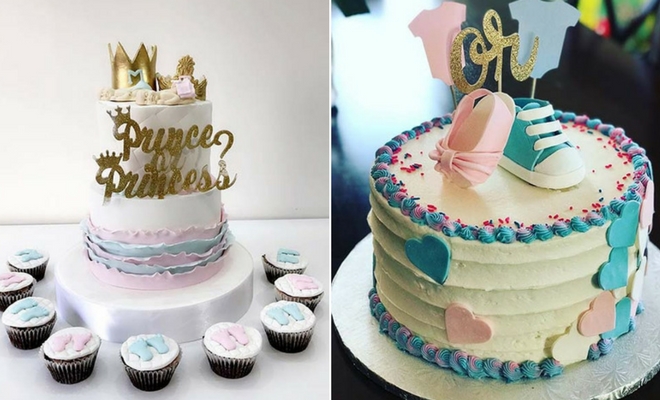 Instagram
Lifestyle
41 Cute and Fun Gender Reveal Cake Ideas
By
|
Looking for a creative way to announce whether you are expecting a girl or a boy? Then consider a gender reveal cake. A gender reveal cake has colored sponge on the inside that will either be pink or blue. Not only do these cakes look super cute but they are also a delicious treat. We have found 41 of the best gender reveal cake ideas, there is an idea for everyone from adorable animals to glam regal cakes.
1. Stylish He or She Cake with Macarons
First up we have this elegant gender reveal cake idea. The cake has white icing with pastel pink and blue macarons. It is finished off with a he or she cake topper. A cake like this will look amazing at a gender reveal party. You can have a similar cake created or even a cake with multiple tiers. To reveal the gender you could have colored cake inside, try to match it to the pastel colors on the outside.
2. Scan Photo Cake and Cupcake Idea
If you are looking for a unique cake idea, then this next pick could be for you. Here we have a large cake with small matching cupcakes. All the cakes are baby themed but some have an extra special decoration. The special decor is a scan photo. You can have edible photos created with any image. A cake like this would wow at a gender reveal party.
3. Cute 'What Will It Bee' Cake
Next, we have a super cute bee theme cake. The two tiers have a honeycomb pattern with small bees on both tiers, there is also a message reading "what will it bee". As the outside of the cake is yellow it keeps the gender totally secret until the reveal of the colored sponge inside.
4. Is It a Boy Or Girl Cake Idea
Cakes can look awesome when iced in different colors. This gender reveal cake features beautiful blue and pink icing. The colors are a mix of vibrant and pastel tones. We love this simple but great idea. You could have similar icing on any cake size and in colors of your choice.
5. Fun Staches or Lashes Cake
Our next idea is creative, unique and fun. One side of the cake is iced blue and the other pink. On the blue side it says staches with a mustache and on the pink side it says lashes with eyelashes. This is a great idea because it is different to the classic girl or boy cakes. If you are having a party you could make the guests guess staches or lashes too.
6. Unique Question Mark Cake Idea
A gender reveal is about the mystery. Will it be a baby boy or a baby girl? With that said, a great cake idea for a gender reveal is a question mark. As you can see in the image featured a question mark looks awesome when decorated with pink and blue. You can also buy question mark cake pans so you can even make a cake yourself.
7. Football and Ballerina Cake Idea
Next, we have a fun cake idea. The round cake has a football theme on one side and a ballerina theme on the other. It is just a creative way to show the classic boy or girl. You can take inspiration from this and choose two activities or sports of your choice.
8. Cute Open to See Cake
If you are looking for a very cute cake, then this idea could be for you. The cake features two elephants, one with a pink balloon and the other has a blue balloon. There is also a message on the cake that reads "he or she, open to see". This tells anyone who sees the cake that the gender will be revealed with the sponge. You could use any animal for a cake like this.
9. Surprise on the Inside
You can add color to the sponge in cakes to reveal the baby's gender. Here is an example of a pink sponge to reveal a girl. Not only have they colored the sponge but they have also added sweets as a surprise too. This is a great example of a gender reveal sponge, you can do the same idea in blue for a boy.
10. Pink and Blue Baby Shoe Cake Idea
Next, we have an adorable cake idea. The single tier round cake features white, pink and blue icing with cute baby shoes on the top. One shoe is pink and one shoe is blue. This is a creative way to decorate a gender reveal cake. You can recreate a similar cake to the one featured or  just have the shoe design.