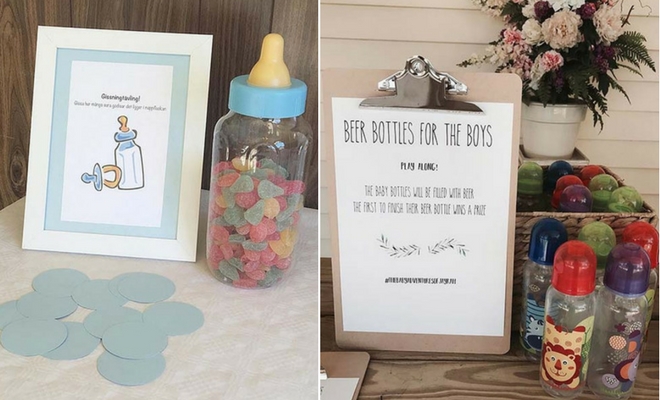 21 Fun Baby Shower Games and Prizes
Want to organize an amazing baby shower for the mother-to-be? Then you need to have a look at these baby shower games. Games are a great way to get everyone laughing and having fun. We have found 21 games that are creative and unique. Any of these would be perfect for any baby shower.
1. Personalized Blocks
First up we have these super cute personalized blocks. Each guest uses their artistic talents to create a unique wooden block for the new baby. A decorating game like this would be fun for everyone. Not only that but the mom-to-be will have a special reminder of the day. These could even be used to decorate the nursery.
2. Baby Shower Scratch Cards
Scratch cards are an easy game to have at a shower. These could be placed on each table or on a games table. The rules are simple and this can be played by guests of all ages. You could create your own design to suit any shower theme. Your guests will love these.
3. Diaper Raffle
Our next game is fun and practical! Everyone attending is asked to bring diapers and if they do their name goes into a raffle, then they have the chance to win a prize. Not only will someone win a cute gift but the mom-to-be gets stocked up on diapers. It's a win-win.
4. Baby Shower Champagne
Next, we have a super cute favor idea that you could give out as prizes. For the shower purchase little bottles of champagne and attach a poem like this. The idea is that the attendees take this home and wait until the baby is born, then they open the drink. A prize like this is fun on the day and will be a great way to celebrate the birth.
5. Old Wives Tales
When someone announces they are having a baby, someone will always share an old wives tale. These tales are said to predict the gender of the baby. Creating a game out of these stories is very popular at showers. You could create a board like this and ask questions like these to the mom-to-be on the day. Then all the guests make their bets as to whether the baby will be a boy or a girl.
6. Popcorn Prize
Looking for prizes for your baby shower games? Then you need to check out this quirky and creative idea. This shower featured a bowl with little bags of popcorn and the sign "ready to pop". Something like this is funny and cute and your guests will love it. It is a simple idea that will look great but won't break the bank!
7. Guess the Baby Food
Our next baby shower games idea is guess the baby food. This game has numbered jars of baby food and your guests taste each one and guess what it is. If you guess correctly you win a prize. A game like this is fun and can be played by attendees of all ages.
8. 
Onesie Decorating 
Here is another game that will get the guests using their creative skills. This activity has each guest decorating a onesie. There are many ways to decorate this from special kits to markers to iron on patches. You could even give a prize to the funniest, most stylish and more.
9. Baby Animal Game
Printable baby shower games are a fantastic choice. These are low cost, can be personalized and can be given to every guest. This "who's my mom" game would be a cute choice for any shower, especially if children are attending. You match up the baby animal to its mom. Something like this is fun and easy to play.
10. Beer Bottle Game
This next game is a beer game with a twist. Baby bottles are filled up with beer and the first to finish their drink wins. A game like this would get everyone laughing. You could also fill up the bottles with non-alcoholic drinks so everyone can take part.
11. Guess How Many Sweets
The guess how many sweets in the jar game has had a baby shower makeover! For this shower, a big baby bottle was filled up with candy. This is a cute game and can be personalized to suit any shower. You could have a pink or blue bottle and fill it up with your favourite sweets. All the guests have to do is guess the number of sweets and who ever is closets wins.
12. Baby Shower Bingo
Bingo is game that everyone will enjoy, making it a great choice for your shower. Instead of regular bingo why not try baby shower bingo! The rules are easy, just fill in the boxes with gifts you think mom will receive. Then if your predicted gift is opened mark the square with an X. You could design your own bingo card to suit your shower theme.
13. Advice for Mom
Give all the guests a chance to share their words of wisdom with advice for mom cards. These cute cards will be loved by the guest of honor and can be kept as a memory of the special day. To make things fun you could even have a prize for the advice that is the funniest etc.
14. Creative Prize Idea
These little soaps could make the cutest prize ever! The sweet pea soaps feature a thank you from the mom and her sweet pea. You could be creative with this idea and come up with your own cards. Any guest would be delighted to win one of these.
15. Guess the Birth Date
As many will know some babies do not arrive on the due date. Some are early and some are late. That is why a game like this would be great at a baby shower. Each person makes a prediction of when they think the baby will be born and sticks it on a calendar like this one. Then when the baby is born the person closest to the date wins.
16. Baby Bottle Trophies
If you're looking for a unique prize, then you need to have a look at these bottle awards. The awards are baby bottles painted gold. Your guests will love these and if you like crafts and diy, you could make something like this yourself. Bottles like these would be an amazing prize!
17. Cute Plant Prize
Give your guests a unique prize with cute seed packets like these. Each one is personalized with the due date. You could re-create prizes/favors like these with any flower seed and with any design. Perfect if you're having a woodland theme shower.
18. Baby Shower Party Bag
Need something to jazz up your prizes and favors? Then check out these party bags. The bags feature the mom and dad's name with the due date. Any prize would look awesome in a bag like this. You could choose any color scheme and font to suit your shower.
19. Tape Measure Game
A great game idea for any shower is the measuring tape game. To play this game all your guests need to do is cut the tape at the measurement they think is the size of the baby bump. You could use yarn if prefer. Then whichever tape fits the closest around mom's waist wins. It's a fun game that everyone will enjoy.
20. Don't Say  Baby
Don't say baby is a very popular game for a baby shower. Each guest has a clothespin and wears it throughout the shower. If someone hears you say baby they can steal your clothespin. Whoever has the most by the end of shower wins. You could try this with bow ties for a boy's shower and bows for girls.
21. Selection of Baby Shower Games
Last on our list is a cute selection of baby shower games. There is guess the date, a quiz on the mom-to-be and baby predictions. Games like these are printable and would be perfect to put on a games table. You could re-create these yourself in any color and design to suit any shower. Your guests will love these!
We hope you have found the perfect baby shower games! Any of these will make the baby shower a day to remember.
Last modified on November 20, 2022