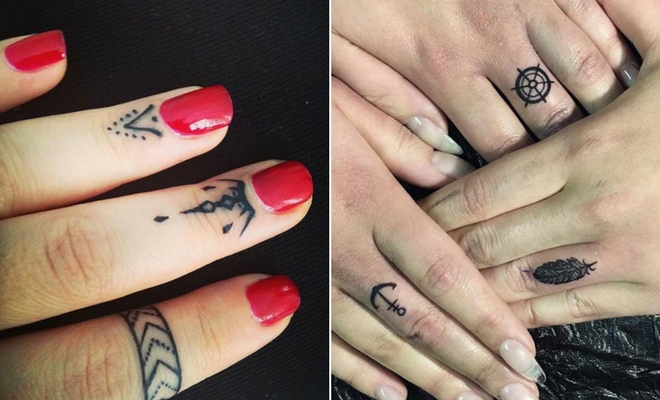 Instagram
Lifestyle
43 Cool Finger Tattoo Ideas for Women
By
|
Have you been thinking about getting a new tattoo? If so, you may have thought of the usual places like the feet, legs and arms but have you considered a finger tattoo? Finger tattoos have become very popular and look cool and unique. Even though it is quite a small area, you can still have some beautiful and intricate designs. We love these tattoos and think you will too, so we have found 43 of the best finger tattoo ideas for women. There is a design for everyone from quotes, to pretty flowers to animal art.
1. Cat Finger Tattoo
First up we have this super cute cat design. The tattoo is simple and features two black cat ears, nose and whiskers. A tattoo like this is perfect for someone who wants a design that is simple and quite subtle. It would be great for a first tattoo too.
2. Quote Finger Tattoo
Quotes are very popular design choices and quotes make stylish finger tattoos too. This design features the iconic Latin quote "Carpe Diem" which means seize the day. The quote looks awesome on the finger and you could have a similar design or choose a quote of your own.
3. Stylish Ornamental Tattoo
If you want a design that is more unique, then you could consider an ornamental tattoo like this one. The design features a trendy black ink design on one finger. We love this tattoo as it almost acts as jewelry. The designs that could be created for a tattoo like this are endless.
4. Star Sign Design
When choosing a design, it is a good idea to pick something that is personal to you. One idea you could consider is your star sign. You could choose your star sign, and have it tattooed on your finger like this. It looks cool and the design will not go out of fashion.
5. Cute Bee Tattoo
Next, we have an amazing bee tattoo. This design is the perfect example of how finger tattoos can be intricate but small. The detail on this tattoo is stunning. You could have a similar bee tattoo or choose a creature of your own. If you like the bee you could even have a simpler design.
6. Love and Heart Tattoos
You don't just have to have one finger tattoo, you could be more daring and go for two. This tattoo features a heart outline on one finger and the word love on another finger. The two tattoos are different but also link together. You could have something similar and you could even add some color.
7. Wedding Tattoo
Next, we have a finger tattoo idea for the married couples. These two have had a tattoo in roman numerals of the date they were married. The tattoos have been placed on their ring finger. This is a cute idea and you could have this in any font. You could also have numbers or maybe initials too.
8. Queen of Hearts Tattoo Design
Cards and suits are popular designs, our next tattoo shows how awesome this type of tattoo looks on the finger. A letter Q has been inked with a red heart outline. This queen of hearts will suit any woman. You could also have another suit designed too.
9. Stylish Finger Tattoo Ideas
You don't have to choose one large tattoo, you could have a few smaller ones. This idea features three small designs on three fingers. The designs are simple and in black ink. Tattoos like this would look awesome on anyone. You could have something similar or design your own.
10. Cute Arrow Design
Next, we have a small, trendy and subtle tattoo design. The tattoo features an arrow that goes down the inside of the finger. A tattoo like this is perfect for anyone who is looking for a simple design for a first tattoo. There are lots of different arrow designs you can choose from.