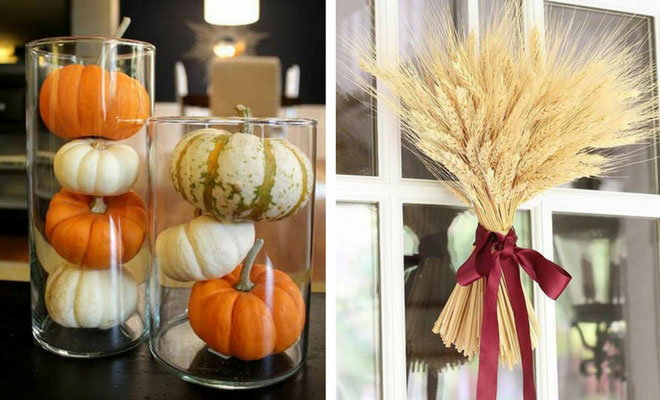 23 Easy DIY Thanksgiving Decorations
Celebrated in the USA and in Canada, Thanksgiving originally started as a way to give thanks for a great harvest, and to wish for a great harvest in the coming year too. That's why we've decided to take a closer look at some easy DIY Thanksgiving decorations. Taking you back to basics, you'll get a chance to get crafty with things you probably already have in your home.
You could even get the kids involved with some of these delights, most of which we fully intend to recreate for ourselves.
1. Thanksgiving Centerpiece
If you were looking for a way to up-cycle all those plastic pumpkins you had leftover from Halloween, this is a really great idea.  Just turn them into a centerpiece for your Thanksgiving dinner table. It really helps for setting that great Thanksgiving-y mood.
A little bit of spray paint can instantly give those old accessories a new lease of life, and you could match them to your interior decor too. These have been left the traditional pumpkin-orange colour, as well as white. We can't help but think that black would work also.
2. Cinnamon Stick Candles
How many boring, non-scented candles do you have lying around your home that you never end up lighting because they just don't smell pretty? Now you have a way to use up those old non-scented candles, giving them new life with the help of some well-placed cinnamon sticks.
Add the cinnamon sticks to the outside of the candle, throw some string into the mix to keep everything in place, and what do you have? Simple, easy DIY Thanksgiving decorations that everyone will ask where you got them from, that's what.
3. Easy & Eye-Catching Decor
For the smaller pumpkins that the kids couldn't carve into, what about making them into a centrepiece of their own, painting them gold and white. Perhaps even leave them their original colour, before placing in a large glass vase.
You could fairy lights if you wanted to, and you could even submerge plastic pumpkins in water, fragranced floating candles at the top. There's loads of ways in which you could use them, you just need to get a little creative.
4. Wheat Sheave Wreath
Its the simplest of ideas, and you'll often find wheat sheave bundles like this in your local dollar store, making it one of the cheapest easy DIY Thanksgiving decorations.
You'll just need some large and brightly coloured ribbon to wrap around the wheat stalks, and then you can use your fingers to tousle them out slightly, giving them this fanned look. Throw a hook on the back, and then hang from your front door. You have a great little decoration that won't break the bank.
5. Pumpkin Vase Centerpiece
You know those leftover pumpkins that are going cheap in the supermarket after Halloween? There's a chance you may even have a few of them going spare in your back garden? You know, because you didn't quite get the chance to carve them like you promised you would? Here's a good idea of  what you can do with them – use them as a vase for your orange and autumnal themed flowers to go into, before placing it at the centre of the dinner table.
Its a a great way of using what you already have at your disposal. Your Thanksgiving decorations really don't need to break the bank this year!
6. Paper Leaf & Branch Decor
This is such a good idea, and one of the easy DIY Thanksgiving decorations that you could totally recreate with the kids over am weekend. The aim of the game is to take them out for a walk in your local park to look for some gigs, branches and sticks. On the way home, grab some childproof scissors and coloured paper if you don't already have some. It's time to get crafty.
The walk will tire them out, so the kids will be more likely to sleep that night. If that doesn't work, the arts and crafts bit will  give  them something to do to keep them quiet. Plus, how much trouble can get they get into just making Thanksgiving themed shapes and hanging them from a tree branches?
7. Pumpkin Candle Holders
If you have some old pumpkin-shaped decorations about, you could always make these easy DIY Thanksgiving decorations. It's all a simple case of drilling or filing out enough space that a tea light candle will slide in there.
This is not advisable with plastic pumpkin decorations, as it will very obviously melt as the candle gets got, but the pumpkin scent will start to fill the room. If that doesn't set the Thanksgiving mood, we don't know what will.
8. Golden Leaf
Another great idea of something to do with the kids. You can make hundreds of these, and even larger ones, to decorate not only your own home, but also the homes of others too. With a few cheap frames, some leaves you picked up with the kids, and some paint, you have an afternoon activity to keep the youngsters amused on rainy days.
Not only that, you can come up with some pretty beautiful, one of a kind, unique pieces of art using these nature-based techniques. The grandparents will love them wrapped up for Christmas. Just saying …
9. Thanksgiving Table Idea
And for when you have more pumpkins than you know what to do with, what about this Thanksgiving table idea? Why not use lots of different (or the same, just painted different) fall-themed decorations to bring together one beautiful harvest-like look?
If you have mini pumpkins already, these will literally only take five minutes to make yourself. You will need to give them drying time though. Just paint them with any colour you like and give the stalks a wonderful gold finish, just to make them look super luxurious. Just because they're easy DIY Thanksgiving decorations doesn't mean they can get away with being cheap or shoddy!
10. Floral Stem Wreath
If you've got old floral decor that you no longer appreciate, give it a new lease of life by spraying them. Then attach them to a small circular frame, just like you can see here, to create an easy floral stem wreath.
You could recycle an old Thanskgiving wreath, or even old Christmas wreaths, and instantly give them a new lease of life with that lick of paint we told you about. Changing the colours from red, green and gold, to orange, brown and black is just what it takes to make things look nice and Thanksgiving-y.