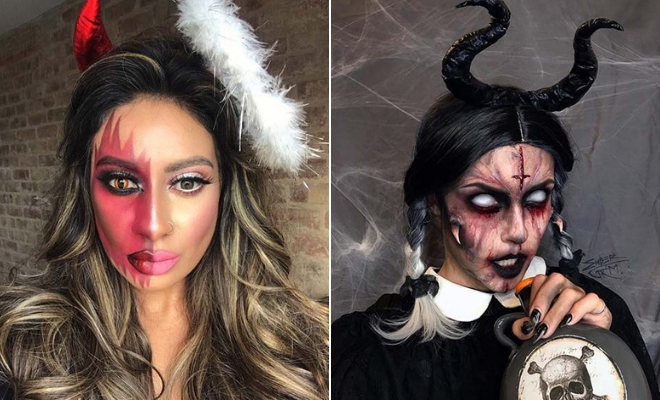 Instagram
Lifestyle
23 Devil Makeup Ideas for Halloween 2019
By
|
11. Terrifying Makeup with Horns and a Cross
The next makeup idea is truly terrifying! This costume looks like a girl with pigtails that has been possessed by the devil. The makeup features an upside down cross, bloody eyes and more. We also love the white contact lenses because they finish off the makeup perfectly. If you really want to scare everyone this Halloween, then create a costume similar to this.
12. Gory Half Devil Makeup
Next, we have another half style makeup design. For this look, the makeup artist has left some of her face glam and pretty while the rest is red and devil like. The area around the devil makeup also has texture and blood which makes her skin look peeled off. It is a gory and scary makeup idea. Recreate this or you can have more of the face looking like a devil. Either way, your makeup will be awesome.
13. Scary Devil Makeup with Horns
Looking for makeup that is scary, creepy but quite simple to create too? If so, this could be perfect for you! Here we have devil makeup with bold eyeliner, contact lenses, black lip color and an upside down cross. The makeup is finished off with devil horns. You can create this look with makeup you may already have. Then you just need the horns and contact lenses which can easily be bought during the Halloween season. Wear with a black outfit and your costume will be complete!
14. Illusion Half Devil Makeup
If you love the illusion makeup ideas, then you need to see this. The makeup artist has kept most of her makeup glam and a section of her face looks like a devil. She has also made her skin look like it is melting because she has added skin colored drips. The design is also on her neck too. This is a creepy idea and you can find tutorials online which can help you create a dripping skin illusion.
15. Creative Half Devil, Half Angel Idea
Next, we have another half angel, half devil idea. Most of her face looks like a red devil and the rest looks like a beautiful angel. What we really love about this is the halo and horn design. The halo actually looks like it is floating above her head. This is such a creative version of the popular Halloween makeup and we love it. You can recreate the floating headband yourself if you like crafts or you can buy headbands too. Either way, you will look angelic and devilish.
16. Beautiful Devil Makeup
So, when you think of the devil you may not think of beauty, but this next makeup look might change your mind! Here we have a red devil with beautiful makeup. The eye makeup is gorgeous and the black lip color looks amazing with the red face paint. Even though she is dressed up as scary devil, she does so in style! Makeup like this would be perfect for a party.
17. Bold Eye Makeup with Horns
Looking for more unique makeup? If so, you need to check this out. The makeup artist has created black and red eye makeup with dramatic black lines. This look is finished off with red lip color, red contact lenses and red devil horns. Makeup like this is great for those who want to join in the celebrations but also look a little glam too.
18. Fantasy Devil Makeup
The next makeup idea looks straight out of a fantasy story or game. She has dramatic eye makeup and half of her is the devil and the other half of her is an angel. We love this because it is a unique take on the idea. You can recreate this or just have your whole face red so you can be 100% devilish. All the products used in creation of this makeup are listed on the Instagram page below.
19. Half Angelic, Half Evil
Next, we have makeup that is half angelic and half evil. One side of her face is light and pretty and the other side is red and devilish. This is a great makeup idea for Halloween and it will be quite simple to recreate. If you wear the makeup without the textured skin it will be a brilliant last minute look for any Halloween events.
20. Halloween Red Devil
If you love the classic Halloween red devil costumes, then this idea is for you. For this look, the makeup artist has painted all of her face red. She has finished off the look with black makeup and red horns. This is another idea that is easy to recreate. You could add more to this makeup too, maybe try wearing contact lenses for an extra scary look.
21. Glam and Easy To Wear Devil Makeup
Bring glamour to the Halloween party with makeup like this. The makeup is simple and glam with red and sparkly eye makeup and red lip color. This costume is finished off with red horns, a cape and a glittery pitchfork. We love this because you can look beautiful and the costume is perfect for Halloween too. You can view a short tutorial and you can see the makeup used to create the look on the page below. There is also a full YouTube tutorial available.
22. Pretty Makeup with Devil Horns
This next idea features more pretty makeup. The artist has created stunning eye makeup and she is wearing red lip color. This look is complete with bloody devil horns. Recreate this or wear contact lenses for an even more devilish look. You can buy similar horns to these online and you can also buy horns on a headband for an easier application.
23. Unique Red Devil Makeup
Last on our list of devil makeup ideas is this unique look. This is another red devil and this one features black eyebrows and black eye makeup. We love this idea because by changing your eyebrows your face will look completely different which will add to the scariness. The makeup is complete with a bloody star symbol and red devil horns. Recreate this or you can try different shaped eyebrows and you could try it without the black drips too.