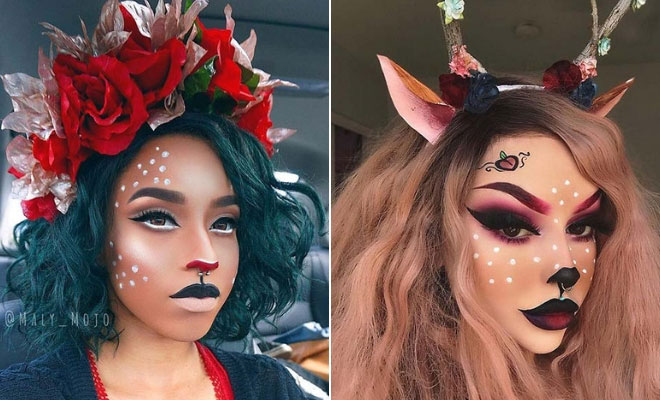 Instagram
Lifestyle
25 Deer Makeup Ideas for Halloween 2019
By
|
11. Pretty Makeup Idea for Halloween
Next, we have a pretty makeup idea. For this look, the artist has created the classic white spots and black nose. The rest of the makeup is beautiful and glam like you would wear for any occasion and the eyes are just stunning! This is an easy to wear look that allows you to enjoy Halloween, but also show off your gorgeous makeup skills too.
12. Deer Makeup with a Wound
Earlier in the post we shared a hunted deer makeup look. If you loved that, then you need to see this next makeup idea to. The makeup has an illusion to make her eyes look big and she has the cute black nose and glam red lip color has been used too. This look has been finished off with a wound on the head. The wound is painted on and it looks quite bloody and scary. This is a quirky look that will make you stand out this Halloween.
13. Simple Deer Makeup
If you need a last minute Halloween costume, then this makeup could be perfect! Here we have simple and stylish deer makeup. She has the black nose and lips, and a few white dots too. The eye makeup is gorgeous and has stunning winged eyeliner. We love this idea because it can be created with items you probably already have in your makeup bag. Wear the makeup with a black dress and you're good to go. You could even make a quick floral headband too.
14. Magical Deer Makeup Idea
Bring some magic to Halloween with deer makeup like this. The makeup artist has created gorgeous eye makeup, white spots, a cute black nose and two tone lips. There is just something about this makeup that makes us think of snowy magical lands out of a fantasy movie. It really is a beautiful look and it is perfect for someone who wants to dress up for Halloween without being scary. You can check out the full list of products used on the page below and it includes the accessories too.
15. Cool Face and Body Makeup
Next, we have a cute and cool makeup idea to show you. The makeup artist has created beautiful deer makeup, but she hasn't just painted her face. She has also used deer makeup on her body. By creating makeup like this, you kind of get costume too! Just wear with a low black top or dress and you are ready to celebrate Halloween.
16. Red Nose Deer
The next makeup idea is cute, trendy and edgy. This deer makeup features bold eyeliner with white dots and two tone lips. We love the brown and black combination on the lips, it is so stylish. The look is finished off with a red nose. As it is Halloween, a black nose would probably be the better choice. This makeup idea is one of our favorites and you can wear eye makeup like this for any occasion, so it is good to learn.
17. Stunning Deer Makeup
This next makeup idea is one of our favorites! The makeup artist has created stunning eye makeup with a black deer nose and two tone lips. She has also added white dots to her face and shoulders. The look is finished off with botanical antlers. We love everything about this makeup, it ticks all the boxes – it is cute, has a mystical vibe and it allows you to dress up in style for Halloween.
18. Creative and Unique Makeup Idea
If you want a more unique and creative version of deer makeup, then check this out. This makeup features white dots, two tone lips, a red nose, beautiful eye makeup and artistic brows. The eyebrows look amazing because they completely transform how the deer makeup looks. Makeup like this will be amazing for all Halloween celebrations. To make it a little more spooky, you could create a black nose instead of red.
19. Gory Deer Makeup for Halloween
Next, we have another gory makeup idea with a wound. This look features amazing eye makeup and the other deer classics. What makes the makeup different is the wound on the neck. By having the wound on the neck, it creates a unique look and it is different to the hunted deer. It also makes the deer makeup more scary for Halloween. There are lots of tutorials online that can help you create fake wounds.
20. Pretty Makeup Look
If scary really is not your thing and you want to look pretty and elegant on Halloween, then this idea is perfect for you. Here we have stunning makeup that is just like how you could usually wear it. The only difference is the added white spots and black nose. You will look beautiful for any Halloween party with this makeup and it will suit everyone. This is another great last minute look and it was created with Tarte Cosmetics In Bloom Palette and Nars Raquel lipstick.
21. Glam Deer Makeup with Floral Headband
The next idea is fun and floral! This makeup artist has created beautifully bronzed deer makeup. It is completed with a red nose, two tone lips and glam eyes. The look is finished off with a gorgeous floral headband, too. This makeup would be perfect for a party or trick-or-treating. You can make a floral headband with fake flowers, a plain headband and a glue gun. There are lots of tutorials online which you can take a look at.
22. Mythical Deer Costume
This next makeup idea has a mystical and magical vibe. The makeup featured here has amazing detail and the eyes are just stunning. What really makes the deer look unique is the beautiful white antlers. These color match the white makeup used and they give the deer an other-worldly look. Makeup like this would be perfect for a Halloween party.
23. Cute Makeup Look
Like eye makeup that is bold and statement making? Then this idea could be perfect for you. The makeup has the classic deer design with the white spots, black nose and black lips. However, the eye makeup is so unique and creative. The artist has created large and wide eyes with cute little eyelashes. Makeup like this will make you stand out from the crowd this Halloween.
24. Deer with a Gunshot Wound
Next, we have another hunted deer makeup idea with a gunshot wound. The wound makes the deer look ready for Halloween while the actual makeup itself is very glam. We love the eye makeup and think this would look amazing for a night out on the town! This is another great idea if you need a last minute costume.
25. Christmas Deer Idea
We know that this deer is for Christmas, but we think the makeup would look amazing for Halloween too. If you actually look at the makeup, the antler design is fabulous, the eyes are very glam and the nose and lips look awesome too. Simply make the nose black, ditch the Santa hat and you will look ready for Halloween. Of course, if you wanted to mess with people and have a joke, you could celebrate both holidays and wear Christmas deer makeup this Halloween.
We hope you have been inspired by these deer makeup ideas for Halloween!