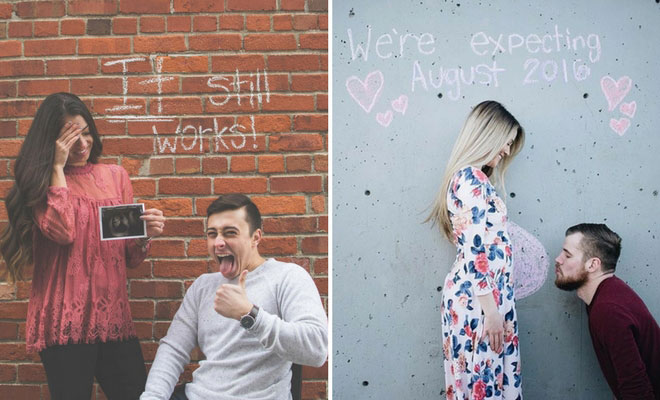 41 Cute and Creative Pregnancy Announcement Ideas
There is nothing quite as exciting as the announcement of a new baby, and when it comes to announcing your new bundle of joy, you will want to make sure things go down with a bang. So many people have done so many announcement ideas these days, it's hard to find something unique and individual, but we've found a few ideas that we think you night really like. We certainly did. Here are 41 cute and creative pregnancy announcement ideas.

1. Super Cute & Creative
All you need for this announcement is a set of chalks and a blank wall. Do you have a concrete wall in your back yard you could use? Is there an alley near by? Don't forget, if you're using chalk, it can easily be washed away, so don't worry too much about the graffiti factor. Simply stand in front of the chalk-drawn bump, and wrote those magic words above your head. Alternatively, you could add these in a photoshop application afterwards. Those apps are so smart!
2. First Pregnancy Announcement
Mama Bird, Baby Bird – this is a closet choice we definitely want to replicate. It's simple and to the point, and includes that classic pregnancy scan that everyone gets super excited about! Just remember, ladies, as soon as you make that announcement, everyone's going to want to touch your tummy. Let the batting-away-of-hands commence.
3. Big Brother
And what better way to announce the joyous news than with the big brother (or sister) in tow. Especially when they look as cute as this big bro, doing things the right way that's for sure! T-shirts cost next to nothing to have made these days, and you can even buy t-shirts with slogans such as these already made up. If you want a cheap and easy way to announce your big news, this one takes some beating.
4. Big Sister Balloon Announcement
How about balloons for your cute and creative pregnancy announcement ideas? Obviously, the child crying is an optional extra here, but it's certainly a funny way of reacting to the news that you're about to go from being the center of attention, to the big sister of a crying, drinking, pooping baby brother or sister, who will pull your hair and steal your makeup and clothes for many years to come. Oh the joys …
5. Second Pregnancy Announcement
Shoes, they're such cool things, aren't they? They look good, women go nuts for them, even men go nuts for them in today's modern day and age. What a great idea to incorporate your love of shoes in with your new pregnancy announcement. And it could all be as simple as grabbing yourself a sharping and having a little doodle. We thin kit's a blooming marvelous idea, how about you?
6. Twin Pregnancy Announcement
Whether you're expecting twins or not, you can't deny that this superhero-themed baby announcement really is the cutest thing ever. First time baby, second baby, 50th, baby, we don't care, we want to have lots of babies just so we can photograph this moment over and over again. At least this one isn't crying. Perhaps a superhero sidekick isn't so bad?
7. Simple Pregnancy Announcement
Are you looking for a very simple and stylish way to announce the good news? What better way than with super fashionable baby Converse sneakers, combined with a pregnancy scan, and a small print-out that reveals the good news. If you don't have chalks, balloons, or a wall to post in front of, a simple calendar announcement will do just the trick. Sometimes it pays to go back to the basics.
8. Let the Adventure Begin!
If you aren't ready to face people, and that constant barrage of questions, don't tell people yet. 12 weeks is the minimum point to pass before you start shouting about your news, but that doesn't mean you need to do it just then. Take the time to process this news, because it really is big news, before you start inviting everyone else in. Because you know what everyone else has – an opinion, and this really is a big adventure.
9. Sibling Pregnancy Announcement
Speaking of family and friends, remember that everyone is on the internet these days, so if a certain grandmother on the other side of the world doesn't know about the new baby, and you'd rather spill the beans than let someone else let her know, it's probably a good idea to wait a little longer. News on the internet really does travel super fast! It's crazy how fast!
10. Something Sweet is Brewing
If Mommy likes tea, and Daddy likes coffee, we can't think of a better way to reveal some very big news. Plus, cute and creative pregnancy announcement ideas like this are cheap, easy and have a big impact because of those two things. It's another of those smart ideas that helps to take things back to basics. Something sweet is definitely brewing, and we can't wait to meet it.
11. Converse Trainers Announcement
Those Converse trainers again, but what a great idea. Do Mommy and Daddy have matching Converse trainers? If not, we think it's the perfect opportunity to go and do some shopping. Not like you needed an excuse, of course.
12. Onesie (Bodysuit) Announcement
Do you remember that we discussed using a photo app on your phone to edit photos to make them look super cute? Well, cute and creative pregnancy announcement ideas like these enable you to use these apps. With a simple white babygro, a pregnancy scan picture, and perhaps some cute baby booties, you have the basics for a photo that would be complete with that hashtag date.
13. Funny Pregnancy Announcement (Paraplegic Man)
A sense of humor is a great idea, especially in otherwise serious situations such as this one. This man is clearly celebrating that everything "still works" despite his wheelchair-bound state, and in a world full of bad news, we think some funny good news is definitely necessary.
14. Cute 2nd Pregnancy Announcement
There are a few things you will want to take into account before you go announcing your big news, and one of the first things you should work out is, at what point during your pregnancy are you going to announce it? And are you going to tell certain, closer family members before you tell others, or friends? There;s a pregnancy-political agenda with such things these days, and it's best to discuss the matter with your partner beforehand. Are you ready for those Facebook notifications to start dropping in?
15. Bodysuits + Due Date
Most people would suggest that waiting until you are 12 weeks, or three months, pregnant before making the big news public is a good idea, because you are passed the point at which certain things, such as miscarriage, could occur the most. The first rimester of your pregnancy is a very special time, and it's the time you should be taking the most care of yourself. Worry about your big announcement later on – you've got nine months to break the news after all. Well, around three or four months, at least, until you start showing the hint of a bump.
16. 1, 2, 3
1, 2, 3 chairs – a simple idea, but one that definitely worlds. An empty chair spells one hell of a message, especially if you add a balloon in the shape of a number, #2, #3, etc. You could add a babygrow, pair of baby booties, or even a pregnancy scan picture if you wanted to, but with the cute-factor of cute and creative pregnancy announcement ideas like these, we don't think it's necessary.
17. Beach Pregnancy Announcement
Do you live near the sea? Perhaps you just so happen to be going away on vacation at the same time as your 12-month announcement stage? We think using the sand at the beach is a brilliant idea. You can write your big news in the sand, and add your feet – mommy and daddy – for added effect. We especially love the way the smaller pebbles have been used to create baby-feet imprints.
18. Simple, Onesie and Ultrasound Announcement
The ultrasound scan is a classic pregnancy announcement idea, and sometimes going back to the simple basics really works. Your legs, your first child's legs, and other children, if you have them. Add the baby grow, and perhaps a child's stuffed toy also, and you have something that works because of its beautiful simplicity.
19. Funny Chalkboard Twin Pregnancy Announcement
Chalkboards are an inexpensive way to make a brilliant baby announcement, and you can write pretty much whatever you like on them. This gives you the perfect opportunity to add lots of different funny pictures together, for a collage of new baby announcement prints. We love this idea, and we think it would also make for a great canvas series on the wall too … What do you think?
20. Family Announcement
Speaking of chalkboards, sometimes just a number can say everything, and that's definitely the case here. It's one of the simplest cute and creative pregnancy announcement ideas, but one that packs a massive impact. That kid in the middle looks utterly adorable, don't you think?
21. Future Best Friend Coming!
We all wish our kids could be best friends as well as siblings, and maybe if you push the idea from as easy a point as possible, it might just be possible. At least you'll get the cutest of cute and creative pregnancy announcement ideas out of it!
22. Cute Grandmother Announcement
Let someone know that they are going to be a grandma with a cute baby bodysuit like this. The bodysuit has "Happy Mother's Day Grandma" wrote on it. For someone who is not aware that you are expecting, this will be one amazing surprise. You can get other personalized items like this but without the Mother's Day part, so you could make the announcement during any time in the year.
23. Adorable Announcement with a Pet
Our next idea is perfect for the those who have pets! Here we have a couple who have included their dog in their announcement. The adorable dog is stood next to a sign that reads "Mom and Dad are getting me a Human" there is a due date too. It is a super cute idea and it is unique too. You can recreate something like this with any pet.
24. And Then There Were 4
If you are looking for a cute photo idea to announce your pregnancy, this could be perfect. Here we have a baby bodysuit that reads "guess what?" and there is also a board that says "And then there were 4" with a scan photo underneath. It is a creative idea and it includes the rest of the family in the announcement.
25. Movie Theme Announcement
The next idea we have to show you is one of our favorites. This is another photo idea and it shows a couple holding a babygrow. The parents to be are both wearing T-shirts from the movie The Goonies and the babygrow also has The Goonies design too. It is just a cute and unique idea. If you love The Goonies, then recreate this or you can use your favorite movie.
26. Unique and Funny Eviction Notice
Show off your sense of humor with a pregnancy announcement like this. The sibling to be is in a crib with an eviction notice on the side. It says that a new tenant will be arriving soon and there is a due date too. This is a funny and unique announcement that can include your other children too.
27. Cool Gaming Idea
Looking for a cool T-shirt to wear for a photo announcement? Then this could be perfect. Here we have a T-shirt that reads "I leveled up to Mommy" and then it says "New player joining". This is so cute and fun. It is perfect for the parents to be who love gaming. These T-shirts are available on the page below.
28. Cute Big Brother Pregnancy Announcement
Next, we have the perfect announcement for those who have other children. Here we have a brother to be that is sat next to a sign and it talks about how he won't be an only child and when his new best friend is due. This is super cute and it will be a special memory to look back on when both children have grown up. You can create something similar for big sisters too.
29. Can't Wait To Meet You
The next announcement idea is super cute. Here we have a photo that includes a baby bodysuit that reads "Can't wait to meet you". There is also a scan photo, flowers and adorable pink shoes too. This is a beautiful photo that can be shared with family and friends to share your special news. As the shoes are pink, it reveals the gender too, but you can keep it neutral so everyone is still guessing. If it is a boy, you can use something blue.
30. Pregnancy Test Announcement
If you are looking for a simple and funny idea, then this is for you. Here we have a letter board and it reads "Here we go again" with a due date and the pregnancy test underneath. Something like this will be easy to recreate and all your family and friends will love it. You can keep the photo you created as a memory of the special time too.
31. Funny T-Shirt Idea
Love the T-shirt ideas? Then check out these hilarious T-shirts. One says "Eating for two" and other has a design that says "Drinking for two". It is a funny idea and you can both wear T-shirts like these for a cool announcement photo. You can buy these T-shirts on the page below.
32. Cute Big Sister Pregnancy Announcement
Next, we have another cute announcement idea that includes siblings. Here we have an announcement photo with big sister and the due date written on the floor in chalk. The sister to be is sat on the floor with the scan photos too. It is such a creative and unique idea. This is an amazing announcement and it will be a special memory too.
33. Adorable Tea Party Idea
If you love tea parties or are a fan of Alice in Wonderland, then this announcement idea is for you. Here we have a tea party with the sister to be sat on one side of the table and seat reserved for her new sister on the other side. This is such a cute idea. If this is your first child, then you and your partner could be in the photo instead and you could go all out to make it look like Alice in Wonderland.
34. Unique and Creative Avocado Announcement
Love avocados? Then this is the perfect announcement idea for you. Here we have a mom to be that is stood in the background with half an avocado over her body, the seed of the avocado is the new baby! This is such a cute idea and it is very unique and fun too. You can recreate this photo or if this is your first child, then you can be stood by yourself.
35. Coming Soon…
Our next idea features another cute and simple announcement. There is a letter board and a baby bodysuit that reads "Coming soon". This is an adorable photo idea and the photo can be given to family and friends, so you can share your special news. You could even add other things to the photo like the scan picture or something blue or pink.
36. Baby on Board
Going on vacation? Then why not create an announcement photo like this one?! The parents to be are holding a summer hat on the beach and the hat has letters on it that read "Baby on board". It a simple and super cool announcement. Not only that, but it will make one special vacation photo too.
37. Harry Potter Announcement Idea
Are you a fan of Harry Potter? If so, this announcement is perfect for you! The parents to be have created a photo announcement with a Harry Potter theme. There are spell books, characters and more. It is a cool and unique idea and everyone who sees this announcement will love it. You could do something like this with a different movie too.
38. Big Brother Announcement
Next, we have another sibling announcement. This one includes the brother to be wearing a 'big brother' bodysuit. There is also a board that reads "Promoted to big brother" and there are scan photos too. It is a simple idea and it is super cute. An announcement like this will be great to look back on in years to come.
39. Timeline Announcement
Our next idea is another adorable announcement and this one has a timeline. This photo features a bodysuit that shows a timeline of when the parents to be got together right up until the announcement of a baby. It is just a cute and unique way to celebrate the fact that you are expecting a baby and also the journey that you have shared together.
40. Cute Beach Photo Idea
Earlier we featured a beach announcement and if you liked that, then you may love this one too. Here we have another beach photo, but this one features shoes. On the left, you have the dad's shoes, then the mom's and finally the new baby's shoes. It just a simple, unique and creative way to tell everyone you are expecting. You can of course do this with any shoes and with any background.
41. Pregnancy Announcement with a Friends Theme
Love the TV show Friends? Then why not choose an announcement like this?! Here we have a bodysuit with Janice's famous catchphrase "oh my god" and there is a scan photo at the bottom that is inside the frame from the show. It is a cool idea and all your family and friends will love it.
And then you have them – 41 cute and creative pregnancy announcement ideas that we think are brilliant and adorable in equal measures. How did you announce your pregnancies? Did you have adorable ideas like this, or did you come up with something different? We can't wait to hear all about it, of course, and you know what to do … Leave your comments below!