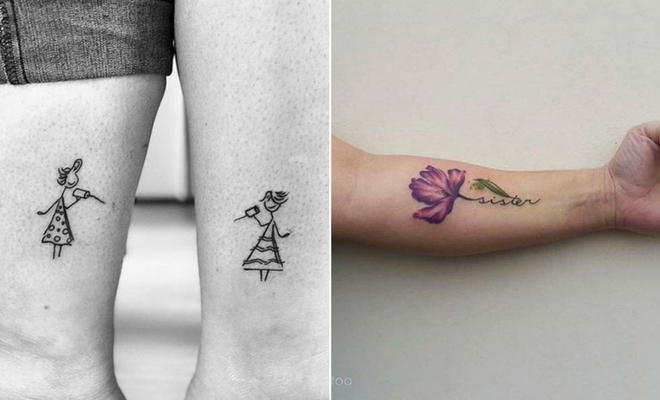 Instagram
Lifestyle
23 Cute and Creative Sister Tattoos
By
|
11. Cute Matching Floral Tattoos
Next, we have these cute floral tattoos. Both the sisters have the same flower design but with different colors. This makes the tattoos match but also gives each sister a nice tattoo for themselves to. You could have something like this and have the petals colored in your sister's favourite color.
12. First of Two Tattoo
If you liked the 5 of 8 tattoo featured earlier then you might like this one to. This simple ink features the "first of two". It expresses that there are two sisters and that she is the first born. It is a cute tattoo to show you are part of an awesome pair.
13. Creative Sister Tattoos
Our next pick is cute and creative. It features two cartoon sisters each holding part of a tin can phone. This is a fun piece that will be complete when they both stand together. Something like this shows you'll always be in contact with your sister but it could also be a memory of fun times with a tin phone when they were younger.
14. Sister Quote Tattoo
Quote tattoos are very popular and with beautiful quote tattoos like this we can see why. Each sister has had part of the quote tattooed on them so when they are together it is complete. The quote reads "There is no better friend than a sister and there is no better sister than you". This is a heart-warming quote that would be perfect for any sisters.
15. Big Sister Foot Tattoo
Numbers don't just express which sister you are. You could also have a tattoo design like this one that says big sister. Each one of you could have one with little sister, middle sister and big sister. Something like is a cute way to show your someone's awesome sister.
16. Small and Simple Matching Tattoos
Your sister tattoo does not have to be obvious. You could get a little symbol like this that means something to you both. Other people do not know what it means just you two. Something like this is also great if you don't want a bold tattoo just something simple.
17. Bold Ink
If you are looking for bolder sister tattoos then this might be for you. Each sister has had a big floral design tattooed on their arm with water color ink splashed over the top. This is another example of how different colors can make a matching design unique to each sister. We love both vibrant designs.
18. Four Suits
Here is another creative example of a sister tattoo. Each sister has had a small playing card suit tattooed in the same place. This shows that they are part of a "pack" and will always have a special bond. This is a cute and quirky idea that will suit any sisters of all ages.
19. Matching Family Design
A tattoo doesn't have to be bold and intricate to be beautiful. You and your sister could have a subtle sister tattoo like this one. It just features the word family in a gorgeous font. This a simple way to show the love you have for your family. You could use this as inspiration and have the word sister.
20. Beautiful Bird Tattoos
Did you like the lock and key sister tattoos featured at the beginning? If so you might like this one to. It is another example of how you both can have a lock and key design. This one features two beautiful birds carrying the lock and key. This is a pretty and feminine tattoo. You could recreate something like this and add some color.
21. Cute Matching Sister Tattoos
Next, we have another matching tattoo design. If you have a few or more sisters a subtle and small symbol like this is one is perfect. It suits all their individual styles and can be tattooed in the same place. Something like this is stylish, timeless and will suit sisters of all ages.
22. Small and Subtle Heart Design
Here is another cute symbol to show you love your sister. Each sister just has a small black ink heart design tattooed on their finger. It is a lovely design that could be tattooed anywhere. You both could even add some color, maybe a color you both love.
23. Sister Wrist Tattoos
Last on our list are these sister wrist tattoos. This design features the word sister and cleverly adds in an anchor on the letter T. Anchors are a symbol of loyalty and stability making this a beautiful design for sisters. You could recreate something like this in any font to suit your styles.
We hope you have found inspiration for your sister tattoos!