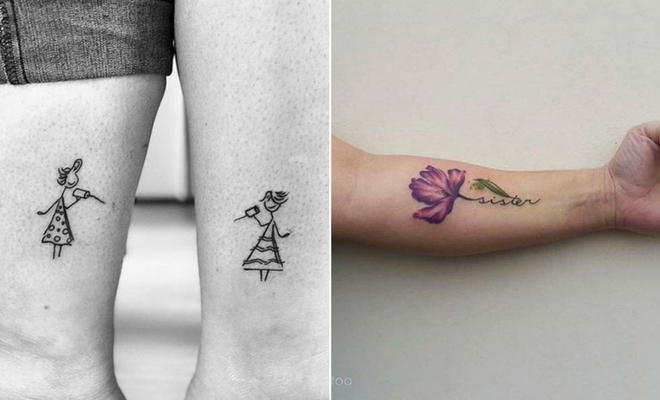 Instagram
Lifestyle
23 Cute and Creative Sister Tattoos
By
|
Do you have the best sister? Then consider getting a sister tattoo. There are so many designs that can be created to express the special bond you and your sister have. Choosing a tattoo is not easy as the choices are endless. So, we have found 23 of the most heart-warming sister tattoos that are as long lasting as the relationship you share together.
1. Traditional Style Sister Lock and Key
First up we have these traditional style tattoos. These tattoos match but are also different. Each sister has the same elements. The rose, colors and fonts are the same but one has a lock and one has a key. Tattoos like these express the special bond between two sisters.
2. Small Matching Tattoos
Next, we have subtle, simple and small tattoos. These tattoos do not have anything obvious that says sister but because they both have one it shows their bond. A tattoo design like this looks great as it is without the sister but matches when you are together. Something like this would be great as a first tattoo to!
3. Sister Number Tattoo
Have a big family? Then consider a sister tattoo like this one! It is an arm ink that features the word sisters with 5 of 8 underneath. These numbers represent when your born so the first-born sister will have 1 of 8. This is just a fun and unique design that celebrates the unity and the individuality of each sister.
4. Matching Anchor Tattoo
Traditionally anchor tattoos represent stability and loyalty making these designs perfect for family tattoos. These sisters have an anchor design surrounded by flowers which represents their loyal bond. It is a matching tattoo that isn't an obvious sister design. You could recreate something like this with you and your sister's favourite flowers.
5. Cute Sisters on a Swing Tattoo
Our next pick is one of the cutest tattoo designs ever! It features two sisters sat together on a swing. Something like this is great for the sisters who have fun together and who are best friends. You could personalize it by having the hairstyles designed that you both wear all the time. This is an awesome sister design.
6. Initial Tattoo
If you're thinking about subtler sister tattoos then consider a small initial design like this. All this tattoo has is an initial and a heart. This is a cute tattoo that is timeless and would suit all ages. As you can see it looks great on the back and wrist. It would also look nice on the foot or ankle.
7. Floral Sister Design
Next, we have this stunning floral design where the stem turns into the word sister. This is a beautiful tattoo that would suit anyone. There are many ways to recreate this from different colored petals to different fonts. You could match up with your sister or both of you have different colors that represent each other. We love this design.
8. Unique Half Tattoos
This is one of the most awesome sister designs ever! These two have had half a mandala inked on their foot so when they put their feet together it creates a whole image. This idea is heart-warming and also looks trendy with just half the tattoo.
9. Matching Globe Tattoos
Our next pick shows that sisters are never too far apart. It is an expression of no matter where you both live or how busy life gets you will always be close together. Something like this shows how strong a sister's bond is. This is a cute tattoo that could be redesigned in many ways to suit your style.
10. Funky Salt and Pepper Tattoos
Do you and your sister love a joke and have a fun sense of humor? Then this next tattoo could be for you. This design features salt and pepper pots. One sister has salt while the other has pepper. This is a funny expression of how you can't have one without the other.