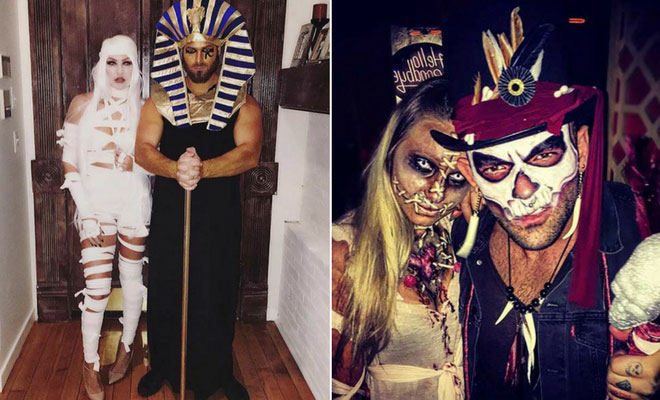 Instagram
Lifestyle
51 Creative Couples Costumes for Halloween
By
|
11. The Mad Hatter + The Queen of Hearts
If you're both crazy about Halloween, then go as the Mad Hatter and the Queen of Hearts. We all know that Alice in Wonderland is a strange and wonderful story so add your character and enjoy the mad night!
12. Super Mario + Princess Peach
They are saying that retro games are back in fashion… So why not go as the two most memorable characters, Super Mario and Princess Peach.  These two look so cute.
13. Mary Poppins and Bert
How sweet are these? Mary Poppins and Bert look so good together.  If you are a sweet and lovable couple, then this maybe for you!
14. Scary Couples Costume
Keep to traditional with a scary Halloween couple costume. Inspired by the Saw movie and clowns.  Majority of people hate clowns and you can understand why looking at this costume.
15. Old Couple
Think outside the box. Go as an old couple.  This will surprise everyone and it will show off your makeup skills.  Not sure where you would get a walking frame from… hmmm.
16. King Kong Couples Costumes
Easy and simple. King Kong is probably the easiest and most popular Halloween costume of all time.  It's easy to find and you don't have to worry about your makeup.  The downside is that you'll probably get a little hot during the night so wear minimal clothing underneath!
17. Monochromatic Couple
This monochromatic couples costume is easy, cheap and insanely clever. It's the perfect last-minute couples costume, too!
18. Elvis + Marilyn Monroe
Why not team two of the most famous people in the world? Elvis and Marilyn Monroe.  Everyone will instantly know who you both are and they make a cute couple.
19. John Snow + Ghost
Game of Thrones characters provide a ton of costume inspiration. Make your partner the King in the North for a one night, with this amazing Jon Snow and Ghost costume idea.
20. Popeye + Olive Oyl
You have to love Popeye and Olive Oyl. Popeye the sailor man and his beloved Olive Oyl are classic characters and quite an easy look to achieve.  Focus on the costumes and makeup is minimal.