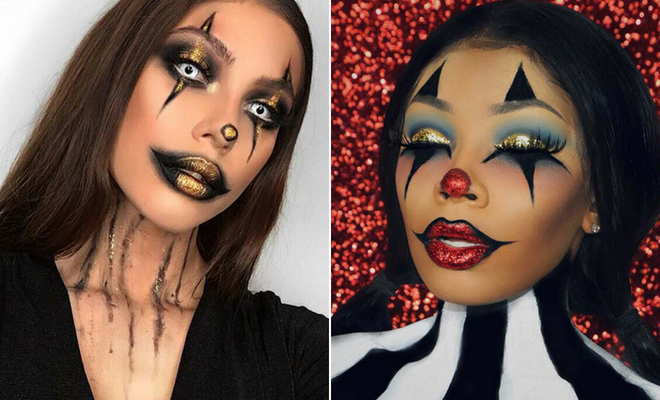 Instagram
Lifestyle
63 Trendy Clown Makeup Ideas for Halloween 2020
By
|
41. Cute Clown Makeup
Want to look cute instead of scary this Halloween? Then check out this next idea. Here we have clown makeup that has more of a traditional look. It has the classic red nose, mouth and eye makeup. The flower in her hair looks so stylish too. It is a pretty look and it will be simple to create.
42. Gangster Clown Makeup and Costume
Need makeup and costume inspiration? Then take a look at this. This makeup artist has created gangster clown makeup. The look is complete with a bandanna and shirt. This is another great last minute look and it will suit everyone. It will be easy to recreate too. You could make this makeup even scarier by wearing contact lenses.
43. Half Face Illusion
Next, we have another illusion idea. For this look, half of her face is normal and the other half looks like Pennywise the clown. She has also created creases which makes the half makeup look even more realistic. This is a cool makeup idea that will suit everyone. There is a tutorial on the page below and you can see the products used too.
44. Female Joker Makeup
Love the movie Joker? If so, this makeup idea is for you. This makeup was inspired by latest movie and features the classic red lips with a red nose and blue design on the eyes. This is a cool clown look and it allows you to dress up without being too scary. Paint your hair green, wear a red suit and you're ready to go!
45. Neon Clown Makeup
This next idea is so unique! Here we have a neon clown! So, the artist has created a classic clown design on the eyes and lips. But the clown makeup is black and neon pink! This is such a cool idea and it will make you stand out at parties and events. You can buy neon makeup online and there are so many colors to choose from.
46. Gory Pennywise Makeup
The movie IT is still scaring people all over the world which means Pennywise inspired makeup is still popular. This one is very unique. Here we have a gory and bloody version. Her face is painted white with black eye makeup and the red sections of the makeup are bloody. This is a terrifying version and it will give everyone a fright.
47. Unique Rainbow Clown Makeup
If you are looking for more unique clown makeup, then this is for you. Here we have a rainbow clown. As you can see, the makeup artist has created clown makeup with rainbow colors and she is wearing different colored contacts. This is such a spooky and awesome idea. You can see a full list of the products used and view a video on how this look was created on the makeup artist's page below.
48. Easy Clown Makeup with Heart Nose
Next, we have a cute but spooky idea. This makeup artist has created classic clown makeup complete with a heart nose. Something like this is perfect for those who want to look a little glam but also join in with Halloween. Recreate this or add contacts for a scarier look. A full list of the makeup used for this design can be found on the makeup artist's page and the link is below.
49. Colorful Makeup Look
If you want to be bold and stand out from the spooky crowd, then this is for you. Here we have bright and colorful clown makeup. The artist has created classic clown features but she has also added unique designs such as the tear drops and stars. We love the colors used and it is such a fun look. A video tutorial and the full list of makeup used can be found on the makeup artist's page below.
50. Creepy Clown Makeup Idea
The next idea features another very creepy clown. For this look, the artist has painted her face bright white and she has used black for the clown features. We really love the painted eyebrows because they make her look more sinister. This look was created with Makeup Forever 24 Hour Paint and the Morphe 35B Eyeshadow palette.