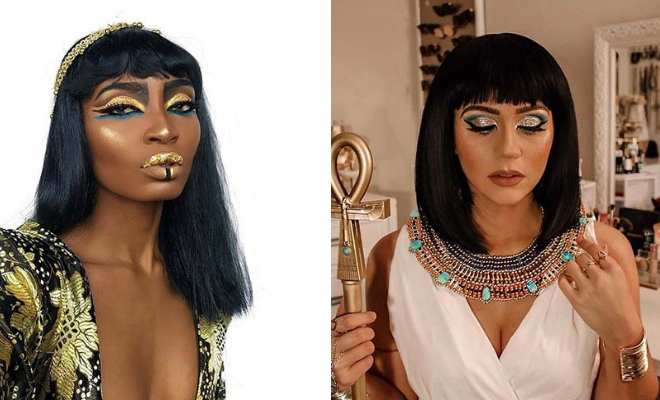 Instagram
Lifestyle
19 Cleopatra Makeup Ideas for Halloween
By
|
11. Scary Cleopatra Makeup
Earlier in the post we shared a mummified makeup look. If you loved that, then you may like this next makeup design too. Here we have another bandaged Cleopatra idea. She has the beautiful eye makeup and is covered in bandages and wounds. We love the gold snake necklace too. This is scary look that is perfect for Halloween. Makeup like this will give everyone a fright. A full list of the products used to create the makeup is available on the page below.
12. Mystical Cleopatra Makeup Idea
Bring some magic and mystery to Halloween with Cleopatra makeup like this. This version is a little more unique and features glam gold eyes with a touch of bright blue. The blue looks beautiful and it really gives the makeup a mystical look. You could even wear contact lenses for even spookier makeup.
13. Glamorous Gold Queen
Next, we have glam makeup idea that is fit for a Queen. Her eyes are gold with bold eyeliner and bright blue color too. She also has that gorgeous gold lip color and black rectangle design. This gold and luxurious makeup is the perfect way to look a ruler. It is a great costume idea for a party.
14. Vibrant Cleopatra Makeup
The next makeup idea is vibrant and beautiful. For this look her eyes have a bright color change from yellow to blue to black. She has completed the look with bronze lip color, a black wig and pretty hair accessories. It is a cute and easy to wear look and it will be quite simple to recreate too. We love this version.
15. Cleopatra Makeup for Halloween
Earlier we shown you makeup that combined a classic Halloween skeleton with Cleopatra. If you loved that idea, then you need to see this one too. Next, we have another version of the look. The makeup artist has created a skeletal mouth and nose and the rest of the costume is inspired by Cleopatra. The red contact lenses look amazing and give the makeup a scary look. This makeup is one of our favorites.
16. Stylish Cleopatra Costume
This next makeup idea is simple and stylish. Here we have Ancient Egyptian inspired makeup that is complete with a beautiful wig and gold snake necklace. This is a very stylish version of a Cleopatra costume. It is perfect for those who want to dress up for Halloween or an event but still look glam. It would be a great last minute look.
17. Ancient Egyptian Inspired Eye Makeup
Next, we have a close up of eye makeup that you could use for your Cleopatra costume. The makeup artist has used the popular blue and gold colors and it is complete with bold eyeliner. We love the eyeliner because it resembles the Eye of Horus. There are many tutorials online which can show how you to create a similar look. You can also check out all the products on the page below.
18. Glam and Gold Cleopatra Makeup Idea
Looking for a glam makeup idea? If so, you need to check this out. This version of Cleopatra makeup is just stunning. She has gold on the upper eyelid with blue underneath her eyes, complete with an Eye of Horus inspired design. We love how the blue is used underneath the eyes because it creates a unique look.
19. Spooky Cleopatra Makeup
The last makeup idea that we have to show you is spooky and unique. This makeup artist has created a sparkly skeleton design on the mouth with glam Ancient Egyptian inspired makeup on the eyes. She is also wearing contact lenses which look quite scary too. Makeup like this is perfect for those who want to look creepy and glam on Halloween.
We hope you have been inspired by these amazing Cleopatra makeup ideas!