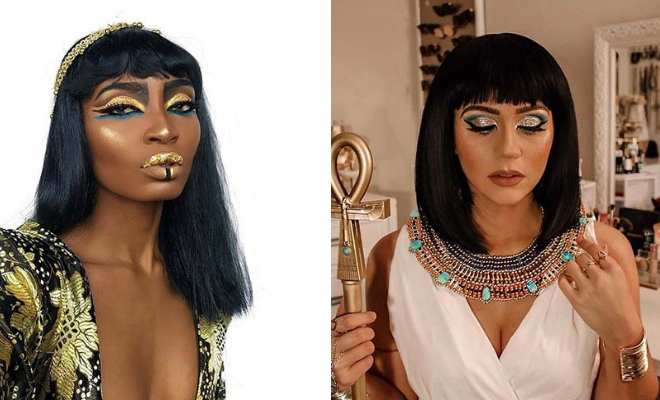 Instagram
Lifestyle
19 Cleopatra Makeup Ideas for Halloween
By
|
Cleopatra is one of the most powerful and iconic women in history. So, it is no surprise that many costumes have been inspired by the Ancient Egyptian Queen. If you are looking for the perfect makeup to finish off your Cleopatra costume, then you are in the right place. Today, we have 19 of the best Cleopatra makeup ideas on Instagram. We have something for everyone. You will find gorgeous and glam makeup and there are some spooky ideas too!
1. Gorgeous Cleopatra Makeup
The first makeup idea that we have to show you is just gorgeous. This makeup artist has created a very glam version of Cleopatra. Her eyes have bold and dramatic makeup with a flash of blue and gold color while her lips are nude. This is a stunning makeup look that would be perfect for a party. You can check out a tutorial on the link below.
2. Cleopatra Makeup and Costume Idea
Next, we have a beautiful makeup and costume idea. Her makeup is glam and sparkly with the classic eyeliner flick. The costume is complete with a short bob, white dress and accessories inspired by Ancient Egypt. Try and recreate the whole look for a classy Cleopatra costume.
3. Ancient Egyptian Inspired Cleopatra Makeup
Love history and Ancient Egypt? If so, this idea could be perfect for you. Here we have amazing Ancient Egyptian inspired makeup. The artist has created vibrant eye makeup and a black and nude lip design. This look is complete with a crown and gold accessories. The crown does resemble Nefertiti but you could use the makeup and give it the Cleopatra look by wearing a black wig.
4. Classic Cleopatra
If you are looking for makeup that is beautiful and easy to wear, then you need to see this next idea. This makeup artist has created a more classic Cleopatra look. She has the black hair, blue eye makeup and bold eyeliner. The snake earrings are a nice touch as ancient images of Cleopatra show her with snakes in her ears too. You can check out all the makeup used to create the look on the page below.
5. Cleopatra Skull Makeup
Maybe you want a more spooky makeup idea for Halloween? If so, this could be just what you are looking for. This makeup artist has created a skeletal Cleopatra design. She has used classic elements from both makeup looks. So, the nose and mouth look like a skeleton and she has glam Ancient Egyptian inspired eyes. This is a creative and cool idea. You could even wear scary contact lenses too. All the products that were used can be viewed on the makeup artist's page.
6. Glam Eye Makeup and Gold Lips
This next idea is one of our favorites because it is so glam and unique! Here we have Cleopatra makeup with bold and dramatic eyes and gold lips. The gold lip color looks amazing and it is perfect for an ancient royal ruler. To create the gold lips the makeup artist used Kylie Cosmetics Birthday Edition lip gloss in Poppin mixed with Mehron gold pigment.
7. Elizabeth Taylor Inspired Cleopatra Makeup
Cleopatra is one of the most popular movies and it starred Elizabeth Taylor who played a beautiful and seductive version of the Ancient Egyptian ruler. The next makeup idea was inspired by Elizabeth Taylor's iconic look. She has the black wig, gold hair accessories and vibrant blue makeup. This is an amazing makeup idea and it would be perfect party. Movie buffs will love this costume.
8. Mummified Makeup Idea
Ancient Egypt is known for its rulers and the mummies. This next makeup idea combines the two. Here we have a classic Cleopatra costume with bold makeup, a wig and Asp headband. The costume is complete with bandages and wounds. It is a cool and creepy idea and it is perfect for Halloween.
9. Colorful Cleopatra Makeup
Next, we have a colorful Cleopatra idea to show you. The makeup artist has created amazing blue and gold eye makeup with a black and nude lip design. This costume is complete with an Asp headpiece and a bright costume. It is an amazing version of Cleopatra and you will definitely stand out. Recreate this or you can try similar makeup with a simpler costume.
10. Simple Cleopatra Makeup Idea
If you just want a simple and beautiful makeup idea, then this Cleopatra look is perfect for you. The makeup artist has gone for a stylish lip color and worn it with bold eye makeup. The eyeliner will be quite easy to recreate too. Just finish off the look with a black wig and some gold accessories and you are good to go. This would be great as a last minute costume.