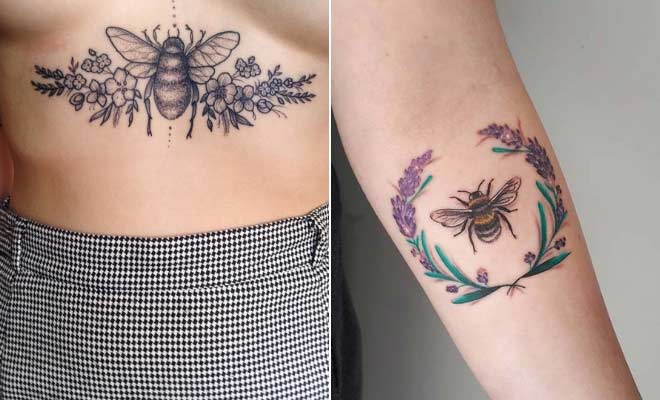 Instagram
Lifestyle
41 Cute Bumble Bee Tattoo Ideas for Girls
By
|
Thinking about a new tattoo and are looking for design inspiration? Then this is the post for you. We have found 41 of the best bumble bee tattoo ideas. Bees have become very popular in tattoo design and not only do they look cute, but they also symbolize loyalty and bravery. We love these designs and think you will too. Take a look to find floral bumble bee tattoos, trendy geometric body art and more. There is something for everyone!
1. Beautiful Bumble Bee Tattoo
Our first tattoo is this beautiful bee and flower idea. The design has been placed on the back and has a cute bee with pretty flowers and a jewelry feature. You can recreate this tattoo or create your own design with your favorite flowers.
2. Honeycomb Heart, Bee and Fruit Design
Next, we have a super cute bee tattoo idea. The tattoo features a honeycomb heart with a bumble bee and fruit. We love this idea because it is creative and unique. Have a similar tattoo to this or maybe try a different honeycomb shape. You can also recreate with or without the fruit.
3. Small Bee Tattoo Idea
Looking for a small tattoo? Then this design could be for you. Here we have a very small bee tattoo. It is black ink but you can have one like this with added color. A tattoo like this can be placed anywhere as it is subtle. Tiny designs like this are great as first tattoos.
4. Save the Bees Tattoo Design
Bees are endangered and our next idea is all about helping to save them. This tattoo features a cute bee with the message above "save the bees". A tattoo like this is not only cute but is also part of a good cause too. It would be perfect for someone who loves bees and wants to have a tattoo with a positive message.
5. Bold Bee Tattoo Idea
Our next bee idea is bold. This design features a bee with colorful detail on the body and pretty wings. You can recreate this tattoo or you can use this as inspiration and create a rounder bee. It is a cool and trendy bee and it will suit anyone. A design like this can be placed anywhere on the body.
6. Statement Bumble Bee Tattoo
When creating a bumble bee tattoo, there are so many different ways you can add patterns and colors. This next tattoo is a beautiful example. The tattoo features a bumble bee that is surrounded by patterns, flowers, shapes and more. A tattoo like this would look stunning. You can recreate this or add in your own plants and patterns to make it unique.
7. Cute Bumble Bee With Heart
If you are looking for a cute tattoo, you won't find cuter than this! This tattoo features a bumble bee with a heart in the center. The tattoo is black ink but you can recreate it with the vibrant colors. You can also make the heart any color you want. We love this bee idea!
8. Vintage Style Bumble Bee Tattoo
Tattoo techniques have changed over the years but if you prefer a more vintage, old-school style, this tattoo may be for you. This bee tattoo uses a vintage design and colors. You can especially see this style in the flower underneath the bee. You can have a similar tattoo to this or have the bee without the flower.
9. Big Bumble Bee Arm Tattoo
Tattoos with geometric shapes like circles are very stylish. This next tattoo is an awesome example of how you can add a shape to a bee design. The bee has been tattooed in black ink with a dotted circle around the outside. This is such a cool tattoo that you can recreate as it is, or add a pop of color.
10. Bumble Bee Sternum Tattoo
Our next idea is fun and unique. Here we have a sternum bumble bee tattoo with beautiful flowers. A tattoo like this is a great choice for bold women. Have a black ink tattoo or add in some color.