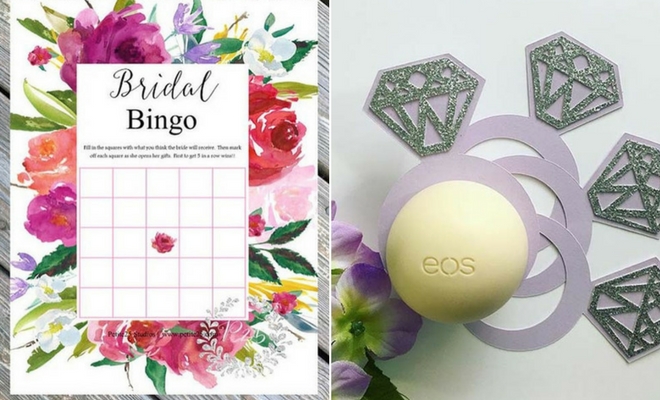 Instagram
Lifestyle
41 Bridal Shower Games and Ideas Your Guests Will Love
By
|
11. Guess Jars
A guess jar is an easy game to have at a shower. You can create your own to make it unique like this one. Fill up a jar with anything you like, this jar has kisses which is a popular choice. Leave paper for the guests to write their name and guess. Whoever guesses correctly or is closest wins the jar.
12. Advice For The Bride
Advice for the bride is not only fun for the guests but the bride-to-be will love reading over these. The advice notes can be kept as a memory of the shower. It's just a great way for guests to pass on their wisdom of marriage. The cards and sentence starters can be created to suit any shower.
13. Ring Hunt
The treasure hunt has had a bridal shower makeover! This hunt is all about finding sparkly rings. Any number of rings can be hidden and the rules are simple. Whoever finds the most rings wins. A game like this is fun for all guests across all ages.
14. Recipes For A Happy Marriage
Here is another way for the guests to share their wise words on marriage. Each guest writes down their recipe for a happy marriage on a wooden spoon. It is so simple, fun and unique. Something like this would be great at a shower, it looks great and people love giving out advice.
15. Bridal Jeopardy
Classic game show jeopardy has had a bridal shower twist! It's the same idea with questions and answers but the questions are based on weddings or the bride and groom. You can get those creative juices flowing to create a unique board and questions. Bridal Jeopardy will be a hit with every guest.
16. Bride To Be Trivia
A popular game at showers is how well do you know the bride. It features a selection of questions and the guests simply write the answer. The guests and bride will enjoy this fun trivia game.
17. Diamond Ring Favors
We love these cute ring favors! Something like this is such a great way to jazz up the prizes for the shower. You can customize you ring to be any color. These ones are used on lip balms. Prizes like this will be a hit, the rings look great and lip balm is a beauty must have for any girl.
18. Bra Pong
This game is inspired by beer pong. It is a bridal shower and hen party favourite. The rules are simple try and get the balls in the bra cups if you lose take a shot. Whoever had the most shots has the lost the game. You could also have a point system if shots aren't your thing. However, you play the guests will have a good time.
19. Popped The Question
Popped the question are cute prize and favor ideas. You could have these at any wedding event including engagement parties and bridal showers. The tag could be created in any design, we just love the popcorn and popped the question pun.
20. Green Prizes
Plants and gardening is very popular. So why not add some greenery to your bridal shower with prizes like mini terrariums. These are cute little plants that will grow anywhere. All the guests will be delighted to win something like this.