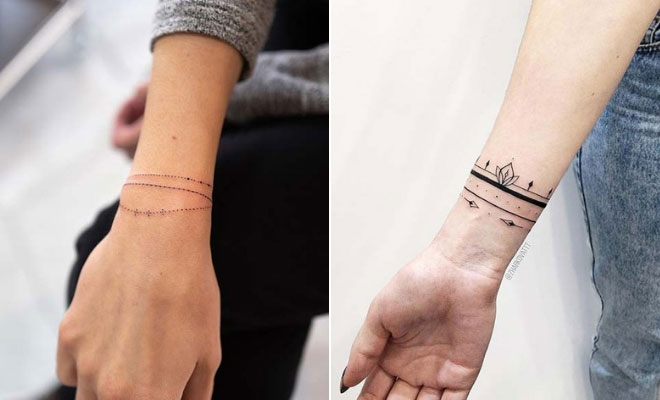 Instagram
Lifestyle
21 Bracelet Tattoo Ideas That Look Like Jewelry
By
|
11. Stylish Geometric Bracelet
Next, we have a trendy tattoo idea to share with you. This design is a black ink bracelet with a cut-out pattern. The pattern features diamonds shapes that have not been colored in with the ink. It is a simple, stylish and statement making idea. Try this or have the bracelet created in a bolder color. You can choose any pattern for the inside of the bracelet too.
12. Floral Bracelet with Charms
Love the floral tattoo ideas? If so, this next tattoo could be perfect for you. This design features beautiful black ink flowers that are tattooed around the wrist. There are also dangling charms too which give the floral bracelet a glam and chic look. You can use any flowers for a tattoo like this and you can add some color too.
13. Double Bracelets
Our next idea is beautiful and delicate. Here we have two bracelet tattoos. One has a stylish dot design and the other looks like a pretty ribbon that is tied around the wrist. We love these tattoos and they look like jewelry. Recreate this or you can try just one of the designs if you want a subtler look.
14. Unique Leaf Tattoo Design
If you love the botanical tattoo designs, then you need to check out this idea. This bracelet features a stunning leaf design. The leaves are tattooed around the wrist beautifully and they are colored in a fall shades. A tattoo like this is perfect for those who love the fall or nature and trees. You can create a tattoo like this or you can choose bright green leaves instead.
15. Statement Making Tattoo Idea
Want a unique tattoo that makes you stand out from the crowd? If so, this could be perfect for you. This tattoo features a black ink line that is placed around the wrist. Above the line, there is a trendy geometric pattern. It is a bold and unusual design that will make a statement in style. You can choose a tattoo like this or choose different patterns.
16. Floral Bracelet Tattoo
Next, we have another floral tattoo idea. This one features a black ink band and it has a beautiful floral pattern on the inside. The flowers really stand out and it is an edgy and trendy design. Recreate this or choose different flowers for the pattern, you can also add some brighter colors too.
17. Minimalist Bracelet Tattoos
Looking for a subtler tattoo design? Then this is for you. Here we have two minimal bracelet tattoos. One is just a black ink line while the other has black dots in different sizes. As you can see, the bracelets look super stylish. Tattoos like these will be quite easy to cover up if needed too. Have them both created or try just one.
18. Ornamental Lotus Bracelet Tattoo
Lotus tattoos are another popular design and here is how to wear a lotus as a bracelet. This is a large tattoo with a stunning ornamental lotus. The lotus also has three dangling charms. It is an amazing tattoo and it will suit everyone. You can try a tattoo like this, or add some color and opt for different patterns. For the back of the bracelet, you could have a simple line with pretty charms.
19. Beautiful Bracelets with Initials
Make your tattoo unique to you by adding initials. You could try something like this. Here we have multiple delicate bracelet tattoos. All of the bracelets are joined together at the back with two initials. You could have the initials of your other half, friend or family member. It is just a stylish and meaningful idea.
20. Peonies and Jewelry Charms
Earlier we featured a peony tattoo. If you loved that, then you may like this one too. Here we have a large peony flower that is tattooed around the wrist. There are also dangling charms too. It is such a pretty and statement making idea. You can recreate this or you can try smaller linked peonies. Around the back of the wrist, you could have one line or smaller flowers.
21. Black Ink Bracelet with Trendy Geometric Design
The last tattoo we have to share with you is super stylish! This design features one black ink line that goes all the way around the wrist. There is also a trendy triangle added to the bracelet too. It is a cool geometric tattoo that will suit everyone. Choose a tattoo like this or you can choose any shape instead of a triangle.
We hope you have found a beautiful bracelet tattoo to try!