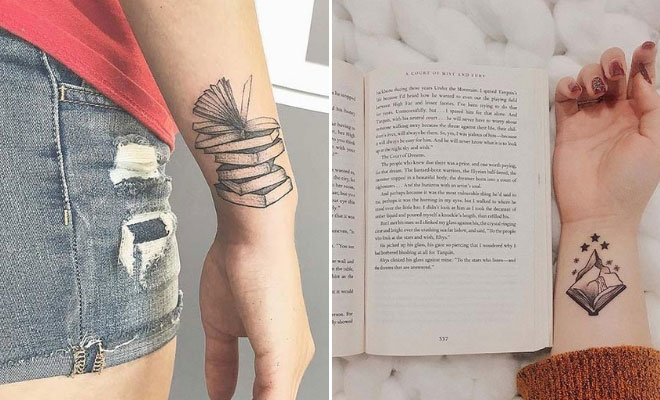 Instagram
Lifestyle
23 Awesome Tattoo Ideas for Book Lovers
By
|
11. Game of Thrones Tattoo Idea
This tattoo was inspired by Emilia Clarke's tattoo – a homage to Khaleesi's 'children'. If you're a GOT fan and you like Mother of Dragons, you may opt for this lovely tattoo design. The tattoo is pretty small and placed on wrist. It can represent your love for the show or each dragon can symbolize one of your children, a sibling or a friend. The possibilities are endless!
12. A Girl Flying on a Book
The next tattoo is perfect for a book-lover. It features a girl flying on a book that can represent the power of reading and its ability to transport you to different places. The tattoo also features smaller designs of coffee, photo camera, map, coordinates, letters and Earth.
13. Night Court Tattoo
The things we read in some books can help us in hard times, motivate us, help us grow and because of that, can inspire us to get a tattoo dedicated to our favorite book, quote or character. These tattoos are a unique and permanent way of keeping our favorite book memories alive.
14. George R. R. Martin Quote
Many readers love stories written by George R. R. Martin. For fans of his work, here is a tattoo that you may like. It features his quote that reads "I have lived a thousand lives and I've loved a thousand loves". This is a beautiful quote that expresses how reading opens up the smallest of worlds. Even if you're not a fan of the author, this quote is amazing.
15. Pile of Books Tattoo Idea
Our next idea is a tattoo that features a stack of books. Each book is different and there are some flowers inked too. This is a gorgeous tattoo and it would suit any book lover. You could have a design created with your favourite books or add some color.
16. Watercolor Tattoo
Watercolor tattoos are beautiful, add books into the design and you have the perfect tattoo for bookworms. This is an artistic and creative design. You could recreate something similar with your favourite colors, quote and books.
17. Magical Harry Potter Tattoo Idea
Harry Potter books are loved by all ages across the globe. If you love the books, then this tattoo is for you. It features a hand holding a magic wand. For your tattoo, you can choose your favourite spells and images from the books.
18. Coffee and Books
Our next tattoo is tiny and perfect for a first tattoo. Book tattoos don't always have to be inspired by a specific book, you can always opt for a more subtle design that will show your love for literary in general.
19. Unique Book Umbrella Tattoo
A book can protect a person from dark, rainy days in life. This tattoo symbolizes just that. When hard days come, you can clear your mind and soul with a good read.
20. Pretty Arm Tattoo
Pay homage to your favourite books with out next tattoo idea. The design features a pile of six books and the top one is open. We love how simple the design is, yet so eye-catching. The placement of the tattoo is unique and pretty cool.
21. My World Tattoo Idea
Our next tattoo expresses a love of reading. It features a girl reading inside a snow globe with a plaque that reads "my world". Reading transports you to another world and this image is a beautiful representation of that. We love this unique design.
22. Couple Tattoos
These unique tattoos are strong apart, but even better when together. You could also add a quote "I have lived a thousand lives" above or below each tattoo. For more couple tattoos, make sure to check out our other article here.
23. Stephen King Quote
Our next tattoo is inspired by horror writer Stephen King. The design features some of the person's favourite books and a quote by Stephen King – "Books are a uniquely portable magic.". You can have a tattoo recreated with your own King favorites or maybe choose your own author and use their books. We love how this tattoo appreciates one author and their work.
24. Tiny Books Tattoo Idea
You don't have to opt for a tattoo that reflects your favourite book or character, a tiny tattoo with a stack of books can have a strong meaning as well. When designing your book tattoo, you can have fun and add more or less books, as well as some pop of color.
25. Lovely Back Tattoo
As you can see, books and flowers make very pretty tattoos. If you don't want your tattoo to be on display, opt for a back placement.
We hope you have found inspiration from our book tattoos. We know we did!