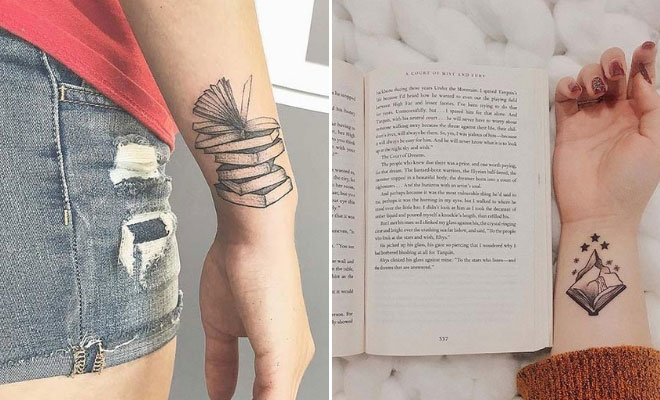 Instagram
Lifestyle
23 Awesome Tattoo Ideas for Book Lovers
By
|
Love books and tattoos? Then you are in the right place! We have put together 23 awesome literary tattoos for book lovers. We have illustrations from books, portraits of authors, quotes and more. There is something for every bibliophile. Take a look and see what tattoo design you would like next.
1. Roald Dahl's Matilda Tattoo Idea
Roald Dahl's Matilda is story loved by generations all over the world. It is a story about a magical girl who loves books. This first tattoo idea features an illustration of Matilda. It is a cute design that is perfect for anyone who loves Roald Dahl and his stories.
2. Book and Flowers Tattoo
Next, we have a stylish book design. It's a small and simple tattoo of a person reading a book, surrounded with flowers. Something like this would suit everyone and you could recreate it with some colors. We love this tattoo!
3. Beautiful Jane Austen Tattoo
Jane Austen has written some of most loved stories including Pride and Prejudice and Emma. Her books have inspired many and have become classics of English literature. Our next idea features this stunning Jane Austen portrait in the style of a cameo. This is a must-have for any Austen fan. You could recreate with or without a frame.
4. Stack of Books Tattoo
Our next tattoo design features a stack of books. You could recreate this tattoo with name titles one the spine. The only problem you will have is choosing which stories to choose, as there is probably so many you like.
5. Watercolor Book Tattoo
This next tattoo features a beautiful watercolor tattoo. This is a unique tattoo idea. You could have a tattoo like this placed almost anywhere on the body.
6. The Little Prince Tattoo
You can't consider yourself a bibliophile if you haven't read The Little Prince. This novella is loved by children and grown-ups because it's simple, colorful and offers so much important life lessons. You can add a quote from the story below the tattoo. We recommend this one – "It is only with the heart that one can see rightly; what is essential is invisible to the eye."
7. Stack of Books Tattoo Design
Next, we have another stack of books design. There are 4 books with a steaming coffee on the top. Because what is a good read without steaming hot coffee? You could recreate a similar tattoo with your favourite books and add some color to the design too.
8. Cute Rib Tattoo Idea
Our next tattoo is perfect for the bookworms. The tattoo features an open book with some small hearts coming out of it. This is a unique and creative idea. You could have a similar design created smaller and more delicate, or bolder with color. Also, you can add a quote below the book – "Read more".
9. Favourite Book Symbols
You don't have to have a book design to show off your favourite stories. Maybe you could have symbols tattooed. Here we have an arm tattoo with all different symbols from different books some of which include Harry Potter and The Hunger Games. You could have a similar tattooed created with symbols from your favourite stories.
10. Simple Wrist Book Design
If you don't want a large tattoo, then you could go for a smaller design like this one. A small open book has been inked onto the wrist. This is a cute design and it would be great as a first tattoo. You could have it placed on other parts of the body too. The ankle would be a good choice.