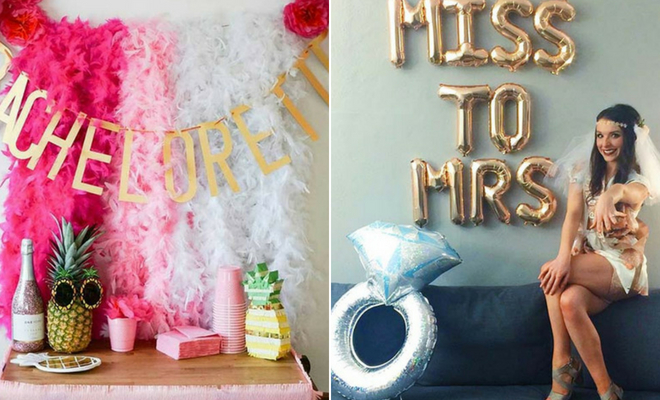 Instagram
Lifestyle
23 Affordable & Fun Bachelorette Party Decorations
By
|
Planning a bachelorette party and haven't decided on the decor? Then we are here to help. We have found 23 affordable and fun bachelorette party decorations. We have something for everyone from themes to banners and balloons. Each one of these will help to create a special and memorable party that the bachelorette will never forget.
1. Tropical Banner Idea
Having a bachelorette party in the summer? Then consider a tropical theme. You can have cocktails, vibrant decor and more. If you are thinking about a tropical or beach theme, you can have decorations like this aloha banner. It is so cute, personalized and features beachy patterns and colors. This would look amazing at any party.
2. Vibrant and Tropical Bachelorette Decor
Our next pick continues with the tropical, beachy idea. We loved the banner so wanted to share other ways you can decorate with this theme. Here we have vibrant pink and white feathers as a backdrop with a gold bachelorette sign. There are also pineapples too. Something like this would look amazing as a drinks or food area. You can even have the aloha banner featured above!
3. Miss to Mrs Balloons
Balloons are an easy way to decorate for any party. Next, we have an awesome idea for a bachelorette party. There are gold balloons on the wall that spell out Miss to Mrs. It is a simple but effective idea that will turn any room into a party venue.
4. Engagement Ring Doughnuts
Every party needs sweet treats. Our next idea shows not only how to turn doughnuts into engagement rings but also how to make a decoration out of them too. The doughnuts have been coated and have a diamond decoration which makes them look like rings and they have been added to a board. These treat boards are very popular at parties and this is perfect for a bachelorette.
5. Tulle Balloons
We love decorations that are easy to make but look amazing. This next idea is just that. Here we have balloons that have been decorated with tulle fabric and flowers. Tulle fabric can be very cheap to buy and is perfect for any wedding event. All you have to do is blow up the balloon, put the tulle over the top and secure. You can secure with string or maybe even a floral hair tie.
6. She Said Yes Cake Cupcakes
Cakes can act as a decoration. If you have cakes that look delicious it can make the party look extra special. An easy to glam up your cakes is with decorations like the ones featured. It says "she said yes" and has a stick that goes into the cake. These would look amazing on the simplest of cakes.
7. Bridal Wreath
Wreaths make popular decorations for special events so, why not have them at your party?! Here we have an awesome example of wreath you could use for your bachelorette party. You can have one like this or add in some classic bachelorette items such as L plates. Wreaths like this can be bought or you can make one yourself.
8. Chic, Garden Bachelorette Party
Next, we have a decor idea. It is an outdoor venue that has been decorated with white balloons, white flowers and a love balloon. We love the white color scheme as the party is a pre-wedding event. You can take inspiration from this for both indoor and outdoor party venues.
9. Personalized Balloons
Our next pick is another balloon idea. These balloons have been personalized with a permanent marker. We love this idea because it turns simple balloons into amazing party decor that is personal to the bachelorette. You can create balloon designs before the event or during the party as a game.
10. Glam Decor Idea
If you are looking for decor inspiration, this could be just the idea. Here we have an outdoor venue that has been decorated with gold pieces, vibrant flowers, pineapples and pretty plates and cups. Decor like this would be suited to indoor and outdoor parties. It would also be great for themes such as tropical, boho, glam and more.