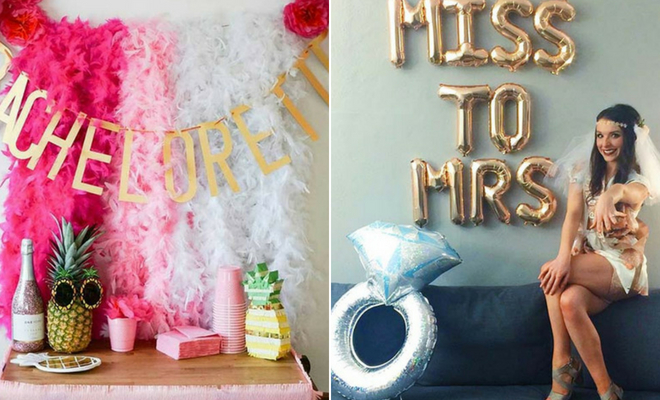 Instagram
Lifestyle
23 Affordable & Fun Bachelorette Party Decorations
By
|
11. Engagement Ring Balloon
Here is a must-have balloon for a bachelorette party. It is an engagement ring. This would look amazing with your personalized balloons or with the Miss to Mrs. balloons like we featured earlier. Decor like this is an easy way to jazz up a venue for a party.
12. 'She Said Yes' Banner
Next, we have a cute banner idea. The banner reads 'she said yes'. You can hang banners like this all around the party venue. Maybe even put it with balloons or a bachelorette banner too. As the design is simple, it will suit any theme and venue.
13. Bubbly Bar
It wouldn't be a party without champagne! Here we have a bubbly bachelorette bar. It is glam, fun and full of champagne or "bubbly". This is such an awesome idea that celebrates the special occasion. You can take inspiration from this and create a bubbly bar to suit your theme.
14. Ring Glass Decorations
The smallest of decorations can make the party very special. Our next idea is glass decorations that look like a ring. Even though these decorations are not as showy as balloons or banners they will make the difference. These subtle ideas will complete the decor and make it the best it can be.
15. Wedding Date Banner
Next, we have a banner that features a date and engagement rings. This banner will be very special for the party because of the personalized date. You can either have the date of the upcoming wedding or the date of the bachelorette party, or maybe both! Either way it will make a great piece of decor and it can be kept as memory afterwards.
16. Miss to Mrs Decor Idea
Our next decor idea is this pink and white Miss to Mrs theme. It is full of balloons, drinks, sweet treats and flowers. A theme like this will suit a bachelorette who is fun, feminine and likes to eat and drink. You can take inspiration from this to create your own party decor too.
17. Bride Chair Decoration
You can even have the chairs decorated for the party. Here is a pretty idea. The chairs have been decorated with ribbons and bride banner. You can recreate this or you can create a banner that says bride-to-be or bachelorette. Also try to choose ribbons in colors that match the theme.
18. Funny Cake Pop Decorations
As we said earlier, cakes can be decorations. Here we have a fun and unique idea. These cake pops have been decorated with male strippers. Cakes like these can be made in any flavor and not only will the guests have a delicious cake but they can have a laugh at the decorations too.
19. She Said Yes Balloons
If you want glam balloons, this next idea is for you. These balloons are in pretty colors and feature an elegant message of she said yes. Balloons like this are perfect for a chic bachelorette party. You can also pair these with balloons like the Love balloon and Miss to Mrs. balloons.
20. 'Soon to Be' Banner Idea
Next, we have another personalized banner idea. This one reads soon to be Mrs. Davies. You can get this personalized with any name. We love this idea because it is unique, special and meaningful for the bachelorette. This can also be kept as a memory of the event.
21. Bachelorette Party Decor Idea
Our next idea shows how you can decorate the venue. It has everything, balloons, drinks, flowers, banners and more. This is a gorgeous venue idea and it would suit a bachelorette who loves pink. Just like with other decor ideas you can take inspiration from it and create your own unique venue.
22. Personalized Napkins
How amazing would the buffet table or bar look with personalized napkins! These are not only practical for eating and drinking but can act as a decoration too. We love these because they will make the party extra special and they are personal to the bachelorette. A clean napkin can also be kept as a memory too.
23. Nautical Bachelorette Idea
Last on our list of decor ideas is this nautical banner. Nautical themes are very popular for bachelorette parties and this banner would be perfect. It is cute, personalized and we love the message last sail before the veil. This would look amazing at any party.
We hope you have found the perfect bachelorette party decorations!