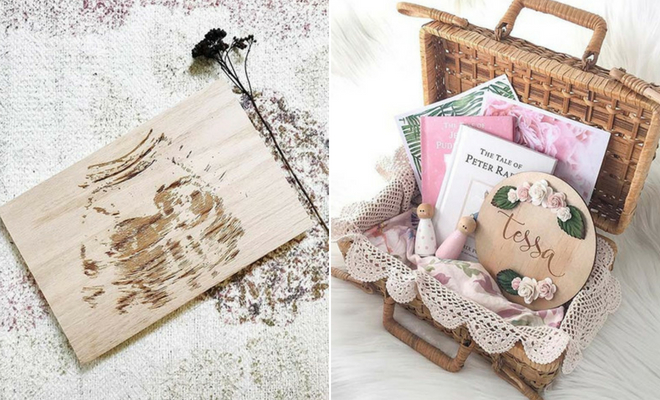 Instagram
Lifestyle
21 Baby Shower Gifts That Are Actually Useful
By
|
11. Cute Baby Shower Gift Ideas
This next idea features a selection of small baby shower gifts. These ones are aimed at baby girls with floral and pink tones, but you can put something together like this for a boy or in a more neutral color. The image features a cute headband, teething pacifier clip, bib and teething ring. Gifts like these are a mixture of practical and cute items.
12. Diaper Cake and a Book
Diaper cakes are very popular baby shower gifts. These cakes are a creative way to give the essentials. The cake can be made up of diapers, toys, blankets and clothes that are rolled up into a tiered cake design. Here is a great example of a diaper cake for boys. Any parent would love to receive this, you can also create one for girls too.
13. Funny Baby Shower Gift Idea
Next, we have a funny gift idea. It is a onesie that features "you got this" with "arms" near where the arms go and "legs" where the legs go. It is a joke gift for first time parents that will give baby shower guests a laugh on the special day.
14. Crochet Booties and Hat
Another super cute gift idea is a hat and booties set like featured. These little accessories will look adorable on the new baby. The booties and hat below has been hand crocheted and you can get all different colors and styles. This set would be a beautiful gift on the day.
15. Baby Shower Gift Set
Our next idea is another gift basket. This one shows a different selection of items. It has a baby care kit, clothes, toys and more. You can take inspiration from this one to create a great essentials starter kit for the parents-to-be. Maybe even add a few items for mom.
16. Cute Teething Ring
If you are looking for a small baby shower gift then this could be just the thing. Here we have a cute wooden teething ring. Teething rings come in all different shapes, sizes and patterns. You can even put it together with something else, such as a headband for a pretty but practical gift.
17. Cozy Baby Blanket
Every baby needs a cozy blanket just like the one featured. Blankets are an essential but you can always buy some cute ones. You can get them in all different colors and sizes. The blanket below is warm, pretty and perfect for a little girl. You can get blankets for boys, too.
18. Personalized Blocks
You can give a gift for the nursery. Here we have personalized wooden blocks that would look so cute as nursery decor. You can buy blocks like these, or if you like crafts and DIY, you can try and paint them yourself. Instead of a name, you can write little messages on the blocks instead.
19. Pretty Floral Headbands
Next, we have another small but cute gift idea. These are little floral headbands for the baby. Anyone expecting a little girl would love headbands like these. You can also get headbands with bows on, so you could even put together a few floral ones and a few with bows.
20. Letters to My…
Our next pick is a beautiful gift idea that any parents-to-be will love. It is a little book with the title "Letters to my son, as a I watch you grow". The book is designed for the parents to write letters to their baby and once the baby is grown up, they can read letters written throughout their life. You can buy these for girls too. This is another gift that will create memories and it will keep on giving.
21. Cute Gift Idea
Last on our list is this small gift selection. This is for the guests who do not want to give a small gift or a large gift. It is in the middle. The one featured includes a teething necklace, cute clothes and a book. You can take inspiration from this and put something similar together.
We hope you have found the perfect baby shower gift!