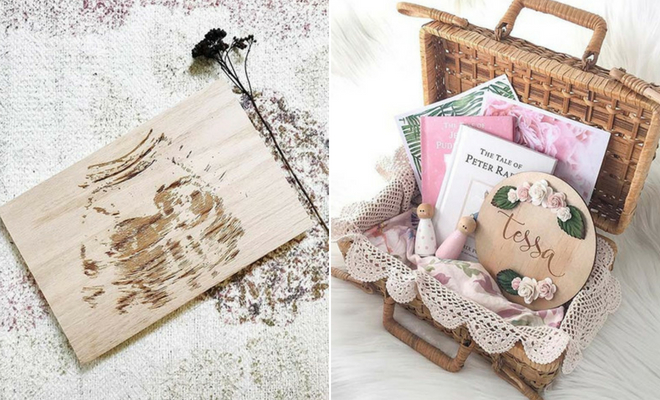 21 Baby Shower Gifts That Are Actually Useful
Been invited to a baby shower but do not know what gift to buy? Then we are here to help! We have found 21 baby shower gifts that the parents-to-be will love and actually use. We have something for every budget, from teething rings to gift baskets. You will also find ideas you can put together yourself for a unique gift and gifts that will record memories long after the baby shower is over.
1. Watch Me Bloom Blanket
Our first baby shower gift idea is this beautiful "watch me bloom" blanket. The blanket comes with milestone cards and the idea is to put the baby on the blanket along with the the card of their age. Then the parents take a picture. Every month, they will have a new photo of the baby and they can look back throughout the year to see how much their baby has grown. This gift will create many memories.
2. DIY Gift Basket For a Mom-to-Be
A baby shower gift does not have to be for the baby only. You can also buy something beautiful for the mom-to-be. Here we have a gift basket idea. It features all the essentials that a busy new mom needs, from bath bombs for pampering to dry shampoo for those hectic days. You can create a box or basket with any items you like.
3. Baby Booties
When buying a baby shower gift, you can never go wrong with cute baby clothes just like these booties. These baby booties are super cute, cozy and practical for the new baby. You can buy booties in all different colors and styles. Stick to neutral colors like these if you don't know the baby's gender or if that is more the parent's style. However, you can get vibrant colors like pink, blue and more.
4. Gift Basket with Essentials
Next, we have another gift basket idea but this one is full of essentials for the new baby. This one includes diapers for newborn babies, disposable bags, cream for rashes, a changing mat for traveling and five cute bibs. You can buy gift baskets like these or put one together yourself.
5. Cute Stork Photo Frame
Looking for a cute and unique gift idea? Then this next pick is for you. Here we have a stork photo frame. Storks are very popular designs for babies because they are used in stories about how a new baby got delivered to its parents. A frame like this will be loved by both parents and it can be a memory of the special day.
6. Teething Jewelry
An essential for any mom-to-be is teething jewelry. Teething starts at different times depending on the baby but one thing is for sure, once it starts, you need to be prepared! With teething jewelry, mom just puts the necklace or bracelet on and the baby can chew while being held and hugged. So mom gets a cute accessory and the baby has a toy to play with, as well as an aid for teething. There are so many different styles out there to suit every mom.
7. Scan Picture Art
Looking for a unique gift? Then this next idea is for you. Here we have wooden art that features the baby scan. This is such an amazing gift idea because it is unusual and the parents can have a decoration of the scan to keep as a special memory. Any parents-to-be will love this!
8. DIY Book Gift Basket
Next, we have an adorable book gift basket. A suitcase has been filled with a personalized plaque and children's books. You can recreate this with any box or basket and with any books. This would look beautiful in the nursery and the books can be read to the new baby and for years after. It is a gift that continues to give.
9. Bib and Tag Blanket
Tag blankets are great for babies. Not only are they cozy, but the tags can comfort babies and can help with their development. That is why a tag blanket is our next gift idea. You can get these in all different sizes with different prints and colors. Some blankets even come with a cute little bib like featured.
10. Baby Shower Bouquet
Our next idea is unique and super cute. Here we have a baby shower bouquet. This is not an ordinary bouquet, this one features two flowers and five rompers wrapped in a flower design. You can get these with different flowers and different rompers. This is a gorgeous and unusual gift that any mom will love.
Last modified on October 24, 2018