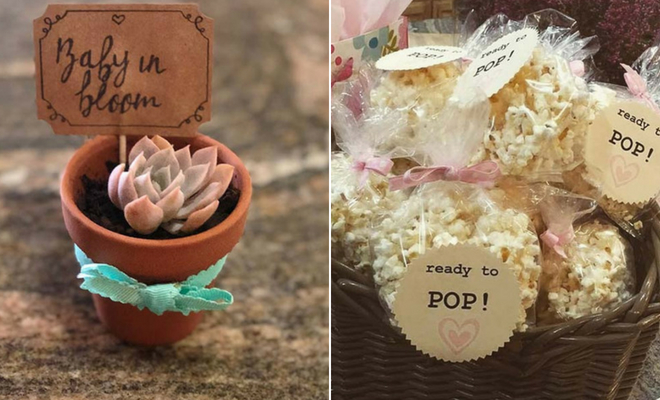 Instagram
Lifestyle
41 Baby Shower Favors That Your Guests Will Love
By
|
31. Cute Candle
Our next idea is a beautiful candle. This candle comes in a small tin with a cute message on the front. It is a cool favor idea because everyone loves candles, so these will be a huge hit with the guests. You can have candles personalized with any message too, so you can make your candles very unique.
32. Adorable 'It's a Girl' Favor Boxes
If you plan to reveal the gender of your baby at the shower then why not do so in a creative way like this? Here we have pretty boxes that read It's a girl. When your guest receives their party favor, they will also get another surprise by finding out the gender. You can get similar boxes for boys too. Boxes like these will also be great if everyone already knows the gender too.
33. Cute 'A Baby is Brewing' Idea
Earlier we featured a coffee favor. Our next idea is for those who love tea! Here we have little tags that are personalized and they also have cute message that reads "A baby is brewing". It is such a creative and unique idea. You can put tags like these on small packs of tea and give them out as favors.
34. Shower Favors
Next, we have another pampering party favor. For this baby shower little bags were created and each one includes a shower gel and a card. The card reads "Thanks for showering our little Sweet Pea". It such a cute idea! Bags like these will be easy to recreate and you can put whatever shower gel you like inside.
35. Tulle Candles
Our next idea features more candles. These candles are personalized and are covered in pink tulle. Candles like these would be a beautiful choice for the baby shower favors and you could even put them in bags like the tutu bags we featured earlier. The candles are available on the page below and you can choose blue ones too.
36. Sweet Honey Sugar Scrub
The next idea we have to show you is another scrub. This one is a honey and lavender sugar scrub and it is decorated beautifully. These would be perfect for a baby shower, especially if you are having a bee themed baby shower which seem to be popular. All your guests will love a favor like this.
37. Hello Kitty Diapers
Thinking of sending out a little thank you card? Then consider a design like this. Here we have a cute Hello Kitty paper diaper. This was originally a design for an invitation but you could write a little message inside to thank guests for coming to the shower and give them to your family and friends. Just give these out or put them in a small bag with one of the other favors.
38. Glam Bee Happy Boxes
Next, we have another gift box idea. These little boxes feature glam decorations with the tag 'Bee happy'. You can create something similar for your baby shower. Maybe you could also have tags that read 'What will it bee' which will keep people guessing about the gender of the baby. You can fill these boxes with little treats like the honey scrub we featured earlier.
39. Cute Candle Favor Idea
If you are choosing candles as your baby shower favor, then you can put little tags on them like these. The beautiful tags have a message about lighting the candle when the baby is born. This such an amazing idea and it will make the birth extra special as you know all your family and friends will have lit their candle for the new born baby. You could put tags like these on any candle.
40. Twinkle Twinkle Little Star Favors
Soap is another beautiful baby shower favor idea. For your baby shower, you could give soaps like these to your family and friends. These soaps are in bright colors and have personalized labels. You can choose any soap, in any color and with any fragrance. The labels can also be designed to suit your baby shower theme.
41. Unique Baby Making Potion Tag
We have seen baby making potions with baby shower themes like Harry Potter and for gender reveals where the "potion" color reveals the gender. Cute little potions like these would make unique party favors too. You can add little tags like the ones featured to drinks, shower gels and more. It is a fun idea that all guests will love.
We hope you have found some awesome baby shower favors!