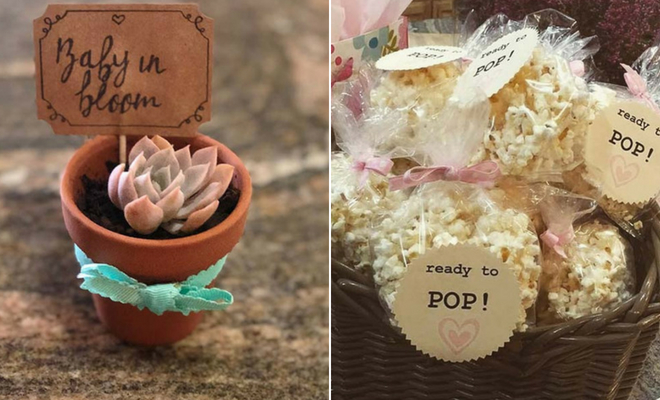 41 Baby Shower Favors That Your Guests Will Love
Planning a baby shower? Then you need to check out our 41 baby shower favors that your guests will love. Favors are small gifts that are given to the guests to thank them for coming. Not only do favors show that each guest is special but it can also give anyone who attends a reminder of the special day. We have favor ideas for every baby shower – from sweet treats to candles and soaps that you can easily DIY at home.
1. Baby Shower Candles
Our first idea are these cute candles. The candles have been personalized and have the date of the baby shower. You can have candles created like this for your shower and you can choose a different color scheme. These candles are kept neutral but if you have revealed the gender or are going to, you can have pink and blue too.
2. Baby in Bloom
If you want to give your guests a favor that they will love and that will last long after the event, then consider a plant. Here we have a small succulent plant that has an adorable baby in bloom sign. These signs would look so cute with any flower or plant. We love this baby shower favor idea.
3. From Our Shower to Yours
Next, we have an idea that is perfect for any shower. The favor includes a bubble bar and a lip balm which have been placed in a bag with a tag that reads "from our shower to yours". This is a fun idea and the small gift not only looks nice but can be used too. You can have classic colors like pink or blue or maybe try something neutral like yellow.
4. Champagne Favor Idea
A new baby is cause for celebration! This next baby shower favor idea is the perfect way for your family and friends to celebrate the new arrival. Here we have mini champagne bottles with tags that read "Pop it when she pops". These tags can be put on mini champagne or other drinks, the guests take them home and drink them when the baby is born.
5. Seeds from the Parents to Bee
Yellow and bumble bee themes are very popular for baby showers especially during the summer. If you are having a nature or bee inspired shower then this idea is for you. These favors are small packets of seeds with "Thank you from the parents to bee!". This is such a fun and cute idea. Plus your family and friends can grow the seeds and be reminded of the special day.
6. Baby Shower Cookie Favor Ideas
You can't have a celebration without delicious treats! Here we have beautiful baby shower cookies. These would be awesome favors to give out to family and friends because they look and taste good. You can buy cookies or if you like to bake, try and make them yourself for an extra special one of a kind gift.
7. DIY Thank You Cards
Your baby shower favors don't have to be too expensive or over the top. You can go for something subtle and meaningful like a card. Cards show you care and the recipient can keep it as a memory. These cards are great examples for baby showers. The design is simple but super cute. You can buy cards like these or make them yourself if you like crafts.
8. Beautiful Soap Favor Idea
A great favor idea that everyone will love is soap. It smells good, can be used and looks great too. Here is a beautiful example of soap to give out at any event including a baby shower. You can buy one kind of soap or for special family and friends choose a scent that is personal to them. Maybe lavender or rose.
9. Ready to Pop Popcorn
Looking for low-cost party favors that will be a hit with everyone? Then this next idea is for you. Here we have popcorn that has been placed into bags with tags that read "ready to pop". This such a simple but awesome idea. You can recreate similar bags to these or you can even have pink or blue popcorn.
10. DIY Baby Shower Gift Bags
You may want to put your favors in little gift bags. If so, then you could choose bags like these. The paper bags have cute baby grows on the front. You can buy bags like these or you can make them yourself. Also if you have quite a few bags to give out then you can personalize them too.
11. Blue or Pink Treats
One of the easiest favors to give out are sweet treats. You can be very creative, the cost can be low and everyone will love candy. Here is a great example of a delicious party favor. Small bags have been filled up with blue sweets. You can create these with any sweets and in any color. If doing a gender reveal try pink or blue or if you want to keep things neutral try yellow.
12. Stylish Hair Tie Idea
Want stylish favors for your baby shower guests? Then this next idea could be for you. Here we have cute hair ties with tribal patterns. Each hair tie is on a card that reads "welcome to the tribe little one, thank you for celebrating. You can have hair ties in any pattern and color with any message.
13. It's A… Bath Bomb
Soaps, lip balms and other pamper products like it always make great favors. Next, we have a bath bomb idea. The bath bomb is pink and reads "it's a girl". You can get bath bombs in blue to or maybe yellow, if you do not want the classic colors. You can also get bath bombs that only reveal pink or blue when put into water.
14. Dessert Party Favor Idea
Next, we have a dessert idea. This favor features a jar with cookies and cream dessert inside. The lid has been personalized with the date of the baby shower. This is such a super cute idea, you can recreate something similar or you can fill jars with candy.
15. Succulent Plant Idea
Earlier we featured a plant idea and here is another way you can give a plant as a favor. These succulents have been finished off with a personalized sign. This is an easy and fun favor that anyone will love. You can recreate the succulents or use another plant or flower.
16. Baby Theme Scented Stones
Scented stones are great for freshening up your closet with nice smells or any room in your home. These are often given as favors at parties and other events. Here is how you can have scented stones for baby shower favors. Each one has a different baby inspired design. Any of your family and friends would love to receive something like this.
17. Delicious Doughnuts
Our next baby shower favor idea is super easy but it will be a hit with everyone. Here we have a doughnut with a little personalized bag. You can purchase bags just like these online and you can put any doughnut inside the bag. This is a delicious treat for any of the baby shower guests.
18. Cute Baby Shower Theme Soap
Next, we have another soap idea. Instead of a beautiful soap like we featured earlier, this one has a fun and cute baby shower theme. The soaps are in bright colors with a little foot design. You can give these as a favor or add an extra treat in too.
19. Honey Baby Shower Favor Idea
Earlier we mentioned summer and bumble bee themes. If this is an idea you like, then this next favor is for you. Here we have honey jars with little tags that read "thank you for bee-in here". These are adorable sweet treats that every guest will love.
20. Reed Diffusers
If you want a unique baby shower favor that guests will use after the event is over, then this idea could be for you. Our next favor is reed diffusers. You can bulk buy these online in many different scents. These are beautiful favors and these will be a hit with everyone.
21. Cute Elephant Cookies
Want to avoid the classic pink and blue and keep your baby shower neutral? If so, this idea is for you. Here we have elephant shaped cookies with a grey and yellow color scheme. These are so cute and will suit attendees of any age. You can even try and bake some yourself.
22. Lip Balm Pacifiers
Lip balms are popular party favors and here is a cute way that you can create lip balm favors for a baby shower. These EOS lip balms have been placed in adorable cards to make them look like a pacifier. Favors like these are perfect for a baby shower and if you like crafts, you can have a go at making something similar yourself.
23. Baby in Bloom Seeds
Earlier in the post we featured a baby in bloom idea. Here is another way that you can use the same theme. Instead of a plant these are baby in bloom seeds. The little packet also has the names of the parents and the date. This is low cost and easy idea. The seeds will grow, so the guests will always have a reminder of the special day.
24. Tutu Baby Shower Favors
Once you have chosen your favors, you need a way to present them. Here we have an adorable idea. For this baby shower little bags were used with pink tulle and the tag reads "Tutu sweet of you to come". It is such a cute and creative idea. It would be perfect for those having a baby shower for a girl. You can put any little treat inside bags like these.
25. Cute Gingerbreads
Next, we have a unique idea. Here we have small baby gingerbreads. These can be made in different colors and can be personalized for each guest. It is just a cute favor that friends and family can keep as a reminder of the day. You can purchase these gingerbread favors on the page below.
26. Baby Shower Baskets
Our next idea features amazing little baskets. These baskets are available in pink or blue and have cute decorations. Each one is also filled with pink or blue candy. All your guests would love to receive a basket like this. You can recreate these or create baskets in any color and with any candy.
27. Pampering Party Favors
Give the gift of relaxation and choose a pampering party favor like this. Here we have a luxurious foot scrub. This is a gorgeous little gift that can be given to family friends. You can try favors like these or try other pamper products like soaps or shower gels. These foot scrubs and other items are available on the page below.
28. Creative Baby Carriage Boxes
Why not put your favors in beautiful boxes like these?! These little presentation boxes feature a pretty baby carriage on the top. You can put anything in the boxes, maybe try lip balms or small candles. You can buy these boxes or ones with a similar design. However, if you like crafts you can try making some yourself.
29. Baby Bottles with Candy
Another cute favor that you could give out at your baby shower are candy baby bottles. You can buy small empty bottles and fill them with any candy you like. If you and your guests know the gender, you can use pink or blue candy. If not, then you can have any color you like. It is just an easy idea and every guest will love it.
30. Coffee Blend Favor
Next, we have a cool and unique baby shower favor idea. Here we have small bags of coffee that are personalized. The bags also have a fun message that reads " A perfect blend of mommy n daddy". We love this idea because it is so unusual and guests will appreciate the coffee too!
31. Cute Candle
Our next idea is a beautiful candle. This candle comes in a small tin with a cute message on the front. It is a cool favor idea because everyone loves candles, so these will be a huge hit with the guests. You can have candles personalized with any message too, so you can make your candles very unique.
32. Adorable 'It's a Girl' Favor Boxes
If you plan to reveal the gender of your baby at the shower then why not do so in a creative way like this? Here we have pretty boxes that read It's a girl. When your guest receives their party favor, they will also get another surprise by finding out the gender. You can get similar boxes for boys too. Boxes like these will also be great if everyone already knows the gender too.
33. Cute 'A Baby is Brewing' Idea
Earlier we featured a coffee favor. Our next idea is for those who love tea! Here we have little tags that are personalized and they also have cute message that reads "A baby is brewing". It is such a creative and unique idea. You can put tags like these on small packs of tea and give them out as favors.
34. Shower Favors
Next, we have another pampering party favor. For this baby shower little bags were created and each one includes a shower gel and a card. The card reads "Thanks for showering our little Sweet Pea". It such a cute idea! Bags like these will be easy to recreate and you can put whatever shower gel you like inside.
35. Tulle Candles
Our next idea features more candles. These candles are personalized and are covered in pink tulle. Candles like these would be a beautiful choice for the baby shower favors and you could even put them in bags like the tutu bags we featured earlier. The candles are available on the page below and you can choose blue ones too.
36. Sweet Honey Sugar Scrub
The next idea we have to show you is another scrub. This one is a honey and lavender sugar scrub and it is decorated beautifully. These would be perfect for a baby shower, especially if you are having a bee themed baby shower which seem to be popular. All your guests will love a favor like this.
37. Hello Kitty Diapers
Thinking of sending out a little thank you card? Then consider a design like this. Here we have a cute Hello Kitty paper diaper. This was originally a design for an invitation but you could write a little message inside to thank guests for coming to the shower and give them to your family and friends. Just give these out or put them in a small bag with one of the other favors.
38. Glam Bee Happy Boxes
Next, we have another gift box idea. These little boxes feature glam decorations with the tag 'Bee happy'. You can create something similar for your baby shower. Maybe you could also have tags that read 'What will it bee' which will keep people guessing about the gender of the baby. You can fill these boxes with little treats like the honey scrub we featured earlier.
39. Cute Candle Favor Idea
If you are choosing candles as your baby shower favor, then you can put little tags on them like these. The beautiful tags have a message about lighting the candle when the baby is born. This such an amazing idea and it will make the birth extra special as you know all your family and friends will have lit their candle for the new born baby. You could put tags like these on any candle.
40. Twinkle Twinkle Little Star Favors
Soap is another beautiful baby shower favor idea. For your baby shower, you could give soaps like these to your family and friends. These soaps are in bright colors and have personalized labels. You can choose any soap, in any color and with any fragrance. The labels can also be designed to suit your baby shower theme.
41. Unique Baby Making Potion Tag
We have seen baby making potions with baby shower themes like Harry Potter and for gender reveals where the "potion" color reveals the gender. Cute little potions like these would make unique party favors too. You can add little tags like the ones featured to drinks, shower gels and more. It is a fun idea that all guests will love.
We hope you have found some awesome baby shower favors!