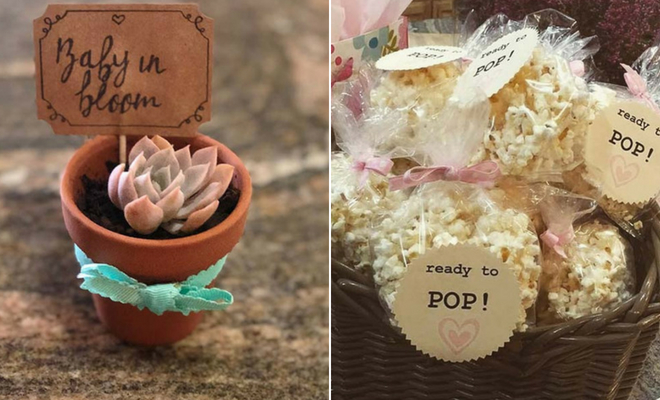 Instagram
Lifestyle
41 Baby Shower Favors That Your Guests Will Love
By
|
Planning a baby shower? Then you need to check out our 41 baby shower favors that your guests will love. Favors are small gifts that are given to the guests to thank them for coming. Not only do favors show that each guest is special but it can also give anyone who attends a reminder of the special day. We have favor ideas for every baby shower – from sweet treats to candles and soaps that you can easily DIY at home.
1. Baby Shower Candles
Our first idea are these cute candles. The candles have been personalized and have the date of the baby shower. You can have candles created like this for your shower and you can choose a different color scheme. These candles are kept neutral but if you have revealed the gender or are going to, you can have pink and blue too.
2. Baby in Bloom
If you want to give your guests a favor that they will love and that will last long after the event, then consider a plant. Here we have a small succulent plant that has an adorable baby in bloom sign. These signs would look so cute with any flower or plant. We love this baby shower favor idea.
3. From Our Shower to Yours
Next, we have an idea that is perfect for any shower. The favor includes a bubble bar and a lip balm which have been placed in a bag with a tag that reads "from our shower to yours". This is a fun idea and the small gift not only looks nice but can be used too. You can have classic colors like pink or blue or maybe try something neutral like yellow.
4. Champagne Favor Idea
A new baby is cause for celebration! This next baby shower favor idea is the perfect way for your family and friends to celebrate the new arrival. Here we have mini champagne bottles with tags that read "Pop it when she pops". These tags can be put on mini champagne or other drinks, the guests take them home and drink them when the baby is born.
5. Seeds from the Parents to Bee
Yellow and bumble bee themes are very popular for baby showers especially during the summer. If you are having a nature or bee inspired shower then this idea is for you. These favors are small packets of seeds with "Thank you from the parents to bee!". This is such a fun and cute idea. Plus your family and friends can grow the seeds and be reminded of the special day.
6. Baby Shower Cookie Favor Ideas
You can't have a celebration without delicious treats! Here we have beautiful baby shower cookies. These would be awesome favors to give out to family and friends because they look and taste good. You can buy cookies or if you like to bake, try and make them yourself for an extra special one of a kind gift.
7. DIY Thank You Cards
Your baby shower favors don't have to be too expensive or over the top. You can go for something subtle and meaningful like a card. Cards show you care and the recipient can keep it as a memory. These cards are great examples for baby showers. The design is simple but super cute. You can buy cards like these or make them yourself if you like crafts.
8. Beautiful Soap Favor Idea
A great favor idea that everyone will love is soap. It smells good, can be used and looks great too. Here is a beautiful example of soap to give out at any event including a baby shower. You can buy one kind of soap or for special family and friends choose a scent that is personal to them. Maybe lavender or rose.
9. Ready to Pop Popcorn
Looking for low-cost party favors that will be a hit with everyone? Then this next idea is for you. Here we have popcorn that has been placed into bags with tags that read "ready to pop". This such a simple but awesome idea. You can recreate similar bags to these or you can even have pink or blue popcorn.
10. DIY Baby Shower Gift Bags
You may want to put your favors in little gift bags. If so, then you could choose bags like these. The paper bags have cute baby grows on the front. You can buy bags like these or you can make them yourself. Also if you have quite a few bags to give out then you can personalize them too.