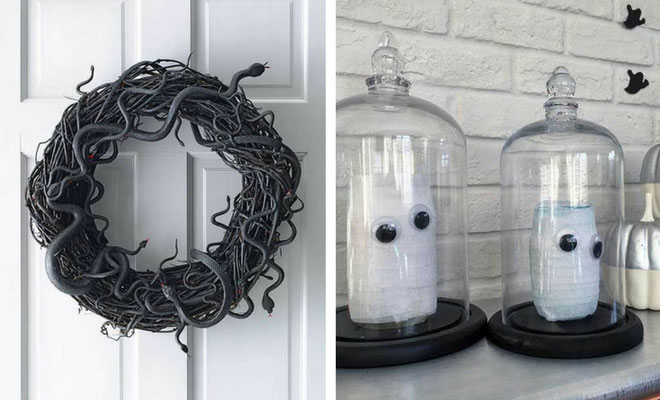 Instagram
Lifestyle
25 Amazing DIY Halloween Decorations
By
|
21. Spider Light Centerpiece
What do you need for these spider light centerpieces? Well, you need some empty glass jars which is good because, as we've already established, we have a cupboard full of those, and we need some small fairy lights to go inside them. Or those small disposable / mini battery operated lights. Then you need some cotton wool balls, and some spiders too. Throw them together, and you should have something that looks a little like this. Which will obviously get spookier as the lights go down …
Be careful when using lights and the cotton wool walls in the same jars. Never leave your DIY Halloween decorations unattended to ensure you're not posing any fire threats.
22. Floating Witch Hat Luminaries
Replace these witches hats with stars and Santa hats, and you have the coolest decorations all year round. That's the first thing we thought when we saw these cute Halloweeny-decs. That's before we were excited by how easy they actually are to make.
The lights inside could be battery-operated tea-lights, LED lights, glow sticks, that kind of thing. You can keep them inside the cheap witches hats you buy by literally sewing them into place. Another spooky celebration when the lights go out.
23. DIY Wine Glass Candle Holders
You know how you can get those four super-cheap wine glasses in a box from the cheap discounted stores? Well, they might come in handy you know – as DIY Halloween decorations if nothing else!
Turn them upside down, decorate them with glitter and all things bright and fabulous, and what do you have? The perfect tea-light candle centrepiece that everyone will want to know about. Where did you get it from? Oh, you made them? That's so cool!
24. Spooky Candles
These spooky candles are just toilet roll and kitchen roll tubes cut to different lengths, with a base added to fit a battery-operated tea-light candle, and some dripping wax added to make it look like a real candle.
Once you've spray-painted the whole thing the same colour, no one will ever know they're not real candles, and if you throw a few fake spiders on there, no one will want to get close enough to further inspect anyway.
25. DIY Candle Holders
You know those old wine glasses, port glasses, and sherry glasses that always seem to get passed down to you from elderly relatives such as a Great Aunt, or a Uncle Bob who you don't actually think you're related to? Well, here's something you could do with them. Paint them in this beautiful gunmetal grey colour, and add darker and lighter shades to make it look like a real metal goblet. Decorate using a thin brush and some black paint to say anything, or show anything, you wanted.
Complete with the tea-light candle holders on the top, or add battery operated tea-light candles, and you have a great spooky centerpiece.
There are so many ideas there, we can't think what we want to try next, but we hope you've gotten plenty of inspiration to try these spooky and easy DIY Halloween decorations for yourself. They're amazing to look at. We bet they're real fun to make too, so what's stopping you? Maybe it's time to have a super creative arts and crafts afternoon?