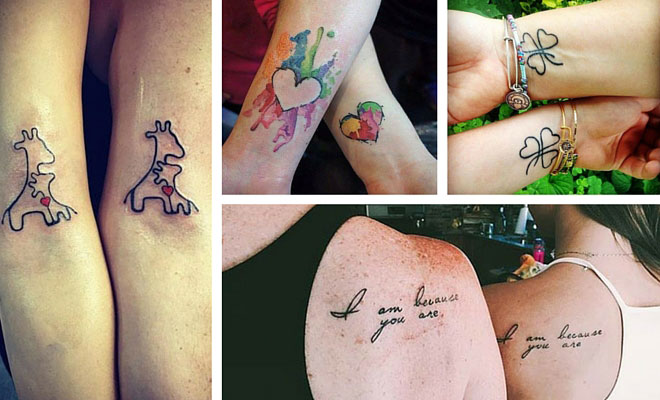 Instagram
Lifestyle
86 Amazing Mother Daughter Tattoos
By
|
31. Heart Lock & Key
A heart lock and key tattoos tend to be associated with love. The key symbolizes somebody's heart.  This is an emotional tattoo and can relate to mothers and daughters.  It can be any size, it doesn't have to be as big as the photo below.
32. Je T'aime maman… Je T'aime fille
Add the French touch with these sweet words. Je t'aime maman for mother and Je t'aime fille for daughter.  Add a heart, which is split into two halves, one side for you, and the other half for your mum.  When you aren't together, the tattoo is incomplete.
33. Arm Anchor Tattoos
Having a tattoo on your arm means you will show it off when wearing a t-shirt. With this in mind, go for a design or a symbol that is meaningful like the anchor.  This symbolizes love and strength.  If you have matching arm anchor tattoo, you will double the strength!
34. Mother & Daughter Symbol
Symbols that mean love and have a special bond look stunning. There's a story behind them which make them even more special. Having a mother and daughter symbol in the same place on your body will show the world how much you mean to one another.
35. Pi Tattoos
Pi is the most beautiful mathematics symbol you will possibly see.  For a mother and daughter, to have matching pi tattoos, it can represent your everlasting love for one another and bring a sense of calmness.  The two in the photo below have added a small outline heart to their pi.  You could do this or keep to just the pi symbol, it's up to you.
36. Winnie the Pooh Tattoos
Winnie the Pooh is so sweet. You may remember watching it when you were a child with your mum and it might be special to you.  There are so many quotes you could opt for, but we think Winnie the Pooh is so adorable and endearing.  These are not matching tattoos but anyone who sees yours and your mother's tattoos, will know they link together. Even if we're apart, I'll always be with you, this can totally relate to everyone.
37. Matching Turtle Tattoos
Turtles… because turtles always come home. Even if you are the daughter and have left home, you still return, even for a dinner!  Not many people know about turtles always returning to home, so it can be a conversation starter.
38. Mother & Daughter Infinity Symbol
Choosing a mother and daughter infinity tattoo can be hard. You both know you want the infinity symbol but you aren't sure what to mix it with. Have a look at these infinity designs that have a flower blended in.  It's the same thought process behind the message, but slightly different to accommodate both needs.
39. Heart Wrist Tattoos
These are simple and timeless. Heart outlines look striking and are effective. Of course, it's better to get these heart outlines in the same place to add to the meaning.
40. A Mother's Love for her Daughter is Forever
True, true, true! A mothers love for her daughter is forever.  If you are a mummy's girl and are proud of it, have this!  This is a great quote and it shows how much you love your mum and vice-versa.