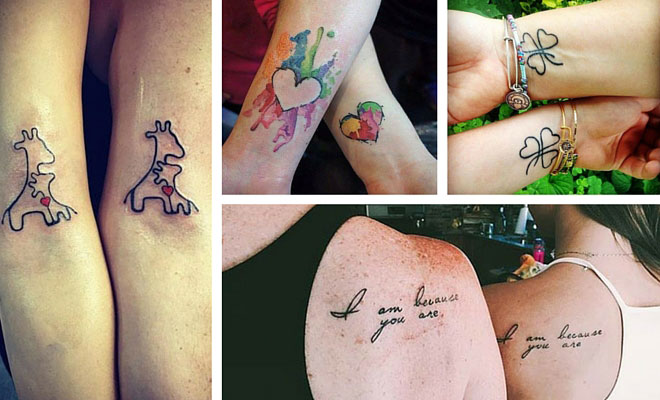 86 Amazing Mother Daughter Tattoos
Being close to your mum is the most amazing relationship you can ever have and wish for. Mother… the most important woman in every daughter's life. There's always a special bond between a mother and a daughter. Every daughter and mother can confirm this statement. The bond is strong and special because a woman understands a woman better, no offence to all the dads out there but it's true. A daughter doesn't only shares DNA, genetics and molecules with her mother, she shares her anger, pain, happiness and dreams. Mother isn't only a mother, she's a daughter's best friend whom she can rely on.
Mother-daughter tattoos can be a way to thank your mother for everything that she has done and to let her know that she plays an important role in your life. Let the world know how much you care and love your mother, and your mother you, with these beautiful tattoos. We have come up with 86 of the best mother-daughter tattoos you could get. Enjoy and maybe you could read with your mum/daughter to get a few ideas!
1. Wrist Mother Daughter Tattoos
Handwriting tattoos look personal and special. Having 'I love you' in handwritten font looks stunning, and adds that special touch. Keep the letter all lower case to keep with the theme. The wrist is a very popular area to get a sentimental tattoo.
2. Matching Lion Tattoos
Be brave and bold with a lion tattoo. Matching lions will be a sign of strength and boldness. Many mothers and daughters like to stand out and are always fighting each other's corner, so why not get this striking matching set of tattoos?
3. Heart & Infinity Tattoo
Heart and infinity are forever. Heart is the symbol for love whilst the infinity means a lifetime. Mother and daughter have the strong bond throughout their whole life and having these matching tattoos, will have a special meaning.
4. Cute Peanut Butter and Jelly Tattoos
It's peanut butter jelly time guys! Your mother knows you best, and of course, she knows your favourite sandwich! If yours is peanut butter and jelly, this will make it super special. We all know that peanut butter and jelly go together like two peas in a pod.
5. Winnie the Pooh Quote
If there ever comes a day when we can't be together, keep me in your heart I'll stay there forever. If this doesn't melt your heart, we don't know what will! This is an incredible and emotional quote from Winnie the Pooh. Anyone that sees your tattoo will be so jealous!
6. Watercolor Heart Tattoos
Are you and your mother colourful characters? Maybe you and your mum like colour and are always thinking about the bright side? Matching watercolour tattoos are a great thing to have. It shows your quirky and unique side. As the photo shows, you don't have to have an identical tattoo. Just have the same theme.
7. Three Colorful Hearts
Three colourful hearts is the perfect tattoo for two sisters and mum. It shows you have a joint connection, and the middle heart can represent the mom. Nobody is left out with this design!
8. Puzzle Tattoos
Puzzle tattoos are great to show off with your mum. It shows you are linked and will be forever. Nobody can take away your bond and your love for one another.
9. Always on my mind; Forever in My Heart
'Always on my mind, forever in my heart' quote can relate to many mothers and daughters. There's nothing better than having a tattoo that has meaning behind it.
10. I carried you… I was carried
This is ideal for all the mothers and daughters out there. Of course, your mum carried you for 9 months and you were of course, carried. This suits mother and daughter down to a T.
11. Cool Design Mother Daughter Tattoo Design
Do you have a special and unique design that you both love? Then why not get a matching tattoo? You may have designed the pattern yourself and want your mum to have it too. Maybe you could both have an input with the design. Pop round to your mums house and have a thinking session. Grab a pencil and some paper and get sketching.
12. Infinity Butterflies
Infinity means forever and your bond is forever. You can have a small, medium, large or even extra-large infinity tattoo. Depending on what you and your mum want. Mixing a butterfly and infinity symbol looks cute and meaningful.
13. You're the wings…
You are the wings keeping my heart in the clouds and you are the anchor keeping my feet on the ground. These are not matching tattoos but they do have their connection. Have the same layout like the photo to show off that link.
14. Little Anchor Tattoos
Having a small anchor tattoo can look as good as a huge tattoo. Having an anchor tattoo no longer means being a sailor. Nowadays, it can mean a number of things. It can symbolize stability and strength. Feet are a popular choice to have an anchor tattoo.
15. I am because you are
This is a lovely quote. 'I am because you are' will represent both mother and daughter.
16. Sun & Moon Tattoos
The sun and moon represents both sides. If mother and daughter are complete opposite to one another, this will symbolize that. It's the same as having a Ying and Yang tattoo. Whether you choose to have a big or small version, the sun and moon will look amazing.
17. Origami Bird
Bird tattoos have become more and more popular over the years. If you like the idea of getting a bird tattoo but don't want to have the same as everyone else, go for an origami bird. This still looks like a bird but is colorless and arty. Choose a part of your body that will show it off, like the photo below.
18. Cute Giraffe Tattoos
These matching giraffe tattoos are adorable. The little giraffe is looking up to her mum, which is so cute. In fact, this is far too cute for words. If this sounds like you, this is the tattoo for you.
19. Until the very end…
This is so true! Until the very end quote is so loving and sweet. Mother and daughter's bond is stronger than any other bond.
20. To the moon and back
Mix art with a special quote like this 'to the moon and back' tattoo. Having a quote will show and tell everyone how you feel. You could always add to this design like the photo above. They have added a few stars.
21. Red Lipstick Tattoos
Glam, glamour and glamorous! Are you a fan of red lipstick? If you and your mum are glamorous and a red luscious lips fan, have a red lipstick matching tattoo. It's girly, fun and of course, matching!
22. Wrist Bird Tattoos
Bird tattoos are quite a common tattoo to have. All bird tattoos have different meanings behind the tattoo. They can relate to freedom, motherhood and family, love or spiritual guidance.
23. Lotus Tattoos
Lotus flower tattoos are associated with purity. If you look at a lotus flower in the wild, you will see that the flower appears from the dirty pond water and still looks amazing. It looks so pure and fresh compared to the dirty, muddy water. It is also related to rebirth and the sun. Let the lotus be special for you and your mum. Get a matching lotus design that is full of meaning and love.
24. For them I'd risk it all… because of her I will not fall
This is a great way to represent both mother and daughter. Mother's tattoo says 'For them I'd risk it all' and the daughter's 'Because of her I will not fall'. Be strong for one another and have each other's back with these matching tattoos. This design is ideal for the feet.
25. Matching Wrist Tattoos
Matching wrist tattoos are very popular around many people, not just mothers and daughters, but friends and other family too. Opting for a heart design is always a good idea. You and your mum have to like the design. It can't be one-sided because you will have this on your wrist for the rest of your life, so try to choose something that is timeless and elegant. Many people have a heart and some choose to add a name or a quote that is super special to them.
26. Heart Knot Tattoos
Two hearts intertwined in a continuous knot to signify the strength of the bond between a daughter and a mother. This detailed design will have the love and affection, plus the style that everyone will see and comment on. You will always have a story to tell with this tattoo.
27. Together forever never apart… maybe in distance but never in heart
In order to have a special quote tattoo, you both have to relate to it. This is the ideal matching tattoo for any mother and daughter. It's always a sad time when daughters fly the nest, so you could switch it into a positive and keep it close to your heart forever. One tattoo reads 'together forever, never apart'while the other part reads 'maybe in distance, but never in heart'. The most difficult decision to make about these matching tattoos is who is going to get the first or second part of the quote on their body! This design looks so good as the arm tattoo.
28. Rose Tattoos
Roses look so pretty. Having a tattoo of a rose is girly and bold. As you can see from the photo, you don't have to get the same roses, or opt for the same part of your body. These mother and daughter have opted for different type of tattoos, but still have that connection. One has gone for a vibrant colour rose and the other has chosen a colourless rose. They both look amazing!
29. Small Hearts
Heart can be personalized in so many ways. Just having the outline of a heart speaks for itself. No colour or bold pattern needed, just the hearts. These aren't matching, but you know, they are connected.
30. Arrow Tattoos
Arrow tattoos show direction. Your mother is always directing you towards your goals and happiness. Having two arrows, can symbolize you and your mum. Have the arrows both facing the same way and if possible, have them on the same part of the body. The wrist is a good area.
31. Heart Lock & Key
A heart lock and key tattoos tend to be associated with love. The key symbolizes somebody's heart. This is an emotional tattoo and can relate to mothers and daughters. It can be any size, it doesn't have to be as big as the photo below.
32. Je T'aime maman… Je T'aime fille
Add the French touch with these sweet words. Je t'aime maman for mother and Je t'aime fille for daughter. Add a heart, which is split into two halves, one side for you, and the other half for your mum. When you aren't together, the tattoo is incomplete.
33. Arm Anchor Tattoos
Having a tattoo on your arm means you will show it off when wearing a t-shirt. With this in mind, go for a design or a symbol that is meaningful like the anchor. This symbolizes love and strength. If you have matching arm anchor tattoo, you will double the strength!
34. Mother & Daughter Symbol
Symbols that mean love and have a special bond look stunning. There's a story behind them which make them even more special. Having a mother and daughter symbol in the same place on your body will show the world how much you mean to one another.
35. Pi Tattoos
Pi is the most beautiful mathematics symbol you will possibly see. For a mother and daughter, to have matching pi tattoos, it can represent your everlasting love for one another and bring a sense of calmness. The two in the photo below have added a small outline heart to their pi. You could do this or keep to just the pi symbol, it's up to you.
36. Winnie the Pooh Tattoos
Winnie the Pooh is so sweet. You may remember watching it when you were a child with your mum and it might be special to you. There are so many quotes you could opt for, but we think Winnie the Pooh is so adorable and endearing. These are not matching tattoos but anyone who sees yours and your mother's tattoos, will know they link together. Even if we're apart, I'll always be with you, this can totally relate to everyone.
37. Matching Turtle Tattoos
Turtles… because turtles always come home. Even if you are the daughter and have left home, you still return, even for a dinner! Not many people know about turtles always returning to home, so it can be a conversation starter.
38. Mother & Daughter Infinity Symbol
Choosing a mother and daughter infinity tattoo can be hard. You both know you want the infinity symbol but you aren't sure what to mix it with. Have a look at these infinity designs that have a flower blended in. It's the same thought process behind the message, but slightly different to accommodate both needs.
39. Heart Wrist Tattoos
These are simple and timeless. Heart outlines look striking and are effective. Of course, it's better to get these heart outlines in the same place to add to the meaning.
40. A Mother's Love for her Daughter is Forever
True, true, true! A mothers love for her daughter is forever. If you are a mummy's girl and are proud of it, have this! This is a great quote and it shows how much you love your mum and vice-versa.
41. As long as I'm Living… My Baby You'll Be
As long as I'm living, my baby you'll be. How sweet is this! They have added their special touch by adding their role, their birth-date and initials.
42. You and I Wrist Tattoos
You and I! It is you and your mum against the world in your eyes. You are there for one another through thick and thin. No matter what happens, you will always be there to support and love each other. 'You and I' have a beautiful meaning and you can always add a heart outline like the photo below.
43. Mama & Baby Elephant
This is so cute! This mama and baby elephant outline tattoo is amazing. It tells a story and you don't need any words. The mother is leading her baby elephant and this is true to life.
44. Be Brave
Brave. This is a strong and powerful word. Maybe you have both been through rough times in your lives and you have both been brave. Be brave shows that both, you and your mother, have come out of a situation stronger than ever. Celebrate with this tattoo and show the world that you are both strong and brave people.
45. XO Tattoos
If you both want a tattoo but are scared of doing so, this is the basic of all tattoos. It's basic but the meaning behind it means a lot more than most huge tattoos out there. XO has a deep and loving meaning. X stand for kisses, and the O means hugs.
46. Feather Tattoos
Feather tattoos look striking and amazing. Adding a vibrant colour to yours will definitely make it stand out. Feather tattoos have lots of different meanings behind them. It all depends on what you want yours to represent. Feather can signify birth, luck or freedom. The idea of having a feather tattoo has been around for many years and we guess they will be around for many more to come.
47. Mother And Daughter Symbol
This symbol shows the emotion and love involved. The mother and daughter symbol is unique. They have teamed the symbol with flowers. This is a great way to make the design slightly different to your mum or daughter. The layout can slightly change as well as the type of flowers you like. Maybe your mum or daughter likes roses but you like carnations. This is when you bring your personality into your tattoo. As you can see from the photo, these two have opted for the same type of flowers but in different colours and are opposite to one another. Great idea! They haven't chosen to use bright colours for the mother and daughter symbol, only grey shading. They also haven't chosen to have the tattoo on the same part of the body. One has opted for the stomach and the other, the ankle. This is entirely down to you.
48. Clover Tattoos
Mother and daughter can both be lucky with these matching clover tattoos. You can choose to have a small, medium or large clover tattoo. We think this is a good size and works well on the wrist. The hearts are intertwined with a clover which will give you both luck. No colour is needed, just the outline and a lovely girly curvy lines to finish the design.
49. Celtic Symbol
This Celtic symbol is specifically designed for mother and child. Opt for a curvy and twisty Celtic motherhood symbol. It embraces your relationship whilst creating a stunning design. It is joint with a trinity knot, which represents the everlasting bond between mother and daughter. As you can see, the Celtic symbol looks great with other tattoos too. This person has lots of other designs leading up her arm and the Celtic symbol, complements the other designs.
50. Two Bodies, One Soul
Do you love elephants? Who doesn't! This is a gorgeous elephant design with 'Two bodies, one soul' quote beneath it. The elephant trunks are intertwined, which link you both together. Just because you have two bodies, doesn't mean you don't have the same soul! You are best friends as well as family and when spending time with someone, especially your mum or daughter, you become more like one another. If this sounds like you and your mum or daughter, have this tattoo. If you are put off due to the size, have a smaller version tattooed on a discreet part of your body.
51. 'I Love You' Tattoos
Daughter: Mom, I love you; Mother: I love you more. There is no other relationship like it! Many mothers and daughters have a goodnight routine and say I love you before they go to bed. Then either the daughter or the mother will reply with I love you more. If you had this same routine, make sure you honour it. You will have it forever and every time you look at your tattoo, it will remind you of your mum or daughter.
52. You are my sunshine… my only sunshine
Mothers and daughters are like sunshine's in our lives. Why not celebrate this and have, you are my sunshine, my only sunshine tattooed. The quote alone, is sweet enough but when you team it will lovely writing, it looks stunning. The only decision to make would be who's getting which sentence! The photo shows the saying tattooed on their arms, you can have this anywhere you wish. You could even conceal it from other people and only you and your mum/daughter know it's there. Tattoos have no rules, so whatever you want, goes.
53. Matching Infinity Tattoos
Have a look at these matching infinity tattoos. It's simple and personalized with daughter and her mother. Nobody can mistake the message behind these tattoos. These wouldn't take long to do at all, just in case you are scared of needles or are terrified of the thought of getting a tattoo.
54. Like Mother, Like Daughter
Simple, handwritten words, may be all that you need. If you are not a fan of detailed or intricate designs, like mother, like daughter, is effective. Don't be obliged to get a tattoo that you are not sure about. All mothers and daughters are going to love this quote, there is nothing not to like.
55. Our bond is everlasting
Everlasting love, is truly amazing. Being close as a mother and daughter is a unique and incredible bond. Of course, we have different relationship with other family and friends but the bond between mother and daughter, is different. You will not experience anything like it. This quote targets that special connection… our bond is everlasting. Add a splash of colour to the heart. You could have your favourite colour and it makes the tattoo stand out.
56. Always in my heart…
Go with the flow of your foot. Always in my heart is a cute and loving quote that will touch many hearts. Many people choose to have a straight line quote on their feet but this is something quirky and special. It is also tattooed on the inner side of your foot so it's not shown unless people see the whole of your foot. You could say it is kind of a special, hidden message.
57. Infinity Heart Tattoos
Are you looking for a girly design? Then this maybe the one for you. Infinity and hearts combined, look so feminine and elegant. No words needed, just this fabulous design. The wrists are popular for girls to have a small tattoo but you could always have it somewhere else. For instance, your ankle, your foot, your toe or even on your hip, hidden.
58. I'll follow you into the dark.
Big, bold and shows the love and message. Having an incomplete tattoo looks amazing when pieced together. I'll follow you into the dark quote is about love, trust and loyalty. The added key lock and key signify hearts. The quote is spelling out that you trust each other even leading in the dark. It is a lovely quote and is deep and meaningful. How many people can you trust in the dark? Not many so this has to be someone very dear and close to your heart to even think about having this tattoo = your mum or daughter!
59. Her Daughter; Her Mother Foot Tattoos
Feet are the perfect area to get tattooed if you choose a quote. It is a larger part of your body that is straight and it isn't not shown on a daily basis. Her Daughter, Her Mother is a such a simple, yet effective design to have. It is unique to you and there is no misunderstanding who the tattoo is about.
60. Birds on the Branch Matching Tattoos
If you team birds with branches, it sets off the love and the arty side. You can feel the love from the birds and the branches are unique and different. Everyone tends to have bird tattoos alone but if you want something different, add the birds sat on the branch. This can have several meanings. For instance, the two birds could be chatting to one another and if this describes you and your family, perfect! We all tend to sit in the kitchen gossiping so show this, with this design. Another meaning could be that the mother is advising or giving direction in her daughter's life. Whatever the message you want to show, this is a versatile design and you can make it your own.
61. Together forever!
We know of the many quotes out there, but which one relates to you and your mum? This one is quite long and beautifully written. Together forever… never apart… maybe in distance… but never in heart. This is an ideal linking tattoos for mothers and daughters! If you and your sisters are struggling to come up with a connecting tattoo, choose this. If you are one of three sisters and a your mum is up for the idea of getting linking tattoos, this is for you. Side of the foot is a popular choice for quotes. It's a good, straight section which you can easily cover up.
62. Lock and Key Tattoos
These are very detailed and meaningful tattoos. Mixing a jigsaw puzzle with a key and lock is an amazing idea. This mother and daughter, thought outside the box and come up with a perfect design for them both. The designs looks fab and the feelings behind the tattoo, is incredible. Once you and your mum/daughter get a matching tattoo, nothing and nobody can take this away from you both.
63. Cute Bee Tattoos
These bees buzzing around are beautiful! We love these bee tattoos. Over the past few years, bees have become an increasing popular choice for tattoos. Bees always find their way home and this can be your meaning being your colourful buzzing bee tattoos. Of course, you have to add a splash of colour for these tattoos to make the bees come alive.
64. Swallow Tattoos
Who needs vibrant colour? Sometimes grey or black tattoos are better, like these swallow tattoos. These black swallow birds tell a wonderful story and as you can see from the photo, they swoop over to the other wrist in the same sequence. This is just a simple and special touch that makes the tattoo look striking, especially when you are together. Bird tattoo signifies care, affection and love for family and friends. Birds are loyal and always return to their loved ones. Being close to your family and mother is special and we always look forward to returning home.
65. Puzzle Tattoos
Like mother, like daughter. They do say daughters, are just like their mothers. What better way to show this, than to get a puzzle tattoo which fit together. To differentiate the two, add the saying underneath both puzzle pieces. It looks amazing! They are still matching but with different wording. You could always have a different colour too.
66. Compass Tattoos
A compass isn't just for travelers to show them the way. Your mum has guided you in life and maybe you now show her the way too. This is perfect for a mother and daughter matching tattoo. It shows love, guidance and positivity. On this photo, you can see that they have replaced north, south, east and west with a heart and other initials. This way, they have personalised the compass and made it to their liking.
67. Pretty Matching Floral Hearts
If you are looking for a pretty tattoo idea, then this could be it. These two have chosen a delicate floral heart design. Beautiful, pink flowers have been tattooed into a classic heart shape. These are a great idea because the tattoos look amazing matching and separate, too.
68. Meaningful 'Love Always' Tattoo
A great idea for mother and daughters is matching quotes. Here is a beautiful example. These three have chosen to have the quote "Love Always". It is a meaningful way to show each other that you will always be there. You can recreate this tattoo or choose your own unique quote.
69. Beautiful Family Illustration
Next, we have a unique tattoo to show you. This design features an illustration of a family photo. This is a beautiful way to keep memories alive. You can have any family photo designed into a tattoo. Have a matching tattoo, or both of you can choose a photo of each other that you love and want to keep forever on your body.
70. Matching Floral Tattoos with Dates
A subtle way to have a mother and daughter tattoo is with dates. These three have all chosen the same floral design with the year each of them were born underneath. This is such a trendy idea and it is a great way to make the tattoos unique to your family. You can choose any design to go with your dates.
71. Half Tattoo
Our next idea is this half tattoo. These tattoos are unusual and involve two people having one half of a tattoo design. When the two people are together, the tattoo is complete. This is perfect for mothers and daughters! Recreate something similar or choose your own beautiful pattern or design.
72. World Map Tattoos
This next tattoo features world maps. A map of the world is the perfect design for anyone who loves to travel. It can be a symbol of that no matter where you are in the world that the two of you will always have a special bond. Also, it can be a reminder of home, if you are off on your travels. Not only is it meaningful, but these make great matching and individual tattoos too.
73. Lioness and Cub Tattoo Idea
Do both of you love animals? Then this next tattoo is for you! Here we have a design that features a lioness and her cub. It captures the bond between a mother and daughter perfectly. A lioness is also a symbol of protection and bravery because she will protect her family no matter what. We love this tattoo idea, you can both get a matching design like this.
74. Two Moons
Next, we have a colorful tattoo idea. These two have chosen to have matching moon tattoos. Moon tattoos are stylish and will suit everyone. Another great thing about a tattoo like this is that it can easily be covered up, too. Choose the the same color moon or choose two different vibrant colors.
75. Matching Botanical Tattoos
Another subtle idea are these botanical tattoos. Each person has got a small leaf design tattooed. This is a cool and stylish way to have a matching tattoo and they also look great as individual ones, too. You can recreate something like this or choose your own leafy design.
76. Tiny Pink Hearts
Our next idea features another heart design. These ones are small, pink heart tattoos. We love these because they are so cute and pretty. You can have matching hearts designed in any color and you can place them anywhere on the body. These would be great as first tattoos, too.
77. Always On Your Side
Next, we have another beautiful quote. These two have chosen the quote 'always on your side'. This is a lovely tattoo and reminder that you both will always be there for each other. You can recreate tattoos like these in any font and have them placed anywhere.
78. Beautiful Flower Heart Tattoos
Earlier in the post we featured a floral heart tattoo. Here is another beautiful design idea for this type of tattoo. This design is a little bolder than the previous one and it is a little larger too. It is a stunning tattoo idea for any mother and daughter. Recreate this or a heart with your favorite flowers.
79. Star Sign Tattoos
Star signs are popular and stylish tattoos. These are also a great idea for mothers and daughters. You both could have each others star sign tattooed or your own star sign with a design that matches. It is a cool and trendy idea that will suit everyone.
80. Cute and Unique Family Portrait
Next, we have another family picture idea! This one uses a different style to the one we featured earlier. It is a beautiful black ink design that is so unique. You can use any picture for a tattoo like this. Maybe choose your favorite memory together. Have matching tattoos or have your own individual ones, but make sure that both designs feature the two of you.
81. Matching Travel Tattoos
Our next idea is another travel inspired tattoo. This one has a smaller map in a heart shape. It is a subtler idea compared to the large world map. Maybe you can have a smaller map like this created with a special place or country that you both love. It is a unique and cute tattoo idea.
82. Bright Floral Tattoos
Love floral tattoos? Then this idea is for you! Here we have two vibrant floral designs. We love these because the tattoos are different but similar colors have been used so they both match in a way. It is a great way to share your bond, but also have individual tattoos. Recreate something like this or choose your favorite flowers.
83. Tropical Palm Trees
Next, we have tropical palm trees. Palm trees are stylish tattoos but also can be a reminder of a special holiday you had together or maybe can show your love of the beach and the sea. It is a cute idea that will suit everyone. Recreate a small black ink design like this or add some color!
84. Quirky Pinky Promise Tattoos
Are you are looking for a tattoo that is fun and quirky? Then this is for you. This mom and daughter have chosen a pinky promise tattoo. A tattoo like this can symbolize that you don't break promises to each other and that you will always be there for each other. We love this idea.
85. Stylish Ankle Tattoo Ideas
Another way you can have cute matching tattoo is with ankle designs like these! These two have chosen ocean inspired tattoos. You can both have a tattoo like this if you love the ocean or you can choose your own unique design. An ankle tattoo will look amazing on anyone!
86. Mandala Tattoos
Our next idea features mandala tattoos. Mandalas have become very popular and these designs usually feature patterns in a circular shape. Here we have two mandala tattoos. These would be perfect as mother and daughter tattoos because they are stylish, match beautifully and are nice individual tattoos too. Recreate something like this or choose your own design.
Last modified on November 15, 2022