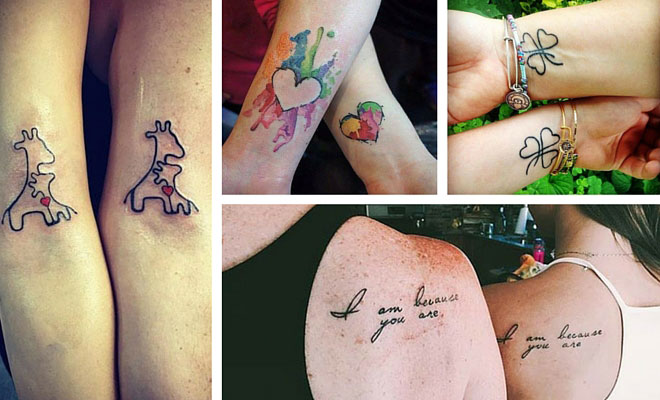 Instagram
Lifestyle
86 Amazing Mother Daughter Tattoos
By
|
11. Cool Design Mother Daughter Tattoo Design
Do you have a special and unique design that you both love? Then why not get a matching tattoo?  You may have designed the pattern yourself and want your mum to have it too.  Maybe you could both have an input with the design. Pop round to your mums house and have a thinking session.  Grab a pencil and some paper and get sketching.
12. Infinity Butterflies
Infinity means forever and your bond is forever. You can have a small, medium, large or even extra-large infinity tattoo.  Depending on what you and your mum want.  Mixing a butterfly and infinity symbol looks cute and meaningful.
13. You're the wings…
You are the wings keeping my heart in the clouds and you are the anchor keeping my feet on the ground. These are not matching tattoos but they do have their connection.  Have the same layout like the photo to show off that link.
14. Little Anchor Tattoos
Having a small anchor tattoo can look as good as a huge tattoo. Having an anchor tattoo no longer means being a sailor.  Nowadays, it can mean a number of things. It can symbolize stability and strength.  Feet are a popular choice to have an anchor tattoo.
15. I am because you are
This is a lovely quote. 'I am because you are' will represent both mother and daughter.
16. Sun & Moon Tattoos
The sun and moon represents both sides. If mother and daughter are complete opposite to one another, this will symbolize that.  It's the same as having a Ying and Yang tattoo.  Whether you choose to have a big or small version, the sun and moon will look amazing.
17. Origami Bird
Bird tattoos have become more and more popular over the years. If you like the idea of getting a bird tattoo but don't want to have the same as everyone else, go for an origami bird.  This still looks like a bird but is colorless and arty. Choose a part of your body that will show it off, like the photo below.
18. Cute Giraffe Tattoos
These matching giraffe tattoos are adorable. The little giraffe is looking up to her mum, which is so cute.  In fact, this is far too cute for words. If this sounds like you, this is the tattoo for you.
19. Until the very end…
This is so true! Until the very end quote is so loving and sweet.  Mother and daughter's bond is stronger than any other bond.
20. To the moon and back
Mix art with a special quote like this 'to the moon and back' tattoo. Having a quote will show and tell everyone how you feel.  You could always add to this design like the photo above. They have added a few stars.