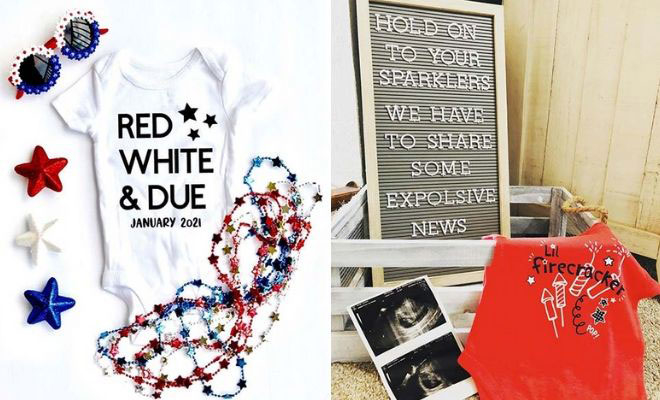 Instagram
Lifestyle
21 Cute 4th of July Pregnancy Announcement Ideas
By
|
When you find out that you are expecting a baby it is a fun and exciting time. But then you have the dilemma about how you are going to share such amazing news with your family and friends. Well, if you are planning to share in the summer, then why not choose the 4th of July! Everyone will be in a celebratory mood and you can make the event extra special. To give you some inspo, we have found 21 cute 4th of July pregnancy announcement ideas. Take a look and see how these parents-to-be had a double celebration. There are photo announcements, t-shirts and there is an even a reveal that includes the family dog too. Make the 4th of July one to remember by sharing your wonderful news.
1. 4th of July Pregnancy Announcement with Sparklers
The first idea we have is fun and perfect for the 4th of July. Here we have a collage that features the parents-to-be and the scan photo. In the top section, the parents have sparklers, the next is the scan photo on a sign that reads red, white and due while the last photo has the due date wrote with a sparkler effect. It is a cute idea and it will be great to look back on to.
2. Red, White and Due Baby Onesie
The next announcement idea is so cute! This could be a photo announcement that you can share online with your friends and family. It features a baby suit with red, white and due wrote on it with the estimated due date. The suit is surrounded by fun 4th of July themed items such as sunglasses and stars. These suits are available on the page below.
3. Stars, Stripes and Sleepless Nights
This announcement is one of our favorites because it has a 4th of July theme but is funny too. The parents-to-be have created a photo announcement of them holding a sign. Their sign reads "stars, stripes and sleepless nights" with the due date underneath. This so funny and it is a brilliant way to announce your exciting news to family and friends.
4. Baby Bump with an American Flag
If you are looking for a very patriotic way to announce your exciting news, then this could be perfect. Here we have a photo that features the bump with a flag at the side. This is a beautiful way to celebrate on the 4th of July and this will be a brilliant photo to keep as a memory of the special time. Keep it simple like this or you can have red, white and blue clothes or more themed items in the background.
5. 4th of July Sister Announcement
If you have more than one child, then you could include them in the announcement. Here is an adorable idea. This one features a sister-to-be in her stars and stripes dress holding a flag. There is also a sign next to her about the exciting news of the new baby. This is a fun way to celebrate on the 4th and you could recreate something similar for a brother as well.
6. Firecracker Reveal with Smoke
Firecrackers can be used for celebrations and this next announcement is inspired by this. This is an announcement that features a sign that reads "another little firecracker is on its way". There is also pink smoke in the background to show the baby will be a girl. It is a fun way to share the news and you can also add some patriotic decorations or red and white smoke with blue if the baby is a boy.
7. Pregnancy Reveal with a Sparklers Theme
Next, we are keeping with the fireworks and sparklers theme. Here we have a photo announcement with the scan photo, baby suit with "lil firecracker" wrote on it and a sign in the background about sparklers and explosive news. This is perfect for the celebration and you can recreate the photo to share with family and friends or have something similar on display at a family event such as a BBQ.
8. Red, White and Due 4th of July Cookies
If you are having a family party or BBQ, then this idea is perfect for you. These are announcement cookies with a 4th of July theme. There are three cookie designs that include red, white and due, a baby design and a baby suit with stars and stripes. You can give these to family and friends as a sweet surprise. A baker can make them or you can try and bake some similar cookies yourself.
9. Firecracker Pregnancy Announcement for the 4th of July
The next idea has another firecracker theme. This time the parents-to-be are holding a sign that reads "we're so excited to say that our little firecracker is on the way". They are also wearing red, white and blue clothes. You can have a sign like this at a family gathering or you can recreate a photo like this to share on your social media.
10. Pregnancy Reveal Photo with a 4th of July Theme
Next, we have a cute and unique idea. This is another photo announcement with a 4th of July idea. The sign in the image reads "red, white and due" with the date underneath. This image also has the parents legs and feet with small baby shoes and the scan photo. Something like this is simple, stylish and it will make a great canvas for your home. This will be great to look back on.