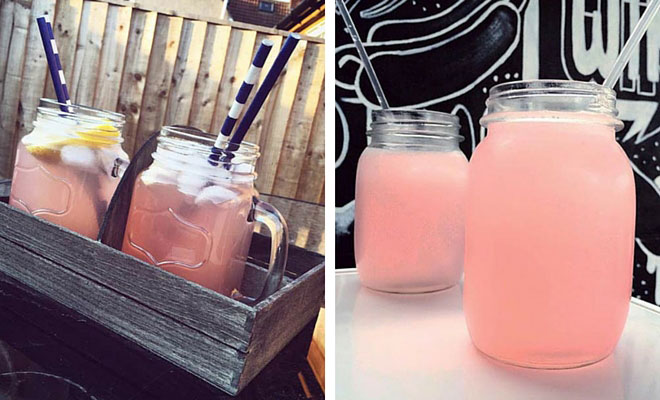 Lifestyle
3 Ways to Make a Delicious Hippie Juice Cocktail
By
|
Looking for a way to escape the summer heat? You've come to the right place! Recently we've discovered an amazing girly alcoholic drink that tastes as good as it looks – Hippie Juice.
Hippie juice is an alcoholic, summer drink that is super easy to make. The main ingredients are: watermelon vodka, pink lemonade, Malibu, Triple sec and fruit. You can't go wrong with these ingredients, right?
This is the perfect drink for a hot summer gathering or a night pool party. The cocktail has a beautiful light pink color to it — perfect for an Instagram picture. Garnish it with fresh strawberries, lemons, or raspberries and you'll end up with the prettiest cocktail ever. Here's how to make it:
Recipe #1
4 ½ oz. (135 ml) Smirnoff Watermelon Vodka
3 oz. (90 ml) Malibu Coconut Rum
3 oz. (90 ml) Triple Sec
Fruit: strawberries, raspberries and lemon pieces
Top off with pink lemonade
Recipe #2
1 cup Smirnoff Watermelon Vodka
¹⁄³ cup Malibu Coconut Rum
¹⁄³ cup Triple Sec
4 Scoops Country Time Pink Lemonade Mix
4 Cups Water
Fruit: strawberries, blueberries and lemon
Recipe #3
2 oz. Fresh Watermelon Juice
1 oz. Vodka
2 oz. Fresh Lemonade
½ oz. Malibu Coconut Rum
½ oz. Triple Sec
10 Ideas for Serving:
1. Perfect drink (and serving) for a pool party.
2. Looks so yummy, right?
3. Garnish your cocktails with fresh strawberries…
4. … or lemons.
5. This cocktail will be a hit with your girl crew!
6. Yummy!
7. Make sure you have plenty of mason jars.
8. Or simply serve it in a pitcher.
9. Making this right now!
10. Perfect drink for a hot summer night.