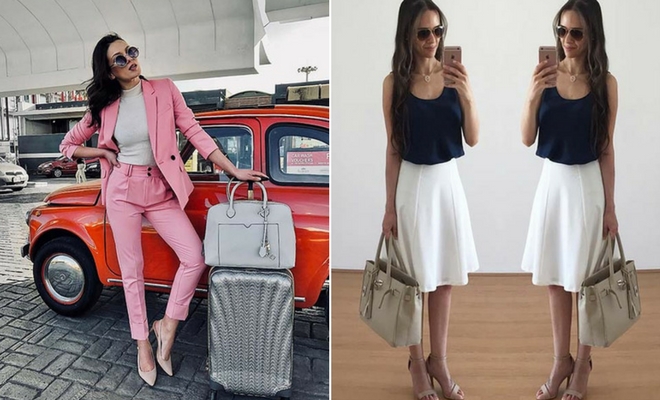 Instagram
Fashion
23 Cute & Trendy Summer Work Outfit Ideas for 2018
By
|
11. Simple and Summery
If prints and bright colors are not your thing, you could choose a simple and summery outfit like this one. The outfit features a beautiful white skirt with a dark sleeveless top. These two pieces compliment each other perfectly. To keep it classy for work choose an outfit like this in white and navy or white and black.
12. Elegant Pink and White Suit
Our next outfit shows how you can mix and match pink and white to create a chic work outfit. The look is made up of soft pink trousers, a dark pink top and a white jacket. We love this elegant and pretty outfit. You could also wear a similar outfit but swap the jacket and top for a white blouse.
13. Pretty Pleated Skirt
Next, we have a beautiful outfit idea that features a pleated skirt. We love a pleated skirt because they are trendy, elegant and chic. You can get these skirts in a variety of colors and lengths. As it is for work don't go for a skirt too short. Pair your skirt with a blouse, maybe a simple white one.
14. Light and Stylish Suit
Light suits can be dressed up and down. If your workplace has a relaxed vibe but you still want to look professional then you could wear an outfit like this. The light suit looks gorgeous with the white top and sneakers. You can also wear a similar outfit with flat shoes instead of sneakers.
15. Summery Stripes
Stripes always look super stylish. You can update your stripes for the summer by wearing bright stripes like yellow and white. As you can see on the outfit featured, yellow stripes look gorgeous. You could wear a similar shirt with white or black trousers. Other stripe color combinations are available too.
16. Neutral and Florals
We couldn't have summer work outfits without mentioning florals. Floral prints are a must-have for the season. As the outfit is for work consider wearing soft, neutral florals. This way you can look summery but professional. An outfit like this one would be perfect.
17. Beautiful Blue Outfit Idea
Earlier in the post we mentioned how blue is a great color choice for the summer. This next outfit shows another beautiful way to wear blue for the season. The look features a blue printed blouse and light blue skirt. An outfit like this will suit anyone and will look great for any working day.
18. Statement Jacket
To jazz up your look you could wear a statement jacket. A statement jacket will brighten up your work outfit and you can take it off when you get there if the dress code is strict. You can get so many lightweight jackets in different prints and colors to create many different summer work outfits.
19. Smart Blue Trousers
At the beginning of the post we mentioned statement trousers. Here is another way you can wear bold trousers for work. Instead of a bright yellow you could choose blue. This is a beautiful blue and it will suit anyone. You could also dress up pants like these for after work. Many summer work outfits can be created with pants like these.
20. Vibrant Summer Work Outfit
For the summer you could ditch the black trousers and choose white ones instead. White trousers look professional and summery. Consider wearing your white trousers with a bright top. You could choose an outfit like the one featured. It is trendy, classy and smart.
21. Light Shirt and White Trousers
If the bold top isn't for you, then you could wear your white trousers with a light blouse instead. A blue blouse like the one featured would be perfect. Wear your blue shirt and trousers with flat shoes or chic heels. A stripe blouse would look great too.
22. Chic Summer Work Outfit Idea
Looking for an elegant and classy summer work outfit? Then this next look could be for you. The outfit features a white blouse with neutral trousers and shoes. It is a soft and feminine outfit that would look amazing on anyone. You can also mix and match pieces like these.
23. Stylish in Stripes
Last on our list is this stripe jacket. A jacket is a great way to update the pieces you already have. Stripes are perfect for the summer as they look stylish and summery. You can choose a white and black stripe jacket and wear with any trousers.
We hope you have found inspiration for your summer work outfits!