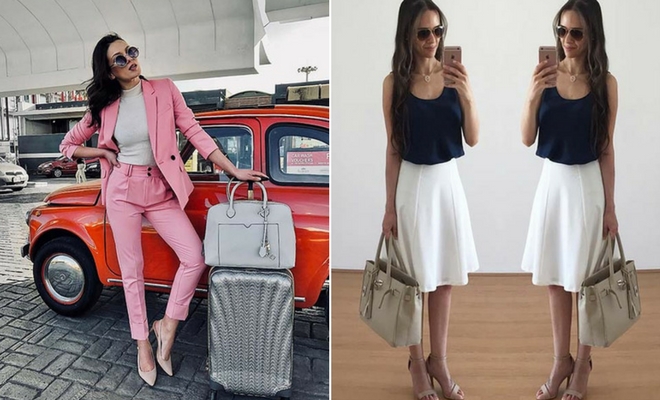 23 Cute & Trendy Summer Work Outfit Ideas for 2018
The summer season is just around the corner. So, it is a good time to start planning your summer work wardrobe. The last thing you need is to wake up on a Monday morning to hot weather and blazing sun with nothing to wear. We know it can be difficult choosing outfits for work as getting the balance between summery and professional isn't easy. So, we are here to help and have found 23 of the most stylish summer work outfits.
1. Bold Summery Trousers and Shirt
First up, we have this beautiful outfit that features a white shirt and bold trousers. The fresh white shirt keeps the outfit professional while the light and bright trousers make you look summery. You can choose trousers in a similar color or maybe try a soft pink or blue. As long as your shoes and top are smart and office ready, you can get away with statement trousers.
2. Smart and Statement Making
If your workplace has a stricter dress code, you could make a summery statement with your bag. Here we have the classic white shirt and black trousers but with cute shoes and a red bag. As the shoes and bag look perfect for the summer, it gives the outfit a lift and updates it for the new season.
3. Stylish Neutral Work Outfit
Neutral colors are stylish, smart and great for the summer. Our next outfit idea features a light neutral pant suit with a black top, shoes and bag. This is a professional outfit that looks cool and summer ready. You could also mix and match a similar jacket with black or white trousers.
4. White Shirt and Skirt
The summer is the perfect season for skirts. For work you could try a white shirt and neutral skirt like the outfit featured. The color scheme makes her look smart and stylish. You could also try a similar look with a black or grey skirt.
5. Chic Blue Suit
Blue is a must-have color for the summer. You could try a blue suit like the one featured as it is professional but stylish. It is good to have a suit like this in the wardrobe because you can mix and match it with other items to create different summer work outfits. Suits like this can be dressed up or down too.
6. Summer Stripe Culottes
If your workplace has a more relaxed dress code, then you could wear an outfit like this one. The stripe culottes are very trendy and lightweight for the summer. You can wear similar culottes with a jacket or different color top. Culottes are also available in other colors and prints.
7. Bold Dress
Dresses can be worn all year round but in the summer you can be a little bolder. This white, yellow and black dress would be perfect for the summer. It is vibrant, classy and smart. Try and choose dresses that have neutral and vibrant colors mixed. You can achieve a professional look this way.
8. Professional in Pink
Look professional in pink this summer with a suit like this one. The pantsuit is in a light pink tone and is paired with a neutral top and heels. If you don't want to wear a colorful suit, you can just wear a pink jacket or trousers. This is an amazing outfit idea for after work too.
9. Cute Polka Dot Blouse
One way that you can brighten up your work look is with a patterned shirt. Shirts look smart in almost any color and print. A polka dot shirt would be perfect because the pattern is cute and stylish. You can get polka dot shirts in any color to create different summer work outfits. A similar shirt to the one featured will go with everything.
10. On-Trend Dress
Just because you are going to work, it doesn't mean you can't show off your own individual style. You can try and choose a trendy dress like this one. It is summery, smart and super stylish. Other dresses you can try for the summer are pastel dresses or dresses with prints like stripes, polka dots and feathers.