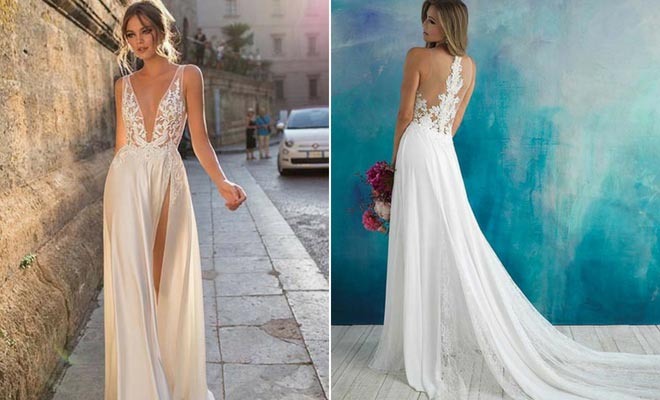 21 Sexy Wedding Dresses for Confident Brides-to-Be
Are you getting married and looking for the perfect dress? Then you are in the right place. There are so many different wedding dresses available that it can be very difficult finding a dress that you love and that suits your individual style. To give you some inspiration, we have found 21 sexy wedding dresses for 2019. We have something for everyone, from sheer dresses to gowns with classic white lace. Take a look, you may find a beautiful dress for your special day.
1. Sexy Wedding Dress with Lace Back
The first wedding dress we have to show you is this beautiful floor sweeping gown. This dress has a lace feature on the back as well as lace on the skirt. A gown like this will make any bride look gorgeous on her big day. Consider wearing your hair in an updo with a dress like this to show off the lace at the back.
2. Lace Wedding Dress with Stylish Strap Back
Next, we have a dress that combines a traditional bridal look with a modern design. This gown is classic white lace with a stunning strappy feature at the back. The straps make the dress look stylish and sexy. You can choose a fitted dress like the one featured or one with a similar back but with ballgown skirt.
3. Sexy Wedding Gown
Every bride wants a dress that will wow and that will be remembered. Our next idea is a statement dress that will do just that! This gown is fitted with a plunging neckline. It also has a stunning overskirt. We love the overskirt because you get the sleek, modern dress as well as a more classic princess gown too. You get the best of both.
4. Simple and Sexy Wedding Dress
If you are more a believer in less is more, then this next dress is for you. This gown has a beautiful lace bodice with a sweetheart neckline and a white floor sweeping skirt. A dress like this is simpler than some of the dresses you will see but it will give you a sexy and chic bridal look.
5. Lace & Sheer Top
Our next gown has a vintage glamour vibe. The dress has a sheer lace bodice with stunning floaty sleeves and a light slim skirt. We love the bodice on this dress because it is stylish but also uses classic bridal elements like white lace. A dress like this will look beautiful on any bride. It would particularly suit boho, vintage and rustic weddings.
6. Elegant, Lace Off the Shoulder Gown
Off the shoulder dresses are chic and on trend, so why not wear this look for your wedding. As you can see with the dress featured, an off the shoulder bridal gown looks stunning. This dress has an off the shoulder feature with straps too. You can choose a similar style or choose off the shoulder with no straps. We love this dress!
7. Gown with Sheer Lace Bodice and Sleeves
Sheer lace dresses are super stylish and are a favorite among celebrities. You can bring this A-list look to your special day with a sexy wedding dress like this one. The gown has a sheer and lace bodice with sleeves and a long floaty skirt. This dress is stunning and combines luxury, trendy celebrity fashion with classic bridal elements. Dresses like this will suit any wedding and bride.
8. Sexy Backless Wedding Dress
If you are looking for an elegant and sexy wedding dress, then this next idea could be for you. The dress is all lace and is backless. This is another example of how sheer and lace works beautifully in bridal gowns. Wear your hair in an updo with a dress like this to show off the beautiful backless feature. You can also wear reverse necklaces too.
9. Wedding Dress with Plunging Neckline
Next, we have a beautiful gown that looks fit for a princess. The dress has a plunging neckline with a sheer bodice and crystals while the skirt is white tulle. Tulle is perfect for a bridal gown and looks pretty and elegant. A dress like this is perfect for a bride who wants to make a statement.
10. Close Fitting Lace Gown
Our next idea features a lace dress. This gown is more traditional than some of the others we have featured as it has a simple design with the classic white lace. This shows how you can look sexy while keeping the look elegant and classy. A dress like this will suit any bride.