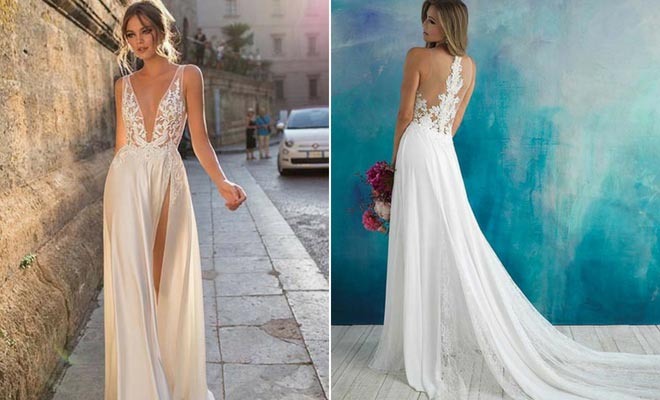 Instagram
Fashion
21 Sexy Wedding Dresses for Confident Brides-to-Be
By
|
11. Bridal Gown with Side Split
Dresses with side splits have become very popular. From celebrities wearing this style at events, to fashionistas wearing the dresses on special occasions. This next idea shows how stunning a side split looks on bridal gown. As you can see, the dress is pretty and elegant and the split is a super stylish extra feature. We love this dress, it would look amazing at any wedding.
12. Sexy Wedding Dress with Overskirt
Earlier in the post we featured a statement gown with an overskirt. Next, we have another wedding dress with an overskirt, but this one shows how to wear the style in a different way. This dress is close fitting with a sweetheart neckline and tulle overskirt. The tulle overskirt gives the dress a completely different look. You get a stylish, modern wedding dress with a classic princess look.
13. Stunning Off the Shoulder Dress
Next, we have a stunning off the shoulder dress. This dress is white lace and has long off the shoulder sleeves, it also has a gorgeous mermaid skirt. A dress like this will wow and it would be perfect for a bride who wants to look glamorous on her big day.
14. Wedding Gown with a Beautiful Back
Our next dress idea features a gown with a beautiful feature on the back. The back of the dress is sheer with white embroidery and buttons. We love the white buttons on the back because it gives the dress an elegant vintage look. There are lots of other dresses available in different styles with buttons like this.
15. Mermaid Dress with Cape
If you want a unique and stylish dress, this next idea could be for you. This white lace dress has a chic mermaid skirt and a stunning sheer cape. The cape is beautiful and the style feature is not seen that often. A dress like this will suit a bride who likes to be different, wants to look elegant and who wants a dress that guests will remember.
16. Glamorous Gown
Planning a glam wedding and need a gorgeous dress to suit the theme? Then this could be the dress you are looking for. It has a sweetheart neckline with beautiful detail and a floor sweeping skirt. This dress is the perfect way to look sexy and elegant. It will make any bride look amazing on her big day.
17. Sexy Wedding Dress with Sparkly Crystals
A special occasion needs sparkle! This bridal gown has stunning crystals around the bodice and on the two straps at the back. The addition of sparkles makes the straps and bodice look glamorous. We love the other details on the dress to such as the lace and buttons. This would be a great choice for the brides who want a luxury wedding dress.
18. Romantic Lace Wedding Gown
Having a beach, boho or rustic wedding? Then this dress could be perfect. The gown has a sweetheart neckline with a sheer bodice while the skirt is floaty. This would look perfect for any of the themes mentioned because it is light, stylish and will suit outdoor summer weather.
19. Sexy Wedding Dress with Pretty Sleeve Feature
The simplest of dress can be glammed up with sleeves and other stylish features. This long floor sweeping gown has a simple design. However, the sheer light sleeves really jazz up the look. Without the sleeves this dress would be chic and minimal but with them the dress is pretty and glamorous. You can find any dress and have sleeves like these put on or you can find something similar.
20. Wedding Gown with Lace Back
A dress does not have to be over the top to be sexy. This next dress features a sheer bodice and a long floaty skirt. Even though this is more of classic and traditional design, it is sexy and stylish. A dress like this will suit any bride. You can jazz up the dress with bright flowers and beautiful updo for more of a statement making look.
21. Wedding Dress with Plunging Neckline and Side Split
Last on our list is this wedding dress with plunging neckline and side split. This dress combines some of the looks we have featured throughout the post to create a stunning and sexy gown. It has the side split, low neckline, sheer bodice and light material. A dress like this would suit a confident bride who wants to make a statement. It would look amazing for a beach wedding.
We hope you have found the perfect sexy wedding dress!