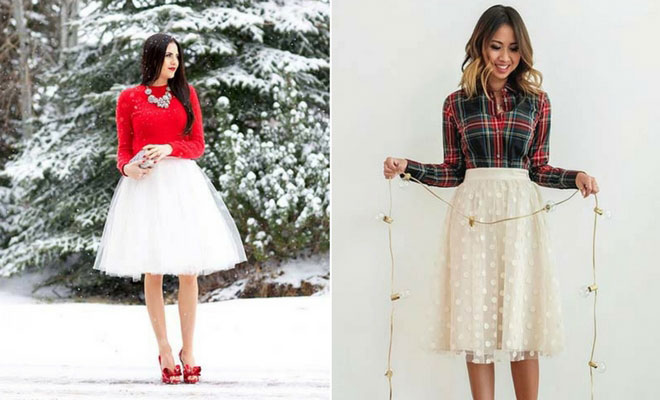 Instagram
Fashion
59 Cute Christmas Outfit Ideas
By
|
41. Chic Red and White Outfit
Next, we a chic and festive outfit to show you. This outfit is made up of a bold and Christmassy red top with tailored white trousers. An outfit like this perfect for Christmas parties and other special events. This is great for those who love the classic red and white colors but who want to wear them in a classy way. This outfit was created with the Lovers + Friends Kendall blouse in Rose and wide leg suit pants from Rachel Parcell.
42. Festive Velvet Dress
If you like to wear pretty dresses for the holiday season, then this is perfect for you! Here we have a festive green dress that is made with glam velvet. There are also frills on the dress and a thin belt too. It is such a beautiful dress and the velvet and green color really make it look Christmassy. This is a JACK by BB Dakota West Village Velvet Dress and you can find it online.
43. Sequin Trousers and Sweater
Dresses and skirts are not your thing? If so, we have the solution for you! This stylish lady has worn a chic sweater with sequin pants. Sequin pants look glam and ready for a party but they are more comfortable to wear. You can wear pants like these with a sweater or go for a more glitzy top. Either way, you will look amazing. To recreate the look, you will need Free People Night Moves Sequin Harem Pants and a top of your choice.
44. Cute Christmassy Outfit
Next, we have another cute, Christmassy and cozy outfit. This time a chunky sweater has been worn with a beautiful sequin skirt. It just shows another way to look glam but casual too. Also, it gives you other ways to wear the sweater and skirt combo. An outfit like this will be great for Christmas day. This look was created with the Free People Trumpet Sequin Skirt but currently it is only available in black. Similar silver skirts can be found online though. However, you can go for the black skirt with a grey sweater – it will look amazing!
45. Silver Sequin Dress
If you are looking for a pretty party dress, then you need to check this out. Here we have a short wrap dress that is covered in silver sequins. It is so sparkly and gorgeous. A dress like this will be perfect for Christmas parties and the big day. It would be great for NYE as well. The dress is available at vault206.
46. Pink Sweater and Silver Skirt
The next Christmas outfit idea features another sweater and sequin combo. This time we have a cute pink sweater with a midi sequin skirt. It is a fun and bright outfit. Recreate this or you could swap the pink sweater for a red or green one. This will give you a very glam and festive look.
47. Christmas Outfit for the Wine Lovers
This next idea is one of our favorites! Here we have an outfit for the wine lovers. This festive fashionista is wearing a top that reads "He sees you when you're drinking" which is a fun version of the classic Christmas song. She has worn it with a cute Santa hat  and is enjoying a glass of wine. These t-shirts are available at sensiblechaos28. Of course, this top can be worn if you love beer, cocktails or any other alcoholic drink.
48. Green Top and Cute Red Skirt
Next, we have a festive outfit with a vintage vibe. The outfit includes a Christmassy green top with a beautiful and bold red skirt. We love the skirt because it looks like something that would be worn in the 50's at Christmas. It is a fun and stunning look that will suit everyone. Similar tops and skirts can be found online.
49. Fun and Festive Outfit
If you love the holiday season and want an outfit that is fun and festive, then this is is for you. Here we have a Christmassy sweater that is worn with a short sequin skirt. The sequins are glitzy and the sweater is perfect for Christmas. This look was created with the Fa La La La Sweater and Sequin Drape Miniskirt from TOPSHOP.
50. Sequin Skirt and Festive Red Sweater
Love the sequin skirts and sweaters? If so, you need to see this. Here have a silver pencil skirt that is worn with a red sweater and cute accessories. As you can see, the festive red looks amazing with the silver sequins. This is another outfit that can be worn at Christmas day or for parties.