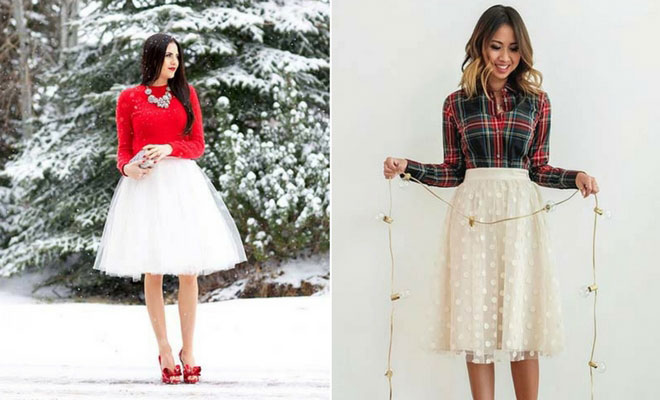 59 Cute Christmas Outfit Ideas
It's getting to that time of of year again – the carollers are clearing their throats, ready to start singing again for yet another festive season. It's time for us to start planning the outfits that will steal the show this Christmas. In case you're doing the same, here are 59 cute Christmas outfit ideas that we think you might just love:
1. Flannel Shirt + Sequin Skirt
A sequin skirt never goes out of style, and it's definitely a closet must-have. Maybe in a more demure black if gold is a little too brave for your liking for your cute Christmas outfit ideas this year. You can mix it up with a number of different closet pieces, for a number of different looks and events too. We love this festively-themed outfit of the day, complete with tartan / plaid shirt, and those stunning red shoes too.
2. Christmas Jumper
When the weather starts to get a little colder, that can only mean one thing – it's time for the Christmas jumper to make its annual reappearance. And why wouldn't it? We're getting super excited about Christmas coming, aren't you getting excited too? What colour is your Christmas jumper? That's the colour you could consider matching your accessories too, in this case, a fabulous red bag. Work with skinny black jeans and boots or trainers, just like you can see here, you have a fabulous and easy to wear this daytime winter outfit. You could even layer it up further with a hat and scarf, and also an overcoat. For an evening look, you could wear this sweater with the black sequin skirt we told you about before …
3. Red Shirt + Black Midi Skirt
Tailored pieces are very much in-style right now, and tailored shirts are definitely in. We love this bright pop of colour, a great way to wear a bright shade without it taking over your look entirely. It's a classic for the cute Christmas outfit ideas. We also love this great-shaped A-line skirt, very flattering for all manner of body types, and easy to throw on with a shirt, a sequinned top, and even a Christmas sweater. Versatile too, you could also team this look with pretty sandals for a night out, warm winter ankle boots for a more daytime look, or those Valentino beauties, as shown by this fashion icon.
4. Cute & Simple
Layering is always a good idea when the cold weather starts to draw in. This look gives you a classic, simple, and sophisticated to rock warmth with style, all at the same time. Match your gloves to your look, and throw that bit statement necklace on over the top of your high-necked sweater, and what do you have? A wintery look that you could totally wear on Christmas day!
5. Flannel Shirt + Midi Skirt
Do you remember we suggested that tartan / plaid skirt in the first outfit we presented to you? Well, we're bringing it back around again, giving you a way to mix and match those closet staples to get more than one outfit out of them. In this case, we're teaming it up with a beautiful summer skirt, something you probably wouldn't have thought about during the cold winter months. If this looks a little too chilly for your liking, strap the barely-there shoes with tights and ankle boots instead. You could even go for knee-high boots, totally making use of those ones you've been hoarding in the back of your closet for a while.
6. White & Red
When the weather gets cold, there are only two colours on our mind – hit and red. Well, that's a little bit of a lie, we're rocking most of the shades of the rainbow right now, but white and red is such a classic winter combo. We felt it needed its own little slice of limelight for our cute Christmas outfit ideas. Why not? If the dress isn't quite your scene, you could replace them with red trousers and a fitted white shirt, or off-white if you're not really a white person either. You could throw a thick white winter sweater on with your red pants, totally making use of the red jeans you bought in the summer.
7. Sequin Skirt
We told you that the sequin skirt would be a really bit deal for this season, and when we're talking about cute Christmas outfit ideas, we can't come back to it enough. There's something truly fairytale-beauty-like about this pink and sparkly wonder, also rocking another very big trend for right now – rose gold. It doesn't really matter what colour your sequin skirt is, or what style for that matter, we'd like to bet money in the fact that it will go perfectly with any number of black tops you own in your wardrobe. When you throw a blazer over it, with a neckline-skimming necklace if you're feeling particularly blingy, you'll have an outfit for Christmas that anyone would be proud of. Try it – you'll see.
8. Red Sweater + Tartan Scarf
Tartan and plaid prints come back in fashion every time the weather gets a little chilly, so it comes as no great surprise that the tartan scarf and red sweater combo would be a big one this year. This is especially the case when you consider that we've already discussed the big red trend too. Although you might not immediately think of adding mustard-yellow accessories to this colourful, festively-themed look, it's a great combo, especially when you add a similarly coloured pair of boots to the mix. And if you don't have boots, opt for little ballerina shoes and socks … Because you don't want your toes to get cold!
9. Gold Midi Skirt
Christmas is the perfect occasion to rock out your very best skirts, and when your skirts are as beautiful as this gold midi skirt, you should be looking for any excuse to wear them. Once again, it's the classic additions that make the look as beautiful as it is – that simple black top, for example, and contrasting (and simple) black shoes. The big necklace works brilliantly with the high neckline, and you could also sub that black, long-sleeved shirt with a thicker knitted sweater when it gets really chilly. Remember the black blazer that we discussed earlier on too? You could totally throw that on. All of the looks that you'll see here are really very versatile. Don't you love it when that happens?
10. Suit it up!
There's something about wearing a man's clothes that instantly makes you feel super sassy, don't you think? Don't worry, we're not saying that you should rock his suit to that big event tonight, but if it fits, and it looks great, why not? Tailored clothing is very much a big deal right now, especially with brands such as Victoria Beckham keeping the sharp, tailored looks on the catwalk. It serves two purposes – it keeps you super warm, especially with luxurious velvet materials.
11. Pop of Red
Oh look! There's that red theme coming back again! Didn't we tell you it would definitely be making a few appearances? This is such a simple way of bringing new colours into your wardrobe mix, especially if you're a newbie and aren't used to wearing them. With simple tones and accessories supporting your bright red skirt, jeans, or even dress, it could easily be made into an every-day outfit, even though you might not have thought as such when you bought it.
12. Red Dress + Flannel Scarf
And for when simple accessories aren't really your bag, keep your bag nude and liven things up with a brightly-printed scarf, just like you can see here, worn with that red dress we dared you to bring out earlier. Just like that mustard shade, these brown and beige / nude tones work really well with a bright red shade, and that gives you the perfect excuse to start shopping through the Mac nude lipstick range … It's like fate, ladies!
13. Black & Gold
If there's ever a colour that spells Christmas, it's gold. And what goes great with gold? Black, of course! It doesn't matter what you're wearing, whether it's a dress, a skirt, jeans, tailored trousers, whatever, just make them black and gold. Make it all black and gold! We love the simple combination of that little black dress with that sparkly gold, squinted bomber jacket, another big trend row inter 2018. It's all been perfectly accessorised with the gold clutch, black shoes, and dark-gold jewellery pieces too. This is definitely one of our favourite cute Christmas outfit ideas.
14. Flannel + Sequins
Once again, we're teaming together two of the things we've already pretty much established you should have in your wardrobe – the sequin skirt, and the flannel / plaid shirt. Why? Because they go so well together, don't you think? Especially for our cute Christmas outfit ideas. The cute baby is obviously an optional extra, but we really are in love with this entire outfit, especially the way its been casually thrown together with green Hunter wellies … Also worn by the optional cute baby. When you get back inside, ready to really get the party started, you'd kick those wellies off and opt for nude strappy heels, or black ones.
15. Tulle Skirt
Sarah Jessica Parker made this skirt famous, in that oh-so-famous splash-scene in Sex and the City. Once again, there's that red and white theme running through cute Christmas outfit ideas such as this one, and those shoes are so beautiful! Dorothy wouldn't have dreamed of clicking her heels together three times if her heels were as beautiful as these! Notice the other popular trends for this season within this little look – the big, chunky necklace worn over the top of a high-necked sweater. The long-sleeved, round-necked top is clearly a fashion must-have for right now, and to make sure you're super tucked in, you could even invest in a couple of bodysuits instead. At least then you won't get those around-the-waist wrinkles.
16. Green & Red Outfit with Tan Accessories
The classic shades of the season are worked together splendidly in this get-up, showing you how to wear that oversized sweater you've had stuffed in the back of your closet for an age. If you're not normally a fan of the green shade, you will be after you've seen this look. You've also got that houndstooth print on the inside of the plaid scarf too – prints are a big deal right now. They seem to be every winter!
17. Statement Skirt
When everything else going on around you is dull, sad, and dreary, really make an entrance with a skirt that could literally stop traffic. Just like this traffic light-red statement skirt, completely with luxuriously thick fabric and the beautiful belted-bow around the waist, for example. The super-fluffy warm and white sweater works, even though you wouldn't immediately think of it as the winning top-choice. The two textures just really come together to bring you cute Christmas outfit ideas that are warm, sassy, and oh so sweet!
18. Red & Gold
Black accessories work really well with the black and gold combo, so if you don't have mustard-yellow or tan to match, opt for the super-safe black. Most of us have black boots of some description in our wardrobe somewhere, and we bet there is a way that you can wear them. Most people probably wouldn't have put black ankle boots with this red, gold and plaid combo, but it just works in a way that we can't explain. It's an outfit we definitely love.
19. Stylish & Warm
Above all else, you need to make sure that you're wrapping up nice and warm for the impending freezing cold temperatures our good old winter is going to subject us to. Layering up is a great idea, and we can't express that enough. Don't forgot about those warming accessories too – the hat, scarf and gloves are all about to make a very serious comeback. The warmer they look, the better you'll feel, so opt for thicker, knitted textures, and don't be afraid to add fur (faux-fur, of course) to the mix. You may not like the appeal of fluff around your neck, but it soon starts to come in handy as you pull it in tighter to protect yourself against the cold.
20. Ugly Christmas Sweater
If you love the festive season then you need an ugly Christmas sweater like this one! There are so many amazing sweaters out there from ones that light up to DIY sweaters covered in baubles. Here is one inspired by the movie Home Alone. You can dress a sweater like this up or down to suit any Christmas event.
21. Skirt and Sequin Blazer
Sequins are a must-have for the holiday season. This next outfit shows how to wear sequins in a classy and chic way. The outfit includes a festive red skirt, black top and sequin blazer. A blazer like this is so stylish and can be worn in many different ways. Wear a similar outfit to this for nights out and parties. Try with jeans for a more relaxed look.
22. Tartan Shirt and Sparkly Skirt
A popular look to try for Christmas is a casual shirt with a sparkly skirt. Here is a great example. This outfit features a red tartan shirt with a silver sequin skirt. We love this idea because it combines two stylish looks – wintry tartan and sparkles.
23. Festive Skirt and Sweater
Going to a party? Then this outfit idea is for you. The look features a purple tulle skirt with a dark sweater. This is a chic and stylish way to wear a skirt like this. Wear with a sweater for a wintry look or try with a jazzy top for a party outfit.
24. Red Lace Dress
If you are looking for a glam Christmas outfit, you need to check out this next idea. Here we have a stunning red lace dress. This is like a festive version of the classic little black dress. It is a fun, vibrant and stylish look that is perfect for the holiday season.
25. Pretty Pleated Skirt
Another must-have look is pleats. Pleated skirts are chic, elegant and pretty. You can find many pleated skirts out there but one like this would be great for the holidays. It is a metallic color that is perfect for the glitz and glam of Christmas. Wear with a party top or with a sweater.
26. Casual Christmas Outfit Idea
If the glamour and sequins is not for you and you want to wear something comfy and relaxed, this next idea is for you. Here we have an outfit that includes a sweater and causal stripe pants. This is a trendy and easy to wear look that is perfect for Christmas day. Recreate this outfit or try any sweater and comfortable pants combination.
27. Cute Plaid Skirt
Fall is for plaid shirts, but winter is for cute plaid skirts like this! It is such a cute skirt that will look amazing for the festive season. A skirt like this will go with everything and you can dress it up or down. Wear an outfit like this to celebrate Christmas in style!
28. Glam Skirt and Shirt
Next, we have another sequin skirt and tartan shirt combo. This shirt is extra glam because it has a super cute bow. An outfit like this will be perfect for celebrating Christmas Day. You can recreate this or try a similar shirt with a skirt in a different color.
29. Christmas Sweater Outfit Idea
If you want to wear a Christmas sweater but don't want to go over the top with an ugly pattern, then this could be the solution. Here we have a stylish Christmas sweater. It has the red color and festive pattern but it looks very trendy. Wear with jeans or a glam, tulle skirt.
30. Sweater and Sequin Skirt
Looking for a party outfit? Then this idea could be perfect! It features a glam sweater with a sequin skirt. The sweater has a metallic look which is perfect for Christmas and the sequins are sparkly and stylish. Recreate this look or try a similar sweater with jeans.
31. Red Maxi Skirt + Sequin Top
Ever thought about wearing a maxi skirt in the winter? If not, you need to check out this look. The outfit features a bright, red pleated maxi skirt with an elegant sequin top. This is such a stunning and elegant outfit that would be perfect for festive formal events.
32. White Sweater and Bold, Sequin Skirt
A white sweater needs to be in every closet this Christmas because you can style it in such a glam way. Here is a gorgeous example. The white sweater has been paired with a navy sequin skirt. Wear an outfit like this or wear your sweater with jeans.
33. Elegant Tulle Skirt and Sweater
Next, we have another trendy tulle skirt to show you. This white skirt has been paired with a stunning red sweater. The white and red compliment each beautifully and it is the perfect look for the holidays. You can also wear a skirt like this with a different top for New Year.
34. Party Pencil Skirt
Not all sequin skirts have to be short. Here is a great example of a pencil skirt. Pencil skirts look super stylish with sequins. Pair you skirt with a shirt like featured or with a jazzy top. A skirt like this would be perfect for the office Christmas party.
35. Festive Relaxed Outfit Idea
Looking for a relaxed Christmas outfit? Then this idea could be perfect. This outfit features jeans, a cute sweater, boots, a red coat and a stylish scarf. A look like this will be amazing for many festive events from Christmas shopping to dinner with the family on the big day.
36. Sparkly Skirt and Sweater
Loved the white sweater look? Then this idea is for you. Instead of a dark skirt, this sweater has been paired with a light and sparkly skirt. As you can see, a white sweater goes with anything and will always look glam and trendy. An outfit like this can be worn for any occasion.
37. Cute Sweater and Jeans
Next, we have another cute sweater idea. This sweater has a subtle festive look with a red pattern and it has been paired with casual jeans. It is a stylish outfit that can be worn for dinner, Christmas shopping and more. You can glam up the look with black jeans and heels too.
38. Gold Sequin Midi Skirt
Be glam in gold this Christmas. Here is a stunning midi skirt with gold sequins. This is an amazing skirt that could be worn for New Year, as well as Christmas. Pair a skirt like this with a shirt like featured or with an elegant, more formal top. Either way, you will look amazing.
39. Statement Sweater
Our next idea is a statement sweater! This is so stylish and bold. A blue color like this will look amazing for Christmas and winter. For a more festive look, try a similar sweater in red or green. Wear with jeans for a casual look or a skirt for a glam outfit.
40. Grey Sweater and Sequin Skirt
If you want to look glam but feel comfy and cozy, then this idea is for you. Here we have a skirt and sweater combo. The outfit features a statement sleeve sweater with a silver sequin skirt. As you can see, she looks trendy and Chrismassy but the outfit is easy to wear. Sweaters and skirts like these can be found on the high street and online. Recreate in chic colors like these or go for more festive colors like red.
41. Chic Red and White Outfit
Next, we a chic and festive outfit to show you. This outfit is made up of a bold and Christmassy red top with tailored white trousers. An outfit like this perfect for Christmas parties and other special events. This is great for those who love the classic red and white colors but who want to wear them in a classy way. This outfit was created with the Lovers + Friends Kendall blouse in Rose and wide leg suit pants from Rachel Parcell.
42. Festive Velvet Dress
If you like to wear pretty dresses for the holiday season, then this is perfect for you! Here we have a festive green dress that is made with glam velvet. There are also frills on the dress and a thin belt too. It is such a beautiful dress and the velvet and green color really make it look Christmassy. This is a JACK by BB Dakota West Village Velvet Dress and you can find it online.
43. Sequin Trousers and Sweater
Dresses and skirts are not your thing? If so, we have the solution for you! This stylish lady has worn a chic sweater with sequin pants. Sequin pants look glam and ready for a party but they are more comfortable to wear. You can wear pants like these with a sweater or go for a more glitzy top. Either way, you will look amazing. To recreate the look, you will need Free People Night Moves Sequin Harem Pants and a top of your choice.
44. Cute Christmassy Outfit
Next, we have another cute, Christmassy and cozy outfit. This time a chunky sweater has been worn with a beautiful sequin skirt. It just shows another way to look glam but casual too. Also, it gives you other ways to wear the sweater and skirt combo. An outfit like this will be great for Christmas day. This look was created with the Free People Trumpet Sequin Skirt but currently it is only available in black. Similar silver skirts can be found online though. However, you can go for the black skirt with a grey sweater – it will look amazing!
45. Silver Sequin Dress
If you are looking for a pretty party dress, then you need to check this out. Here we have a short wrap dress that is covered in silver sequins. It is so sparkly and gorgeous. A dress like this will be perfect for Christmas parties and the big day. It would be great for NYE as well. The dress is available at vault206.
46. Pink Sweater and Silver Skirt
The next Christmas outfit idea features another sweater and sequin combo. This time we have a cute pink sweater with a midi sequin skirt. It is a fun and bright outfit. Recreate this or you could swap the pink sweater for a red or green one. This will give you a very glam and festive look.
47. Christmas Outfit for the Wine Lovers
This next idea is one of our favorites! Here we have an outfit for the wine lovers. This festive fashionista is wearing a top that reads "He sees you when you're drinking" which is a fun version of the classic Christmas song. She has worn it with a cute Santa hat and is enjoying a glass of wine. These t-shirts are available at sensiblechaos28. Of course, this top can be worn if you love beer, cocktails or any other alcoholic drink.
48. Green Top and Cute Red Skirt
Next, we have a festive outfit with a vintage vibe. The outfit includes a Christmassy green top with a beautiful and bold red skirt. We love the skirt because it looks like something that would be worn in the 50's at Christmas. It is a fun and stunning look that will suit everyone. Similar tops and skirts can be found online.
49. Fun and Festive Outfit
If you love the holiday season and want an outfit that is fun and festive, then this is is for you. Here we have a Christmassy sweater that is worn with a short sequin skirt. The sequins are glitzy and the sweater is perfect for Christmas. This look was created with the Fa La La La Sweater and Sequin Drape Miniskirt from TOPSHOP.
50. Sequin Skirt and Festive Red Sweater
Love the sequin skirts and sweaters? If so, you need to see this. Here have a silver pencil skirt that is worn with a red sweater and cute accessories. As you can see, the festive red looks amazing with the silver sequins. This is another outfit that can be worn at Christmas day or for parties.
51. Pleated Skirt and White Sweater
Next, we have another skirt to show you. This time we have a long and pleated skirt. We love pleated skirts because they are trendy and they will instantly glam up your look to. As you can see, it looks so chic and Christmassy with the sweater. This Time and Tru skirt is available at Walmart and there are different colors to choose from.
52. I Heart Christmas Sweater
If you love Christmas, then this is for you! Here we have an I Heart Christmas sweater and it is paired with a trendy faux leather skirt and boots. It is a stylish, edgy and festive look. You can recreate this or wear the sweater with jeans or trousers. This sweater is available at TOPSHOP.
53. Plaid Sweater and Sequins
The next outfit combines the fall and winter's must-have pattern with the glitz of Christmas. Here we have a plaid sweater with sequin leggings. As you can see, the two look so stylish together! This outfit would be great for Christmas day as the leggings will stretch after a big dinner. Both items are from Express but are currently sold out. You can find similar versions online.
54. Pink and Blue Christmas Outfit
Want to wear a fun and glitzy outfit but avoid the classic and festive colors? If so, this is for you. This outfit features a pink sweater and blue sequin skirt. As you can see, the pink and blue color combo is so bold and stylish. This outfit is sure to make a statement. The skirt is from TOPSHOP but it is sold out on Nordstrom so you may have to shop around or look for a similar version.
55. Silver Sequin Skirt with a Chic Sweater
Next, we have a chic sweater and pencil skirt combo. The sweater is light in color and looks super cozy, while the skirt has stylish silver sequins and a split up the side. It is a glam, glitzy and easy to wear outfit. Recreate this or try the look in a different color combination. Maybe festive red and green.
56. Christmassy Tartan Skirt
Tartan looks amazing at Christmas time. Don't just take our word for it, check out this next look. Here we have a short tartan skirt that is worn with a white top. This is a fun and trendy look that is great for parties. Recreate something similar or you can opt for tartan pants.
57. Christmas Sweater Dress
If you are looking for an easy to wear outfit, then this could be perfect. This outfit features an oversized Christmas sweater. You can wear one of these as a dress like below or you can wear it with leggings or jeans. Sequin leggings would look amazing. Oversized sweaters can be bought online.
58. Festive Red and Green Outfit
The next outfit is stunning and it is very festive too. Here we have a dark green lace cocktail dress. It is worn with green shoes and Christmassy red accessories. An outfit like this is great for those who are entertaining on Christmas day or if you are going out for a special meal.
59. Cute Sweater and Skirt
Next, we have another sweater and skirt. This time the outfit features a casual sweater and it is worn with a silver sequin skirt. It is the perfect balance of cozy for winter and glitzy for Christmas. An outfit like this is easy to wear and it will suit everyone. Similar sweaters and skirts can be found online.
These cute Christmas outfit ideas really appealed to us, for a number of different reasons too, combining this seasons's key colours with only the very best trends in accessories and footwear. Which one was your favourite? Don't forget to let us know. We can't wait for Christmas to come so that we can practice out cute Christmas outfits!