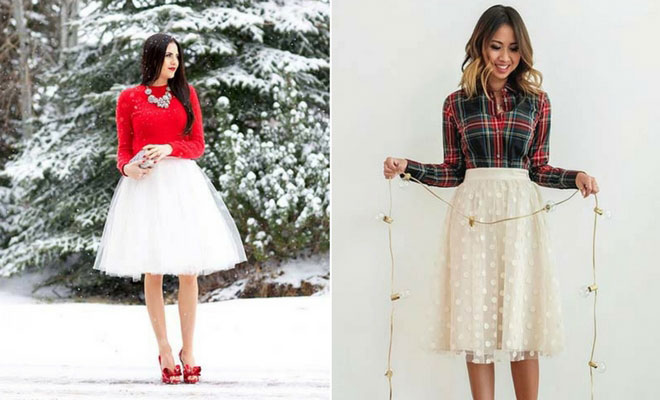 Instagram
Fashion
59 Cute Christmas Outfit Ideas
By
|
11. Pop of Red
Oh look! There's that red theme coming back again! Didn't we tell you it would definitely be making a few appearances? This is such a simple way of bringing new colours into your wardrobe mix, especially if you're a newbie and aren't used to wearing them. With simple tones and accessories supporting your bright red skirt, jeans, or even dress, it could easily be made into an every-day outfit, even though you might not have thought as such when you bought it.
12. Red Dress + Flannel Scarf
And for when simple accessories aren't really your bag, keep your bag nude and liven things up with a brightly-printed scarf, just like you can see here, worn with that red dress we dared you to bring out earlier. Just like that mustard shade, these brown and beige / nude tones work really well with a bright red shade, and that gives you the perfect excuse to start shopping through the Mac nude lipstick range … It's like fate, ladies!
13. Black & Gold
If there's ever a colour that spells Christmas, it's gold. And what goes great with gold? Black, of course! It doesn't matter what you're wearing, whether it's a dress, a skirt, jeans, tailored trousers, whatever, just make them black and gold. Make it all black and gold! We love the simple combination of that little black dress with that sparkly gold, squinted bomber jacket, another big trend row inter 2018. It's all been perfectly accessorised with the gold clutch, black shoes, and dark-gold jewellery pieces too. This is definitely one of our favourite cute Christmas outfit ideas.
14. Flannel + Sequins
Once again, we're teaming together two of the things we've already pretty much established you should have in your wardrobe – the sequin skirt, and the flannel / plaid shirt. Why? Because they go so well together, don't you think? Especially for our cute Christmas outfit ideas. The cute baby is obviously an optional extra, but we really are in love with this entire outfit, especially the way its been casually thrown together with green Hunter wellies … Also worn by the optional cute baby. When you get back inside, ready to really get the party started, you'd kick those wellies off and opt for nude strappy heels, or black ones.
15. Tulle Skirt
Sarah Jessica Parker made this skirt famous, in that oh-so-famous splash-scene in Sex and the City. Once again, there's that red and white theme running through cute Christmas outfit ideas such as this one, and those shoes are so beautiful! Dorothy wouldn't have dreamed of clicking her heels together three times if her heels were as beautiful as these! Notice the other popular trends for this season within this little look – the big, chunky necklace worn over the top of a high-necked sweater. The long-sleeved, round-necked top is clearly a fashion must-have for right now, and to make sure you're super tucked in, you could even invest in a couple of bodysuits instead. At least then you won't get those around-the-waist wrinkles.
16. Green & Red Outfit with Tan Accessories
The classic shades of the season are worked together splendidly in this get-up, showing you how to wear that oversized sweater you've had stuffed in the back of your closet for an age. If you're not normally a fan of the green shade, you will be after you've seen this look. You've also got that houndstooth print on the inside of the plaid scarf too – prints are a big deal right now. They seem to be every winter!
17. Statement Skirt
When everything else going on around you is dull, sad, and dreary, really make an entrance with a skirt that could literally stop traffic. Just like this traffic light-red statement skirt, completely with luxuriously thick fabric and the beautiful belted-bow around the waist, for example. The super-fluffy warm and white sweater works, even though you wouldn't immediately think of it as the winning top-choice. The two textures just really come together to bring you cute Christmas outfit ideas that are warm, sassy, and oh so sweet!
18. Red & Gold
Black accessories work really well with the black and gold combo, so if you don't have mustard-yellow or tan to match, opt for the super-safe black. Most of us have black boots of some description in our wardrobe somewhere, and we bet there is a way that you can wear them. Most people probably wouldn't have put black ankle boots with this red, gold and plaid combo, but it just works in a way that we can't explain. It's an outfit we definitely love.
19. Stylish & Warm
Above all else, you need to make sure that you're wrapping up nice and warm for the impending freezing cold temperatures our good old winter is going to subject us to. Layering up is a great idea, and we can't express that enough. Don't forgot about those warming accessories too – the hat, scarf and gloves are all about to make a very serious comeback. The warmer they look, the better you'll feel, so opt for thicker, knitted textures, and don't be afraid to add fur (faux-fur, of course) to the mix. You may not like the appeal of fluff around your neck, but it soon starts to come in handy as you pull it in tighter to protect yourself against the cold.
20. Ugly Christmas Sweater
If you love the festive season then you need an ugly Christmas sweater like this one! There are so many amazing sweaters out there from ones that light up to DIY sweaters covered in baubles. Here is one inspired by the movie Home Alone. You can dress a sweater like this up or down to suit any Christmas event.