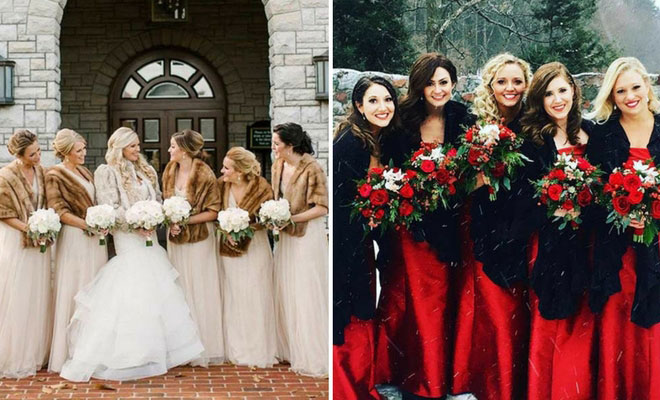 Instagram
Fashion
17 Bridesmaid Style Ideas for a Winter Wedding
By
|
They say that the colour plays a very important role in your wedding, and this is definitely the case when picking dresses, flowers, and the important features of your big day. Everything needs to complement each other, and that's why shopping around for winter wedding bridesmaids dresses is important. You need to find something that works with you and your dress, but also that works with the rest of the big day. It can be difficult to put the two side by side sometimes.
If you're on the hunt for styles of bridesmaids dresses that are elegant, modern, unique and yet still beautiful for a winter wedding, here are 17 ideas you should definitely take a peek at.
1. Gray Dresses + Gray Faux Fur Wraps
Grey is a beautiful, and often overlooked, colour when it comes to winter weddings, and you can really get experimental with the designs of dresses when you have those beautiful faux-fur throws to put on over the top. If you didn't have those, you might need to consider more of a cover-up dress to protect your girls from the cold weather. Remember they'll need to brave the cold as much as you.
2. All Black Bridesmaid Styles + Boots
Black is quite a controlling and powerful look, and it's often not used for winter wedding bridesmaids dresses because of that. It's quite a mysterious shade to go for, but an elegant one nevertheless, almost taking on a black-tie effect formal look, rather than a traditional wedding.
3. Red Dresses + Gray Knit Cover Ups
Red and grey work really well together, which might give you more options to pick from when it comes to those big cover-ups the girls will need when standing around in the cold with you. You might have wanted to go with white, or to match the shade of your dress, but if you're struggling to make that work this grey shade works really well. Just as these beautiful bridesmaids with their bride proudly show.
4. Navy Blue Dresses + Flannel Cover Ups
Tartan or plaid is really great for winter wedding bridesmaids dresses. It just looks warm, don't you think? Perfect for when the sun is starting to set and the chilly weather is starting to set in. The dark blue works really well with that reddish tartan too. Has this given you some bridesmaid style ideas for a winter wedding inspiration?
5. Pink & Sequin Dresses + White Fur Shawls
White fur shawls go with pretty much everything. That's what we reckon anyway. You could have the bridesmaids at your wedding pick their own shade of pink with dresses such as these, and this is guaranteed to make everyone happy. They don't all need to be wearing the same winter wedding bridesmaids dresses. Sometimes it's good to break from tradition.
6. Nude Dresses + Brown Fur Shawls
Nude is such an on-trend colour for right now, so why wouldn't you look towards the idea of nude when it comes to bridesmaid style ideas for a winter wedding. Those brown faux-fur shawls just go so well together with the nude shades too, so all round everyone is a winner.
7. Black Dresses + Greenery Winter Bouquets
Once upon a time, brides weren't just there to plan the best bachelorette party ever, and to oversee that the groom actually turns up on time. They actually had a purpose. They were meant to ward off any evil spirits that might threaten to ruin your wedding day, or your life for that matter. We're bet you're glad you invited them along now, eh?
8. Navy Blue Dresses + White Fur Shawls
You know the tradition where you're meant to throw the bouquet at your bridesmaids? Well, once upon a time you would actually throw a shoe at them, and whoever you hit would be then to get married yet. We're sure glad they changed the old tradition to bouquet instead of shoe. We'd rather not get a black eye!
9. Plaid Blanket Scarves
We're back to plaid again, and this just goes to show how versatile the look really is. We've seen it with the blue winter wedding bridesmaids dresses, and now you can see it with red ones. It works just as brilliantly! The one thing you will want to ensure is that everyone is warm on the big day. You definitely don't want people grumbling to you on what's meant to be the most important day of your life!
10. Black and Red Winter Bridesmaids
Black is quite a mysterious colour, and red has some background when it comes to wedding day colours also. It's a very stimulating and warm colour, and one that definitely brings about high energy. It also works as the perfect contrast against the black you wanted also. What do you think? Would you?