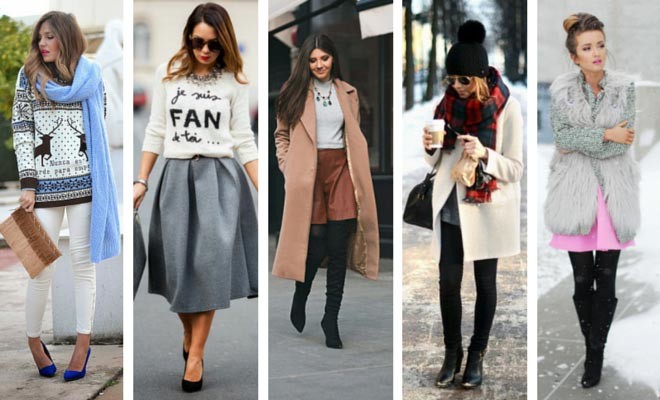 Fashion
45 Cute Winter Outfits to Keep you Warm and Chic
By
|
Sometimes getting dressed in winter can be pretty hard, especially when you want to look cute and stay warm at the same time. Just because it's cold out doesn't mean your outfit should be unflattering and boring, right?
Don't know how to put your winter clothes together? To help you out, we selected 45 cute winter outfits that will boost your imagination right away. Let these stylish outfits inspire you and become your go-to cold remedy in winter.
1. Cozy Brown and White Outfit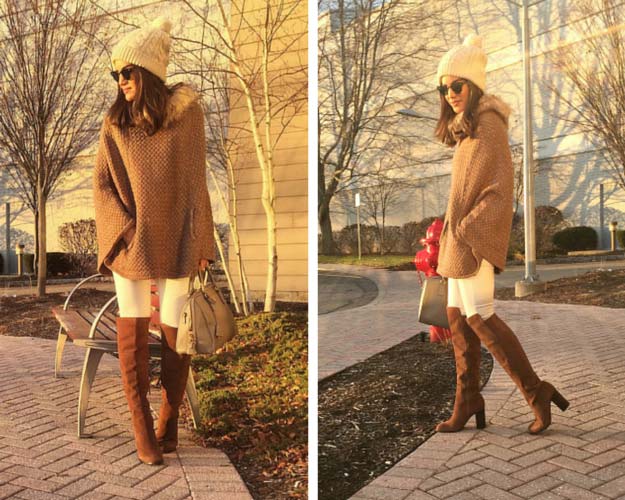 This is a clever example of how to put simple pieces together to create outfit that is both stylish and impactful. Tip: belt your poncho or coat for instant slimmer look.
2. Blue Fur Winter Outfit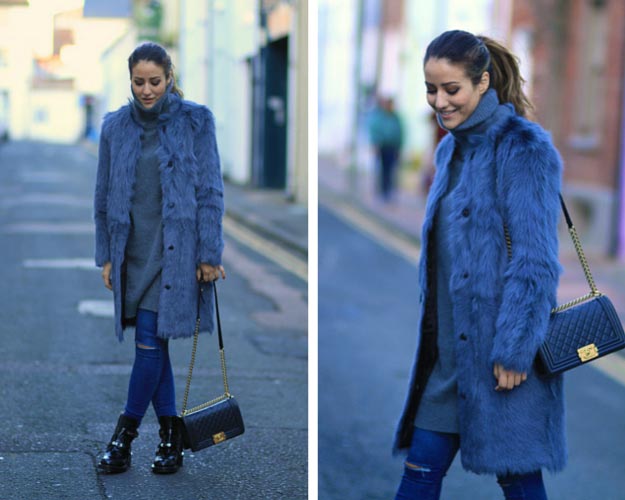 Blue, black and grey outfit might sound boring but this one looks amazing (and pretty warm).
3. Winter Pastel Outfit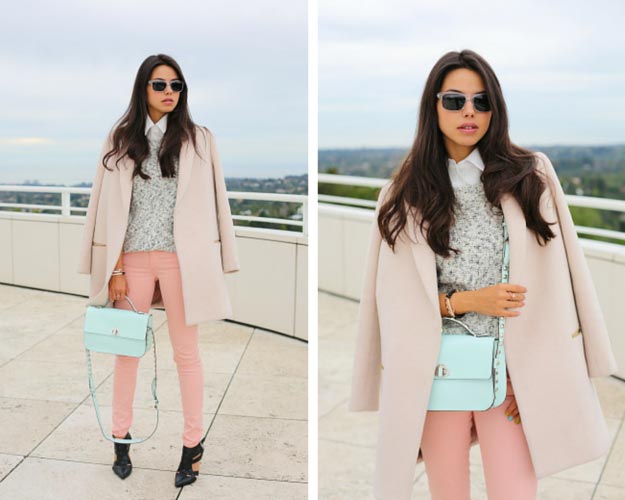 The best tip to stay warm? On cold and grey days, wear bright pastel colors.
4. Kitty Sweater and  Hunter Boots Outfit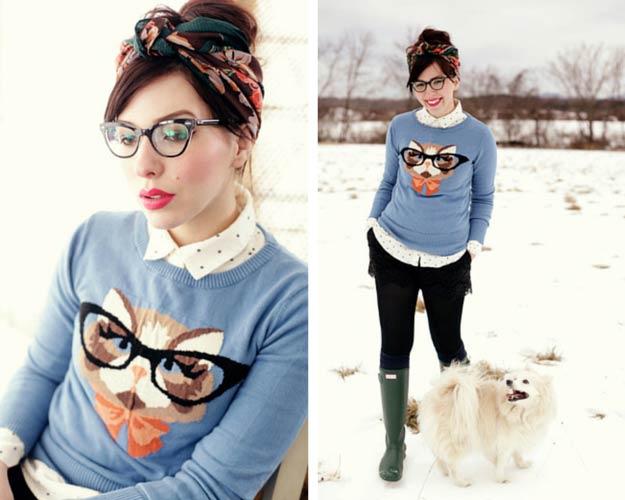 Button up and sweater is our winter obsession. For super cute winter outfit, choose sweaters with animals.
5. Floral Print Outfit in Winter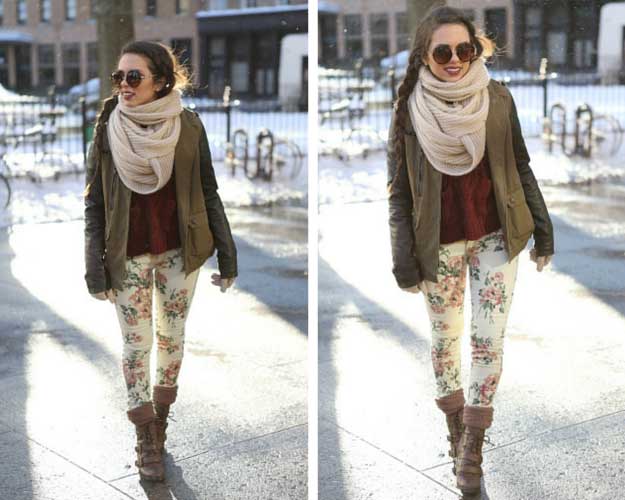 This is the perfect outfit for running errands.  In winter, our wardrobe may be the only place to see some beautiful flowers. So, wear floral prints as much as possible.
6. Gold Turquoise Outfit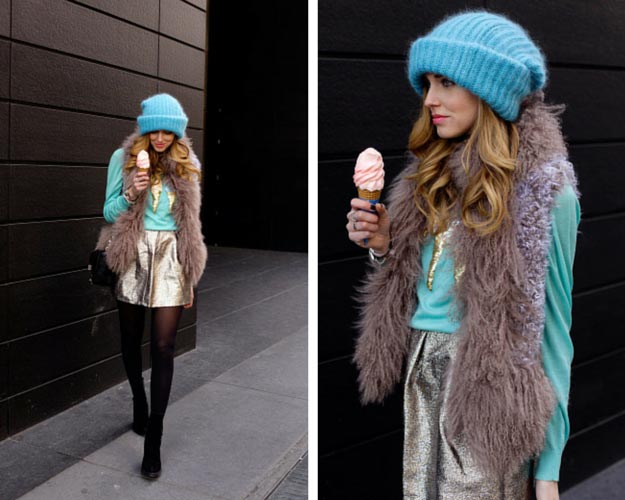 Lots of colors, prints and textures but everything works pretty well!
7. Beige + Camel + Ripped Jeans Outfit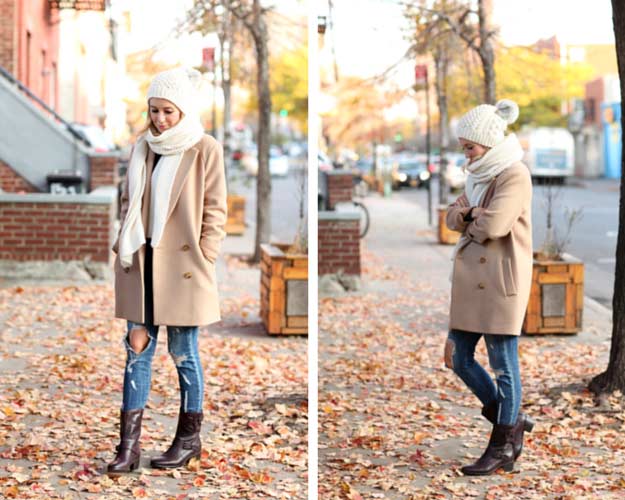 A beanie and matching scarf may very well be your best friends this winter. This coat is so good that we don't even care what she's wearing underneath it.
8. Monochrome White Outfit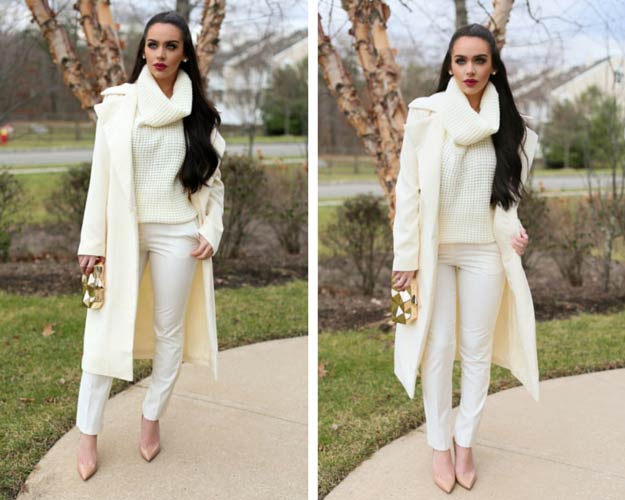 Monochrome look is anything but boring. Fashion and beauty YouTube blogger, Carli Bybel, looks super chic and classy in a warm sweater and white pants teamed with an oversized coat in the same color. White on white is always right.
9. Blue Turtleneck + Boyfriend Jeans Outfit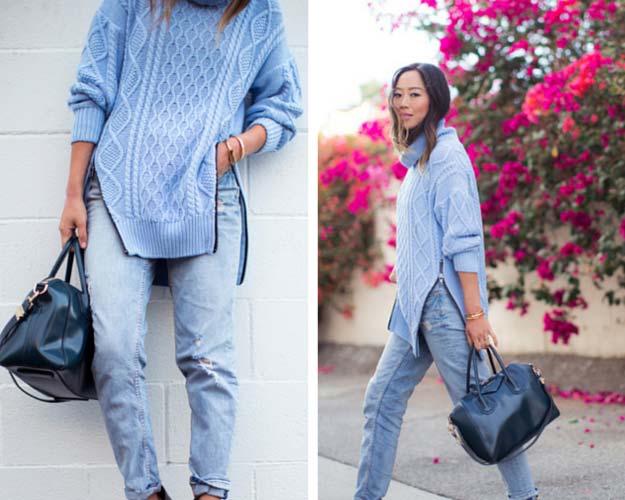 Try an oversized turtleneck over a pair of boyfriend jeans for a perfect casual look.
10. Pastel Pink Winter Outfit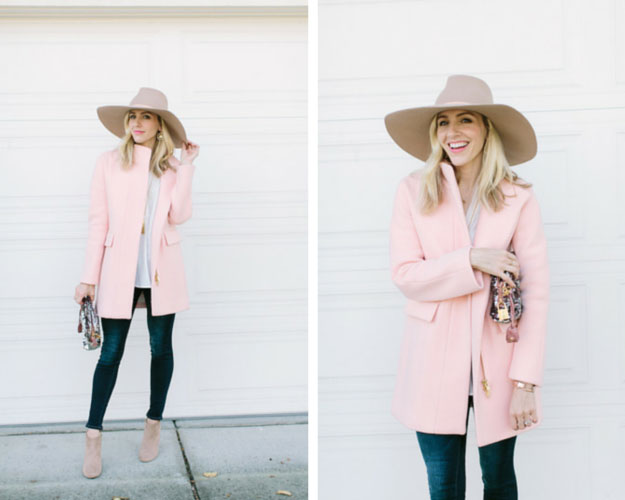 This warm pink coat will liven up even the coldest Monday morning. Pink, green and red coats are the perfect way to stand out from the crowd.
11. Black and White Winter Outfit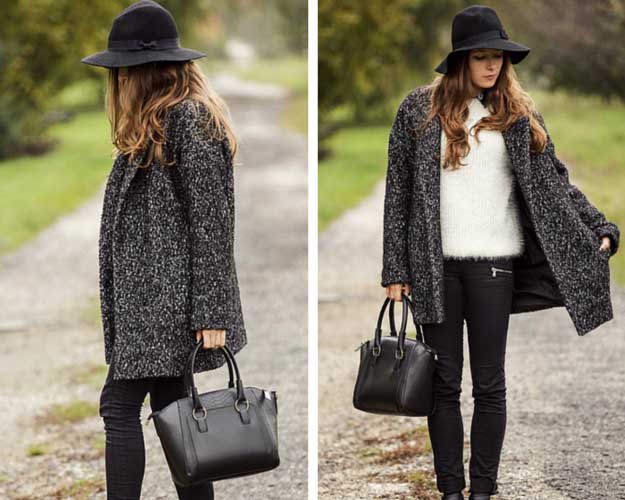 Black and white outfits are timeless.  Basic black pants are present in every women's wardrobe. Style them with your favorite sweater in any color. Accessorize your look with big winter hat and bag in the same color. Jewelry is optional.
12. Warm in Green Outfit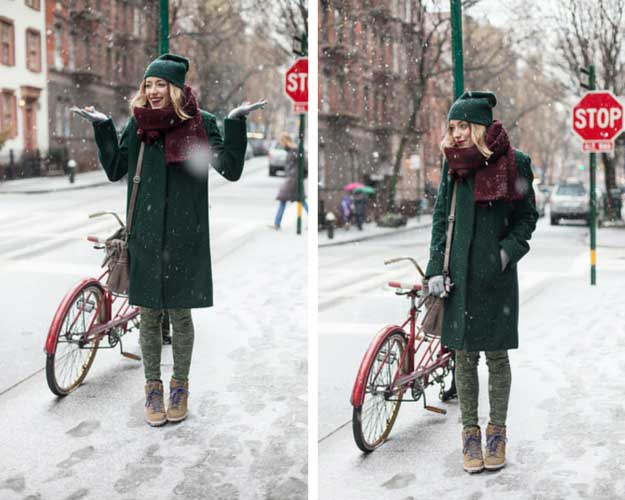 Green and reds are the perfect match for snowy days.
13. Fluffy Sweater + Leather Shorts Outfit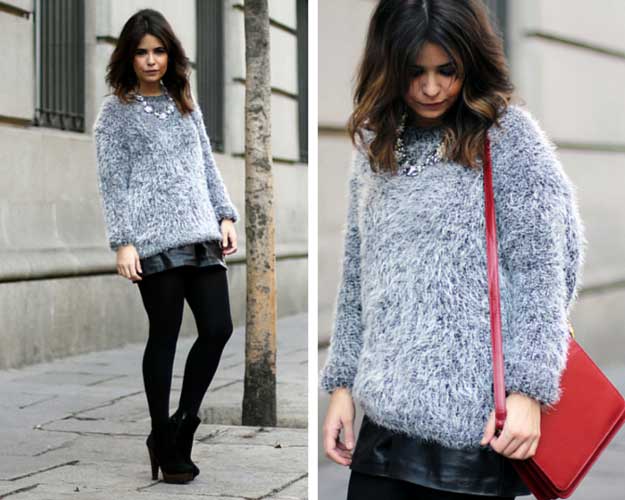 A small, red purse will brighten up any outfit, especially the black and grey one.
14. White Coat + Plaid Scarf Outfit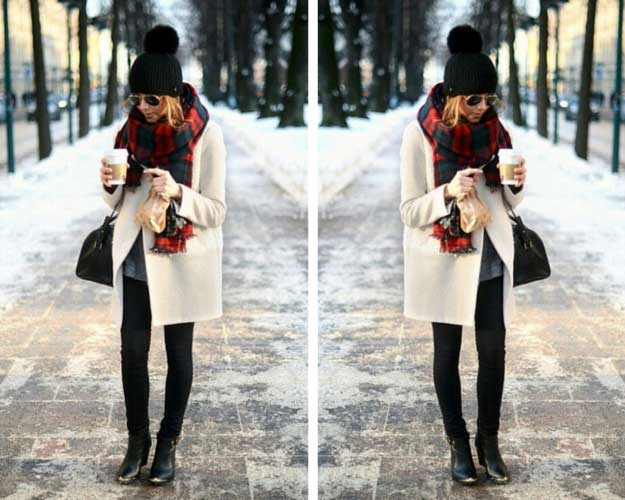 The icing on the cake is definitely that big plaid scarf. Pom-pom beanie is this winter must-have.
15. Camel + Tartan Scarf Outfit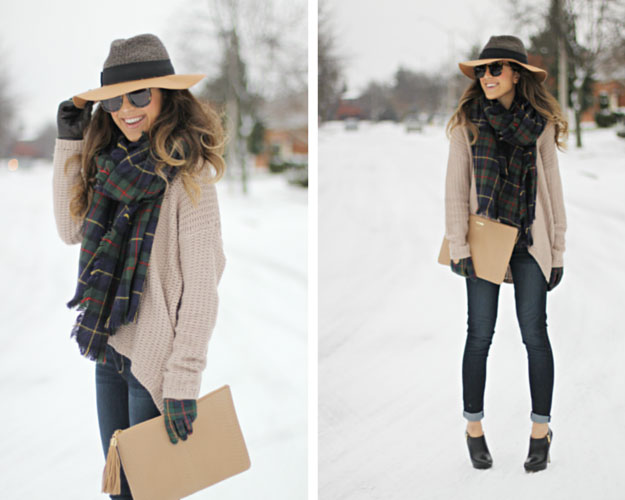 Tartan scarf is able to make every outfit warm and sophisticated. We love the matching gloves, too.
16. Ugg Boots + Sweater Outfit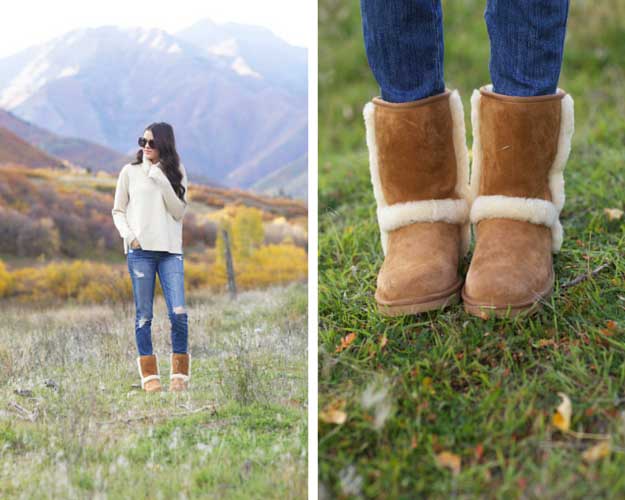 Ugg boots are comfortable, stylish and most important – warm. They are also easy to style. You can't go wrong with basic sweater, jeans and Ugg boots, that's for sure.
17. Faux Fur Vest + Big Scarf Outfit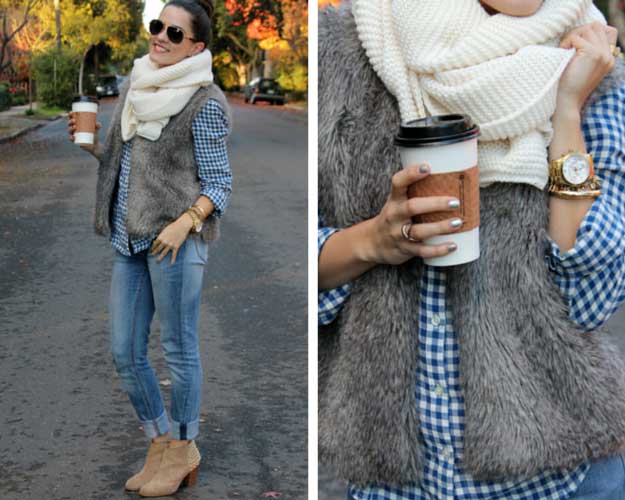 This outfit wouldn't be so interesting without that big scarf and faux fur vest.
18. Grey Sweater + White Faux Fur Vest Outfit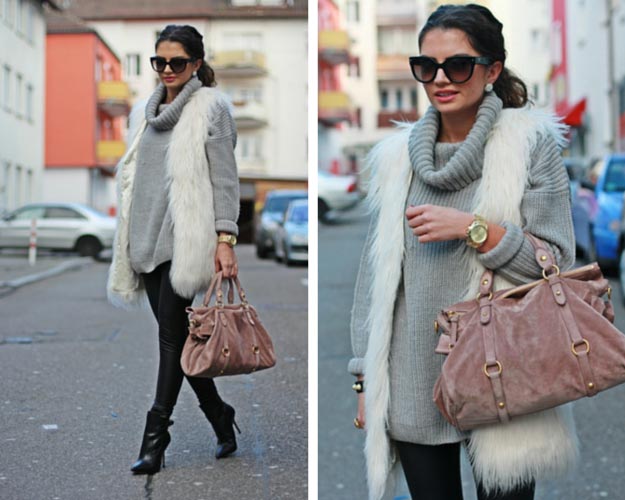 This white faux fur vest makes a statement.  We dig this outfit.
19. Leather Pants + Black Faux Fur Vest Outfit
A black pair of leather trousers is the easiest way to add some edge to a preppy look. A fur vest over oversized sweater and button-up shirt is truly winter layering at it's best.
20. Sequin Sweater + Burgundy Shorts Outfit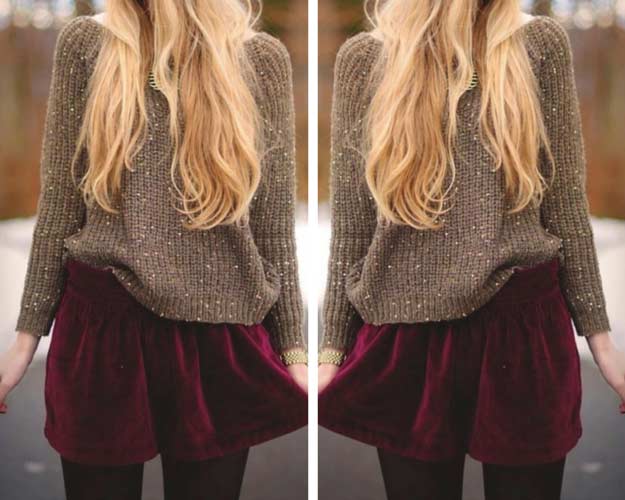 This is the perfect way to wear sequins without going overboard. The sweater goes beautifully with this burgundy shorts. Perfect holiday outfit if you ask us!
21. Pink, Grey & Fur Outfit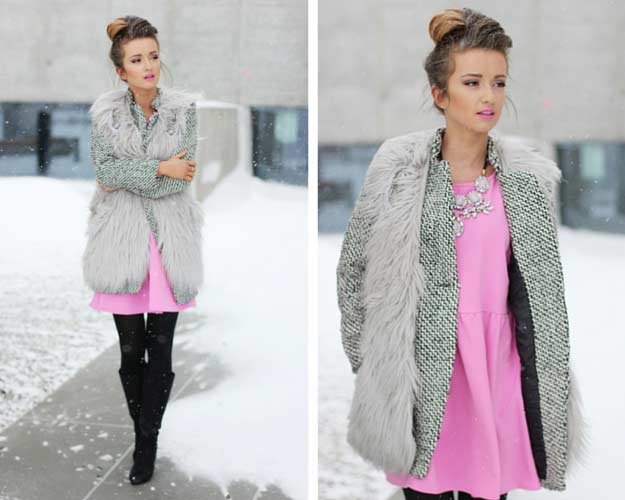 Winter is the only time of the year when we can play with layering. When it's so cold outside that even your coat can't keep you warm, add some faux fur to your outfit. Pink colors and details are always a good choice, especially in winter.
22. Gold Sequin Skirt + Grey Sweater Outfit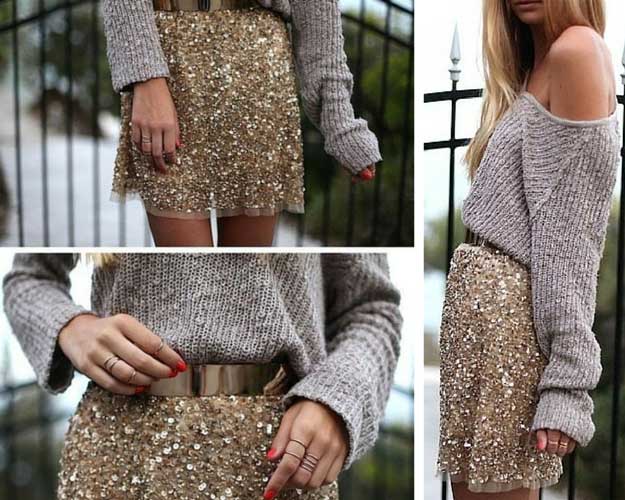 We love how easy is this look to recreate. Start with a warm sweater, throw on a sequin skirt, and some gold jewelry or accessories, and voila – instant Christmas party outfit.
23. Brown, Grey & Black Outfit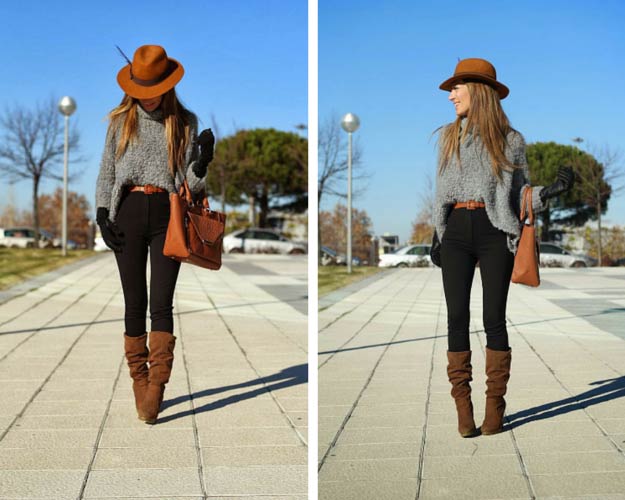 Go for a glamorous look by matching your over-the-knee boots, floppy hat, belt and bag.
24. Ruffle Skirt + Leopard Heels Outfit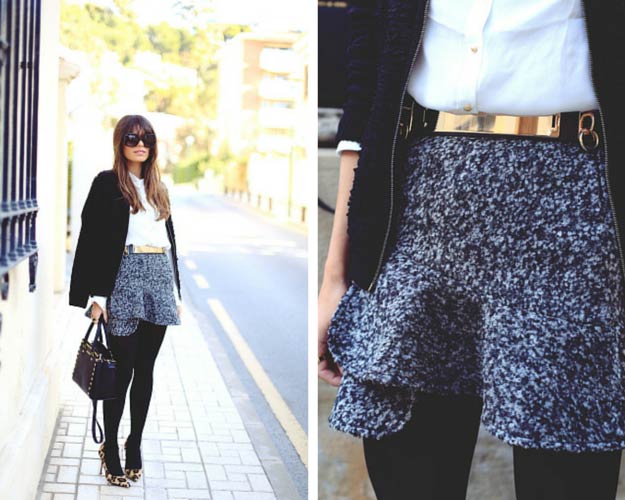 Basic black pumps or flats would have made this cute outfit a whole lot less special. Don't be afraid to experiment  with your footwear.
25. Green Pants + Gold Belt Outfit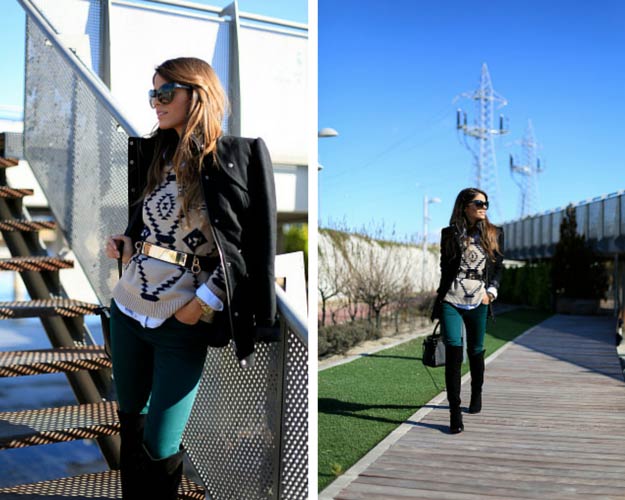 You don't need jewelry if you have a gold mirror belt around your waist. Such a cute and simple outfit, right?
26. Camel Coat & Overknee Boots Outfit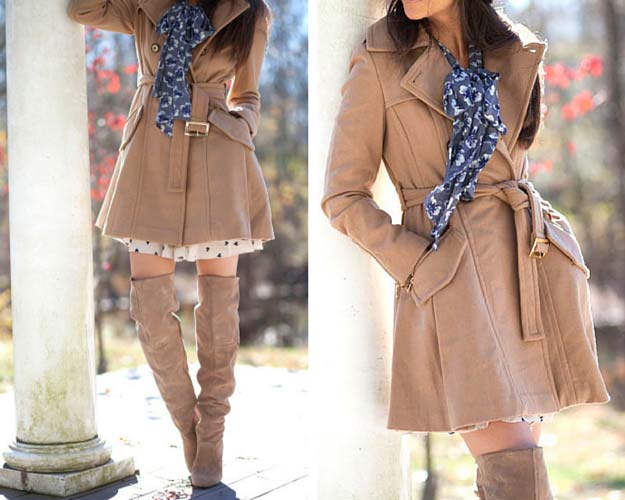 This blue scarf is what makes the outfit.
27. Grey Midi Skirt + Sweater Outfit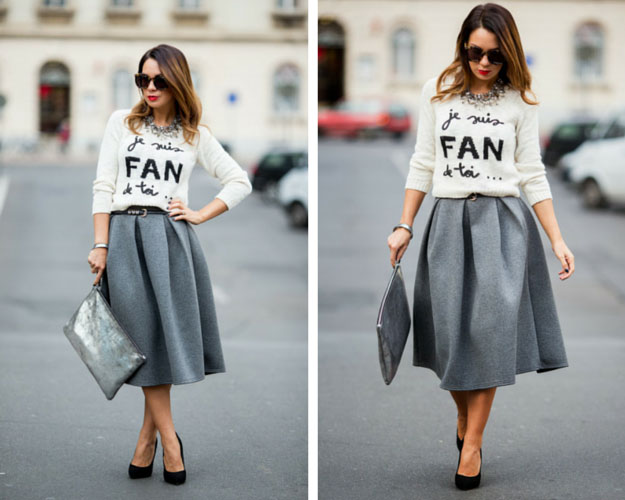 For extra warmth, wear black tights under your midi skirt.
28. Grey Teddy Bear Coat Outfit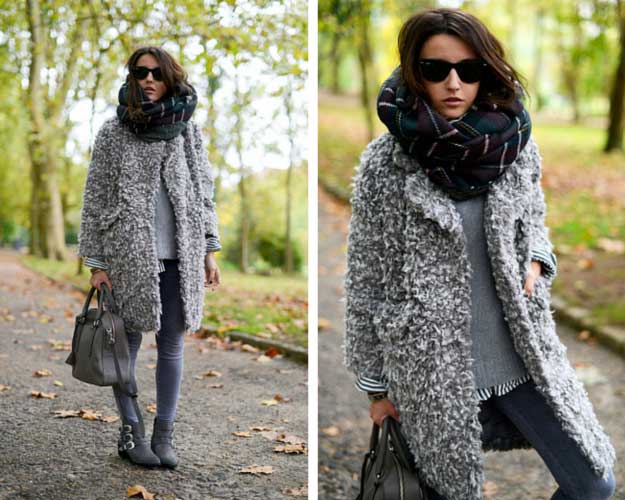 This outfit looks so comfortable! Green plaid scarf is a perfect way to add a dash of color.
29. 'I Woke up Like This' Outfit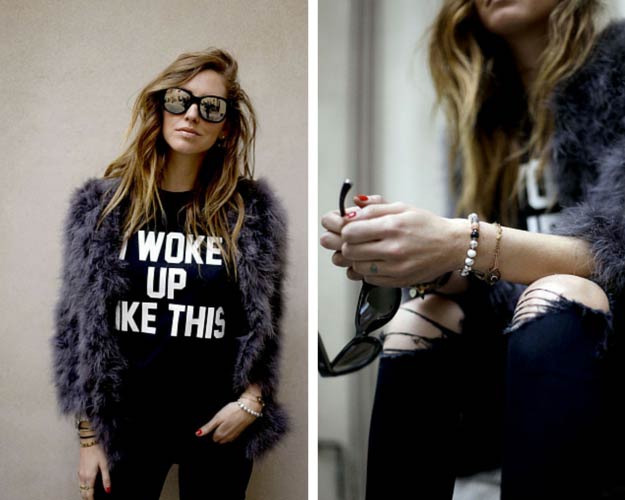 Do you also wake up looking like this?
30. Black + Sparkly Sweater Outfit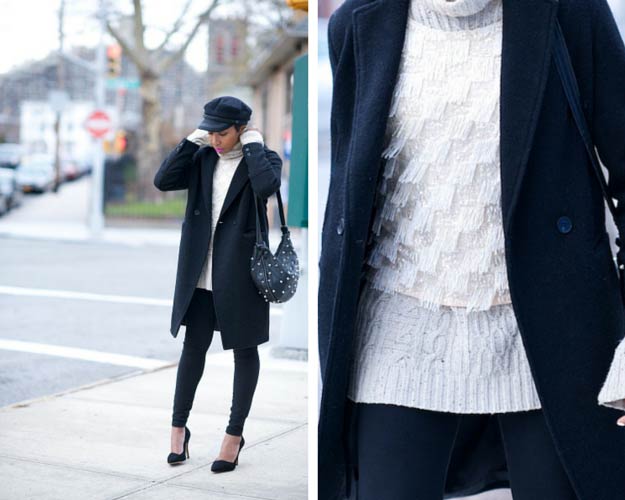 Keep things simple by wearing your favorite sweater with black skinny jeans and black heels.
31. Camel, Blue + Leopard Outfit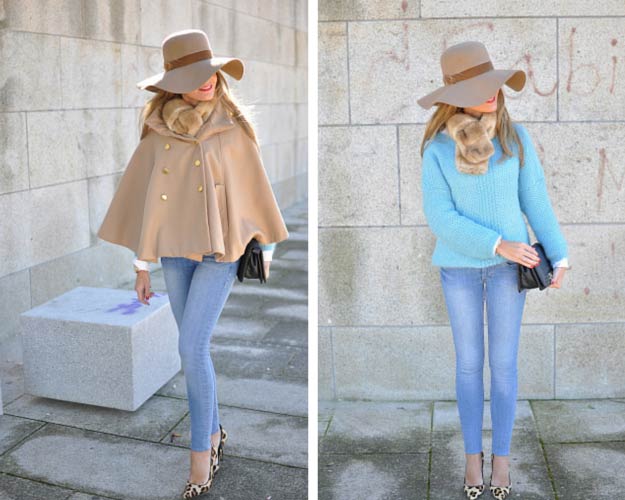 It's the leopard heels that seal the deal.
32. Camel Coat & Hat + Plaid Scarf Outfit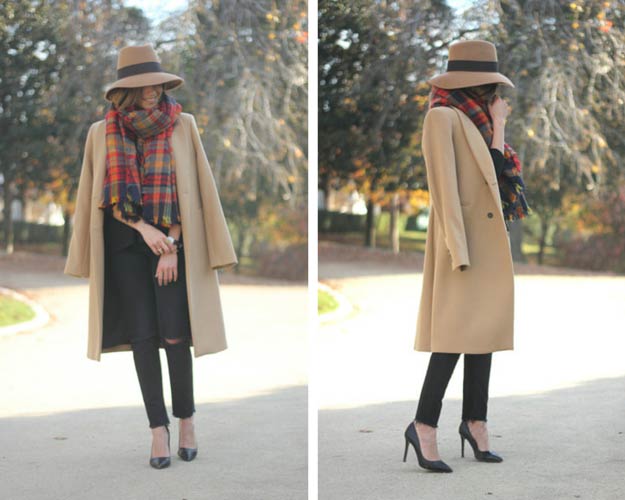 Big plaid scarf is the best way to add  some color and interest to lackluster outfit. Over-the-shoulders coat makes every outfit glamorous.
33. Plaid Skirt + Ugg Boots Outfit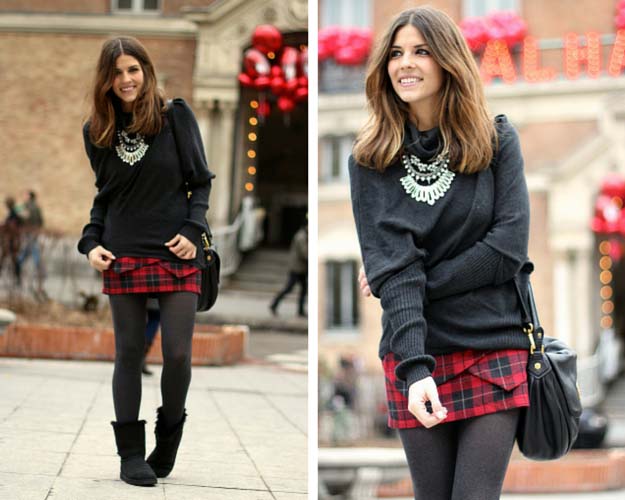 A plaid skirt is a great way to break up a black and grey outfit.
34. Faux Fur Winter Coat Outfit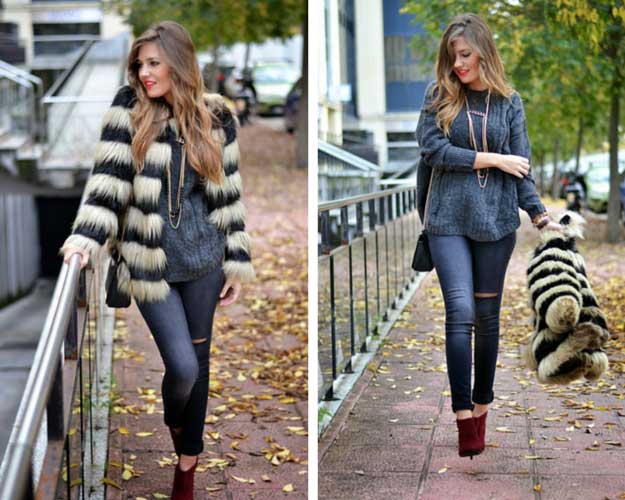 In winter, our outwear is the first thing that everyone sees, so why not make a statement? Faux fur or pop of color are always a good choice.
35. Christmas Jumper Outfit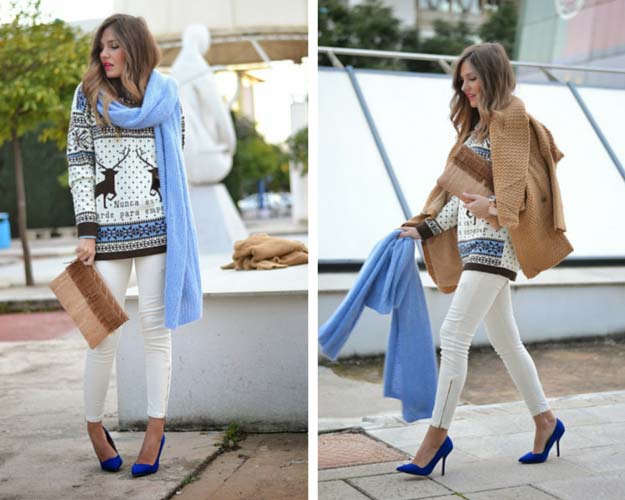 This Christmas outfit is one of the loveliest we have ever seen! Blue and camel details make it perfect.
36. Oversized Cardigan + Over-the-knee Boots Outfit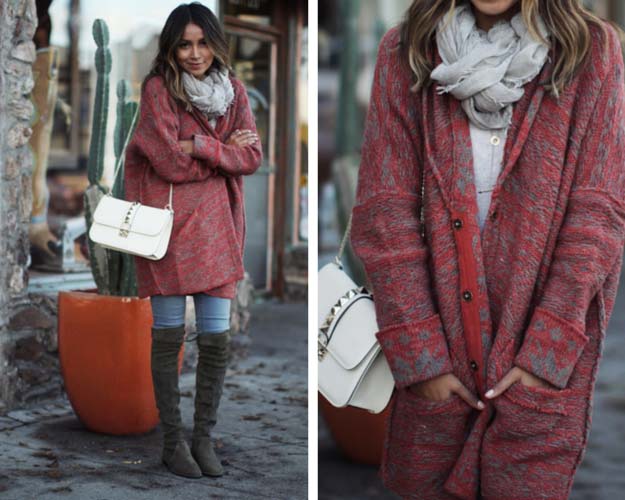 Sometimes a thick cardigan can be just as warm and cozy as a coat. This outfit is one of the best effortlessly chic outfits we've seen.
37. Grey Sweater and Skirt + Hunter Boots Outfit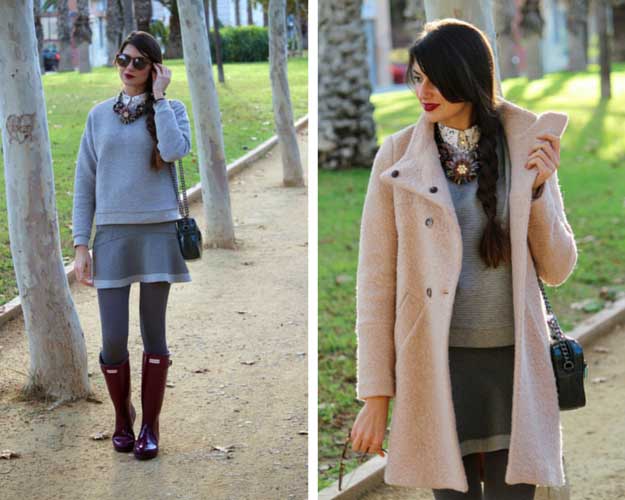 Grey mini skirt with tights in the same color is the perfect choice for those days when you simply cannot imagine pulling on another pair of jeans. To stay dry, slip in your rain boots – they make such a fun and cute combination when paired with skirt or dress.
38. Leather Skort + Crop Top Winter Outfit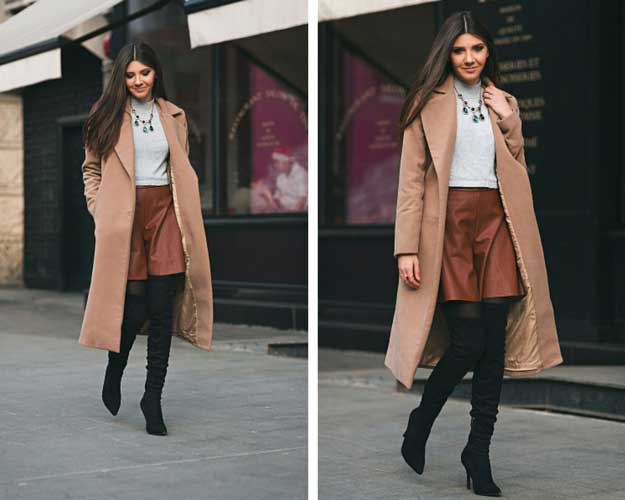 If you are unsure about how to integrate your over-the-knee boots into your daily wear, combining them with your leather shorts or skirt is always a good choice. For the upper part, this fashion blogger went for a grey crop top and a green statement necklace. Lovely!
39. Oversized Coat & Ankle Boots Outfit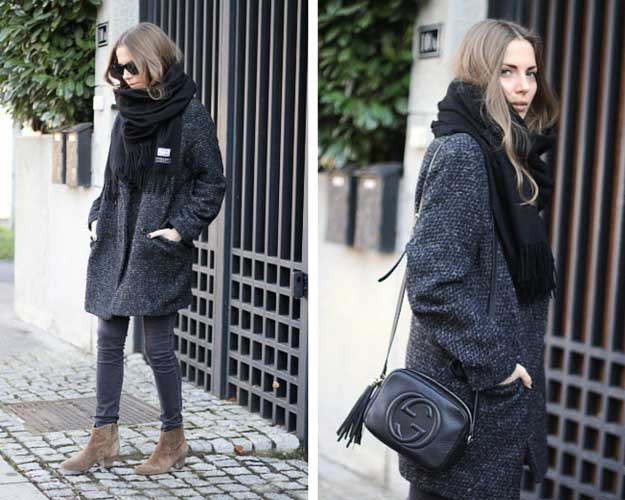 Ankle boots in color are so much more unique. They instantly brighten up grey or black outfit.
40. Sweater Over Dress Outfit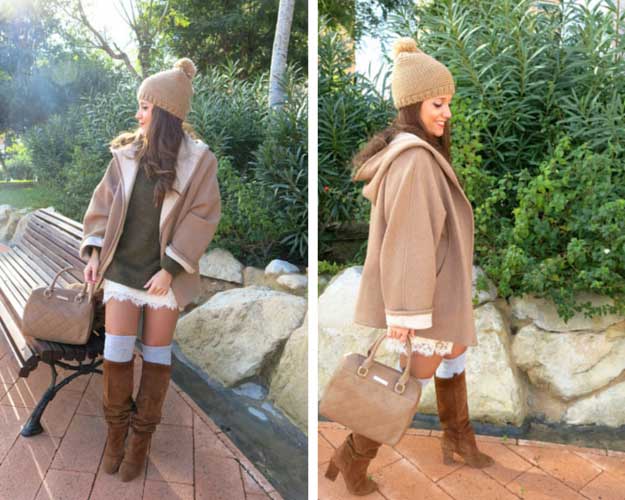 Over the knee socks can look utterly cute and stylish if you pair them with your favorite boots and short dress. If you get bored with black tights, socks like these can become an alluring alternative.
41. Grey, Sequins and Neon Details Outfit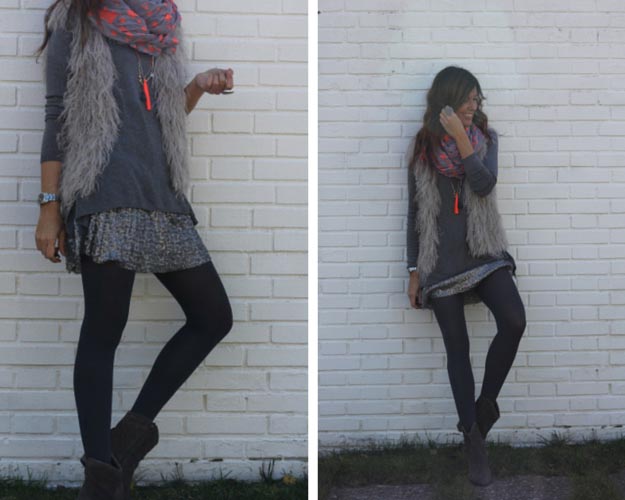 Neon colors aren't only reserved for warmer days. Neon orange details go amazingly good with these grey shades.
42. Sweater Crop Top + Midi Skirt & Over-the-knee Boots Outfit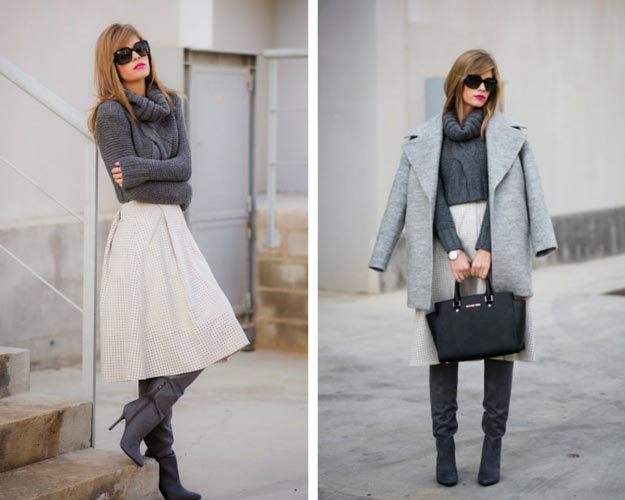 In order to look feminine and full of confidence, embrace one of the biggest trends for this season – midi skirt. Style yours with blouse or sweater. For more outfit ideas with midi skirts, check out this article: 11 Midi Skirt Outfits for This Winter
43. Cozy Winter Outfit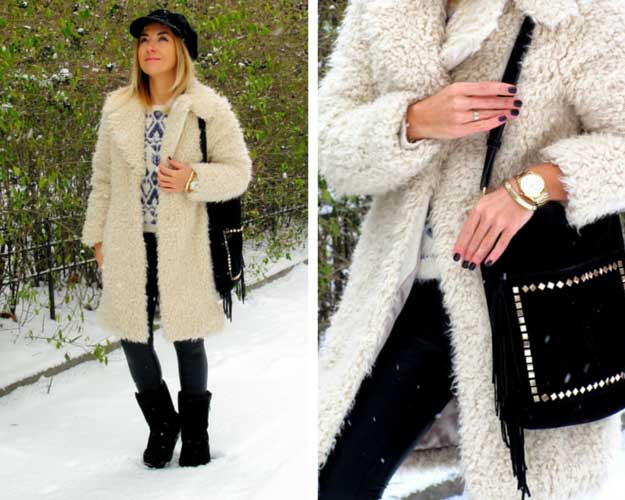 This outfit looks so comfy!
44. Cool Winter Outfit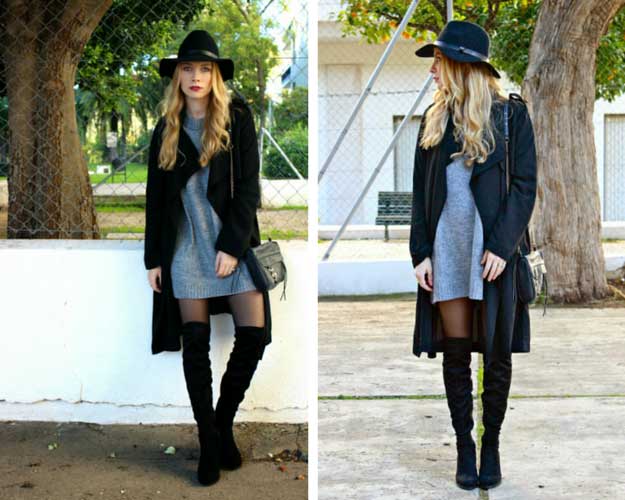 An oversized sweater can be used as a dress, too. Pair it with your black over-the-knee boots, black coat and hat and you have simple but cool outfit.
45. Burgundy & Grey Outfit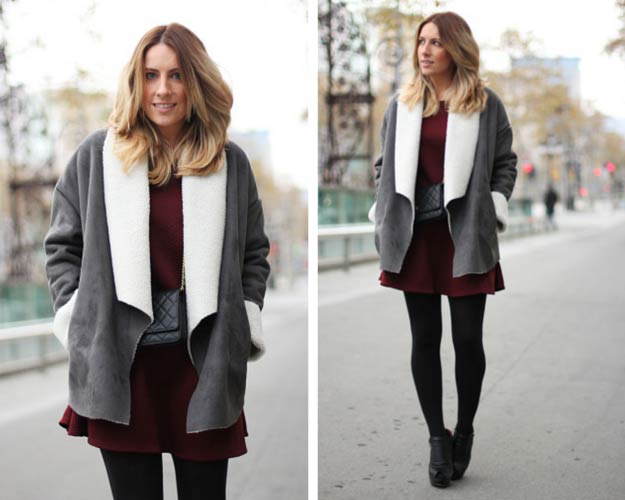 Burgundy is the color that suits good to everyone. In winter days, it is a must-have in every woman's wardrobe.
We believe these 45 outfit ideas will inspire you to stay cozy and cute all winter long. Which one is your favorite?