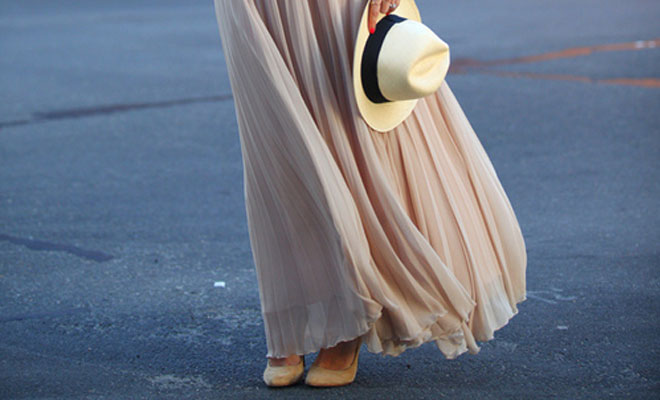 25 Gorgeous Maxi Skirt Outfit Ideas
Forget about midi skirts!Maxi is the length of the season. No matter the occasion or weather, there's a maxi skirt that can fit the bill. The skirt is a wardrobe staple that can be worn to any occasion and during any season.
Spoil yourself with this versatile wardrobe piece if you still haven't, you won't regret it! Here are the 25 ideas on how to wear your favorite maxi skirt.
1. Maxi Skirt + White Top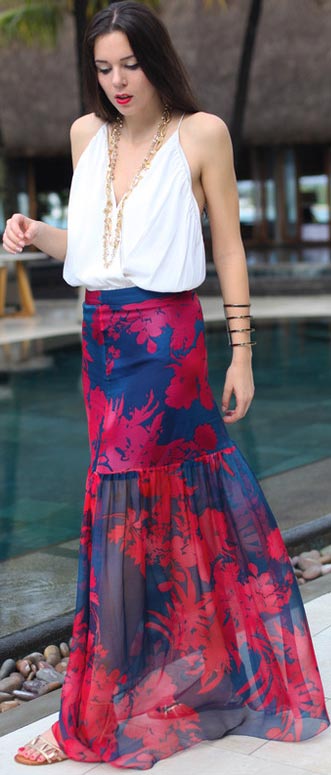 Source: tumblr.com
Make a statement with eye-catching  maxi skirt. Free-flowing skirt is perfect for warmer days, especially when you team it with a sexy white top and gold jewelry. Even though the skirt is long, it will  create a breeze around your legs and cool you down in a hot day.
2. Black & White Maxi Skirt Outfit

Velvet black maxi skirt is incredibly comfy and easy to style. The delicate fabric will immediately add a certain element of luxuriousness to your outfit. Keep things simple with a white overlap top and gold details. Comfortable and stylish!
3. Maxi Print Skirt + White Top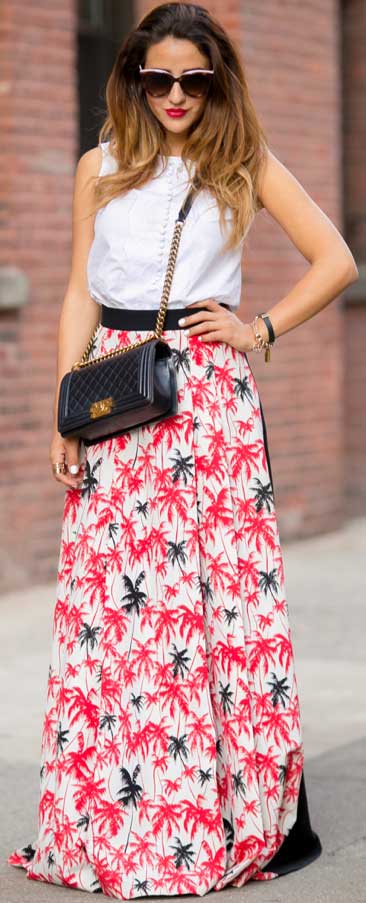 Lightweight maxi skirt is always a good choice for a hot summer day. For everyday cool, wear your print maxi skirt with a basic tee and a leather jacket. Finish the look with a pair of comfortable sandals, wedges or  ballet flats. Super girly and easy-to-wear!
4. Leather Maxi Skirt + Denim Blouse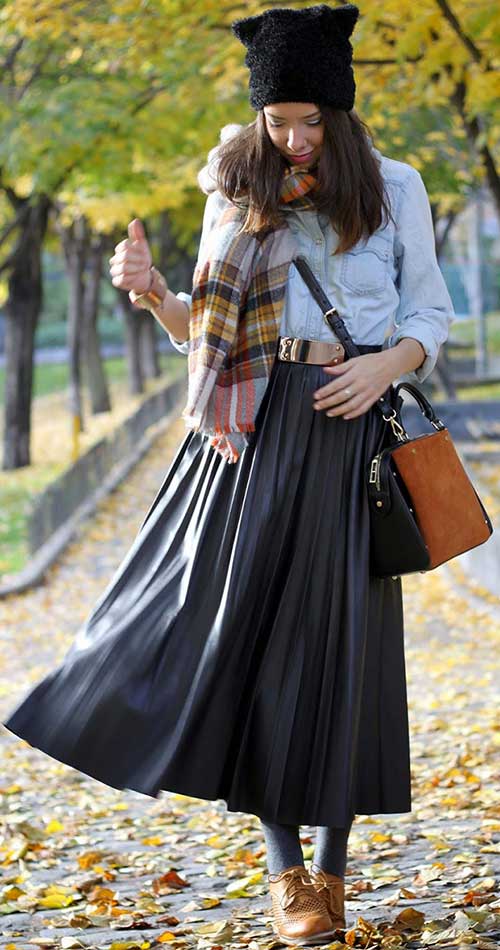 Leather maxi skirt is perfect for on-trend day dressing. When weather cools down, layer with grey tights, comfortable shoes and big plaid scarf. There are so many outfits that can be created with leather skirt. Don't be afraid to leave your comfort zone!
5. Brown Maxi + Sweater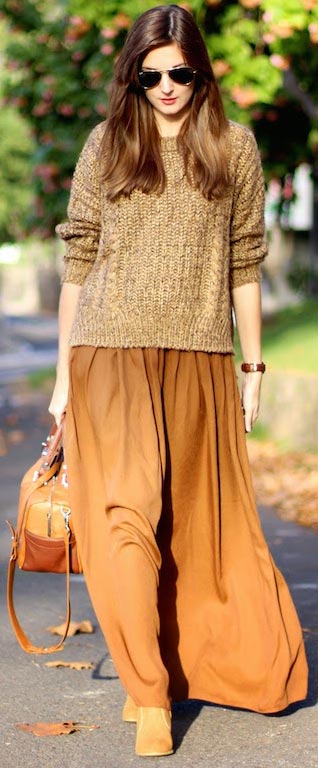 This fall, swap your skinny jeans for a maxi skirt. Cozy sweater looks perfect with a brown maxi skirt and leather bag. During super chilly days, add layers over a sweater to stay warm and fashionable. Top it with a trench, leather jacket, coat or faux fur. In 2015, layering is everything.
6. Edgy Outfit with Black Maxi

Source: tumblr.com
Black maxi skirt can be worn in a million different ways – with comfy sweater, oversized tee, blouse, blazer, crop top, graphic tee, etc. Big hat adds a dose of attitude to this edgy and cool look.
7. Mint Maxi Skirt + White Top

Maxi skirts are easy to style in summer. Comfortable and cool, this mint maxi skirt is a summer staple. The pastel accessories are the perfect color for summer.
8. Grey Maxi Skirt + Heart Sweater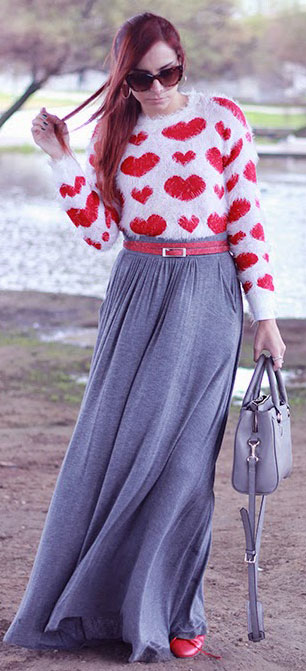 This combination makes for a very stylish and comfortable look. When styled right, a maxi skirt can look amazing in the fall and winter. Add red belt and flats to add some color.
9. Fall Outfit

Get through a cold, fall day without sacrificing your style. Pair your maxi skirt with your favorite sweater, plaid scarf and hat for a lovely yet warm look.
10. Winter Outfit

Beat the winter blues with maxi skirt in bright red color. Snow and cold doesn't mean that we only have to wear big sweaters and jeans, right? Dress your red maxi with a grey tee, beige faux fur and oversized clutch.
Simple V-neck tee looks cool and fresh when tucked into a maxi. Also, leg warmers and full length socks are more comfortable when you wear them under skirt, rather than under jeans.
11. Boho Maxi Skirt Outfit

This outfit screams bohemian beauty, right? To avoid bulky look, choose off shoulder sweater. Top the outfit with a felt floppy hat in camel and you are ready for a festival.
12. Plus Size Maxi Skirt Outfit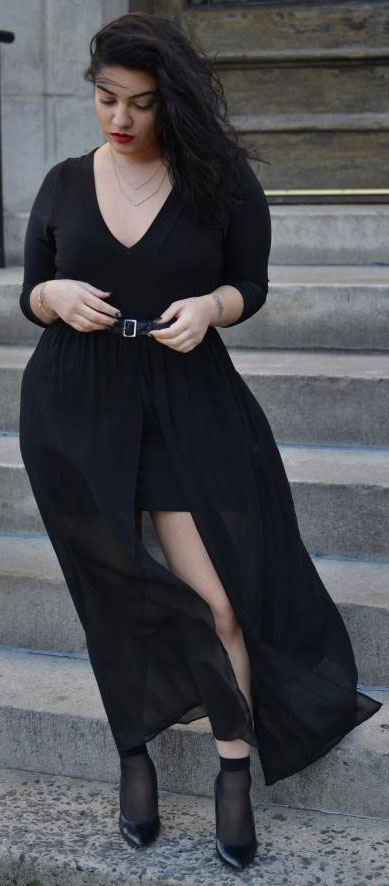 For some day time va-va-voom, style black maxi with a basic V-neck shirt, black heels and sheer socks. Add a bold clutch or bag for a pop of color. Don't forget to belt the whole look.
13. Striped Top + Leather Jacket Outfit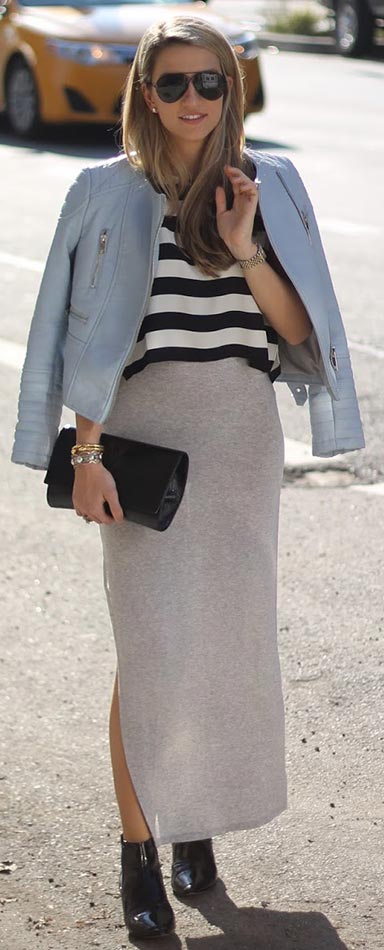 Stay fashionable and gorgeous by wearing your grey maxi with a striped crop top and baby blue leather jacket. Black ankle boots and clutch, keep this outfit from being too casual.
14. Red Maxi Skirt + Print T-shirt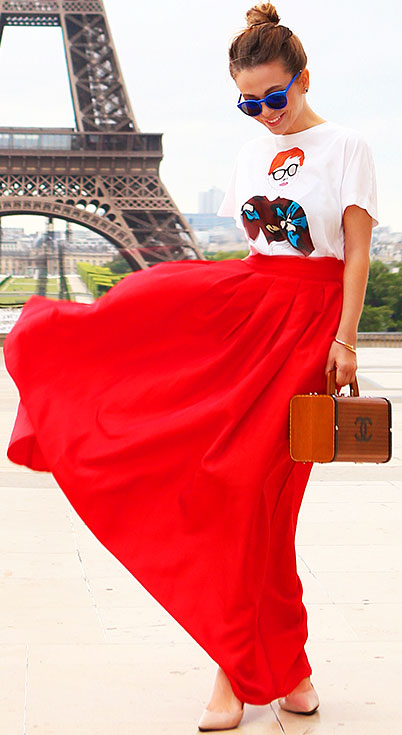 Go for a casual but super chic look with your red maxi skirt and a graphic T-shirt. In this outfit, people won't be able to take their eyes from you. So bomb!
15. Floral Maxi + Sweater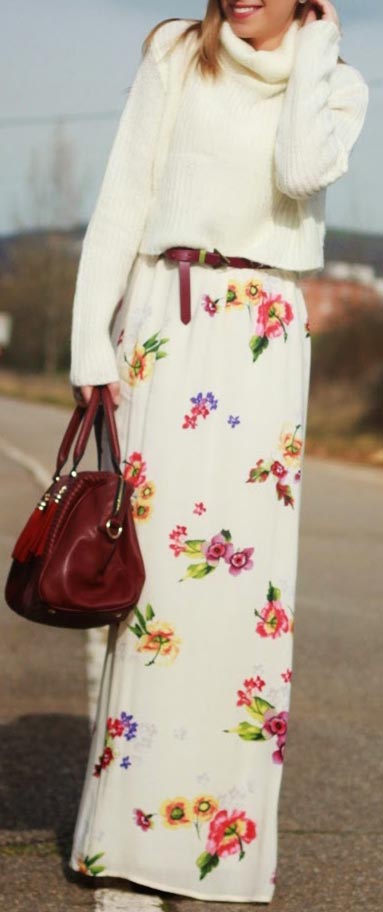 You can easily transform your favorite old maxi dress into a maxi skirt by topping it of with a cozy sweater. Perfect for fall or winter weather! The off-white color works perfectly with burgundy accessories.
16. Black Tulle Maxi Outfit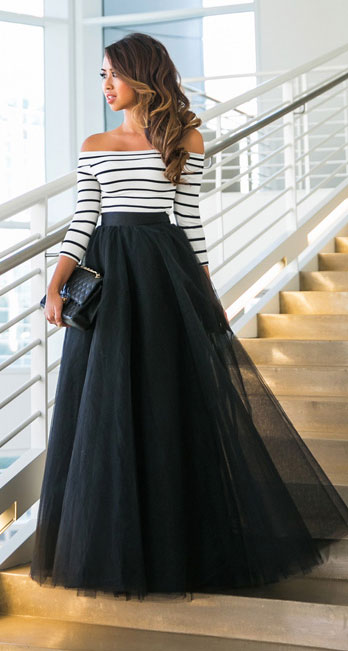 Look red carpet-ready in this gorgeous maxi tulle skirt in black. A striped, black and white shirt and a black maxi skirt is a classic combination. You can't go wrong with it!
17. Maxi Skirt + Ankle Boots

Yes, ankle boots and maxi skirts go together like a peanut butter and jelly! We love the combination of colors.
18. Like a Princess

We're kind of obsessed with this whole look. It's breathtaking! This is one of those magical outfits that makes you feel so pretty and elegant the moment you put it on. It's time to channel your inner Carrie Bradshaw!
19. White Maxi Skirt + Leather Jacket

Combine your leather jacket with white maxi skirt for a stylish, rock and roll outfit. Leather jacket is always a good choice for an edgy and soft combo – it will keep you warm and chic.
20. Grey Maxi Skirt + White Button-up

Layer a white button-up and brown leather vest for an easy fall transition. Wear the button-up tucked into the skirt. Cinch it at the waist with a matching belt.
21. Gold Sequin Maxi

Everybody knows that sequins can be tricky to wear. Luckily, this fashion blogger showed us her way of wearing this statement piece and it's – gorgeous!
Even though this maxi is gold sequin, it's very versatile. Make sure to tuck in your tee to give the outfit shape. For the final glam touch, top your outfit with beige faux fur.
22. Casual in Sequins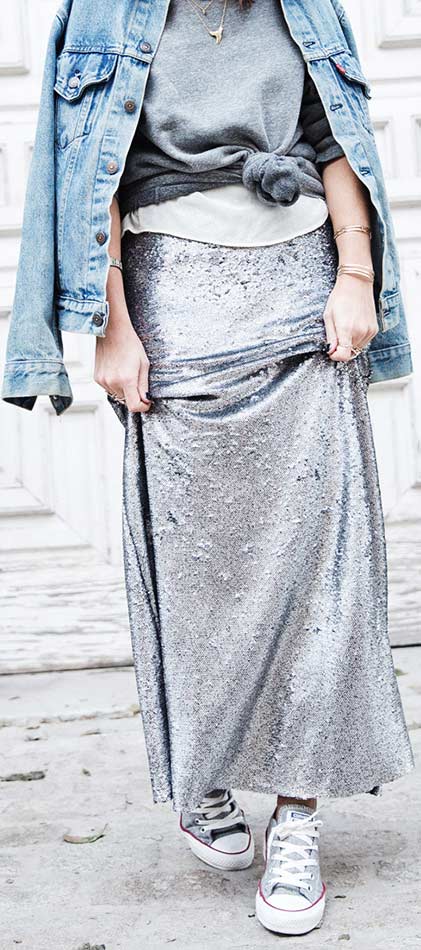 Source: tumblr.com
Sequins aren't only reserved for special occasions and nights out. The skirt is perfectly paired with a grey sweater that's tied into a cute knot and grey Converse sneakers. If you need more warmth, you can top the outfit with oversized denim jacket.
23. Crop Top + Pink Maxi Skirt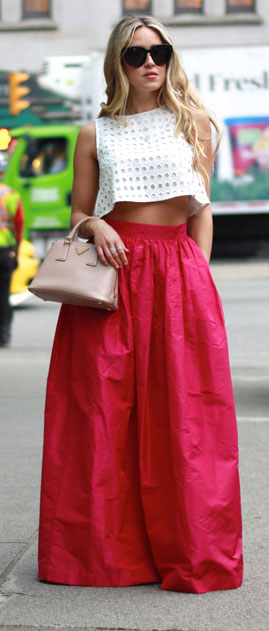 Crop tops look best when paired with maxi skirts. This outfit is minimalist and romantic which makes it perfect for a warm weather formal occasion.
24. Sheer Polka Dot + Leather Jacket

Source: tumblr.com
With a simple white tee, leather jacket and ankle boots, this lovely maxi skirt transforms into an effortlessly chic daytime look. Accessorize with a simple long necklace and few bangles in the same color.
25. Denim Blouse + Grey Sheer Maxi Skirt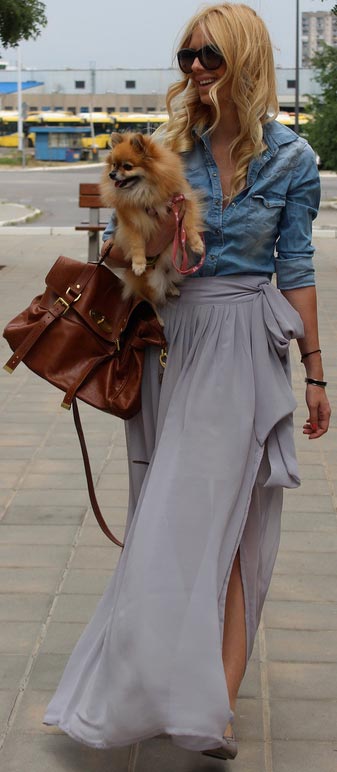 The grey color of the skirt goes beautifully with the washed out denim shirt. Wear your maxi skirt at your waist if you're short.