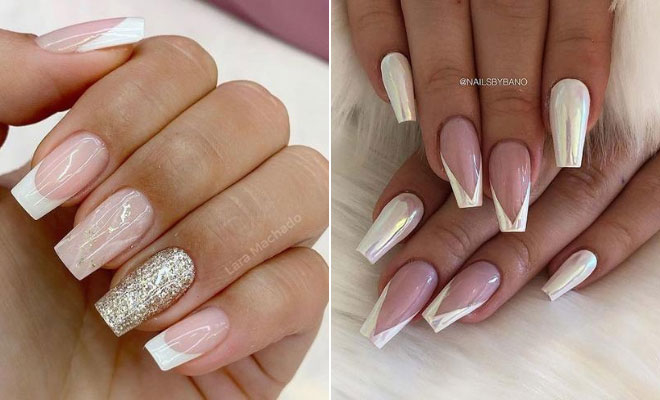 Instagram
Beauty
23 White Tip Nails That Will Never Go Out of Style
By
|
11. White Flame Tips
If you do like to keep up with nail trends, then this idea is for you. Here we have beautiful coffin nails and each one has a different design. The nail art includes ombre and fierce flames! Some of the nails have white tips and some are silver glitter. It is a very trendy idea and we love how the white tip turns into a flame. You can find flame nail art tutorials online.
12. Bold Nail Design
The next nail idea is bold and chic. So, this is another more classic look but the tips still make a statement because of the shape and size. The nails are all light with the white tips. But the tips cover a large section of the nail, so they really stand out. This is just another pretty way to wear white tips.
13. Matte Nude Nail Design
We love this next nail idea, it is one of our favorites. The nails are long and are a coffin shape. Each nail is matte and light with white nail art on the top. The nail art has a white tip outline so it has the curve further down the nail with the straight line on the tips. It is such a cool and unique idea!
14. French Ombre Nails with White Edges
This next mani is so pretty and magical! For this look, the nails are a trendy coffin shape. These nails don't have the striking base but more of an French ombre vibe. Each nail has a thin, white edge that is a modern version of a French tip. You can recreate this or use the more classic white tips, maybe add some sparkly rhinestones for that wow effect.
15. Short French Tips
A lot of images of French tips will be quite long but you can recreate the design on shorter nails as well. Here is a great example. As you can see, the nails are a short and easy to wear shape. The nails have the classic nude and white combo. Nails like these will suit everyone and they can be dressed up or down to suit any occasions.
16. V Tips and Rhinestones
Next, we have another v tip look. This time the nails are a long coffin shape with the nude color and white tips. The mani is complete with two rhinestones on each nail. It is a fun and trendy design that is perfect for those who like a little bling and sparkle. You can buy rhinestones online and stick them on with nail glue.
17. White Tips and Butterflies
Earlier in the post we shared a butterfly design and if you loved that, then you need to see this one too. Here we have long coffin nails and each one is nude with white v tips. Each nail also features butterflies or rhinestones. This is a pretty and glam idea, it also shows another way to wear butterflies.
18. Pink Glitter with White Tips
We love this next nail idea. For this look, the nails start with pink glitter and then the white tips are added at the ends. This is another one of our favorites because it is like a glam and sparkly version of the classic French mani. The glitter looks gorgeous with the white tips. Recreate this or you can try a lighter shade of pink.
19. Trendy Matte French Ombre Nails
Some people may not like the striking white tips. On most manicures the white shade is very bright and there is a sharp line between the two colors. But this version could be the answer. The nails are long and coffin shaped. Each one starts with a light pink color and then the color blends to white which creates a softer ombre look. So, you get the white tips and classic look but it is not as bold as the other design. It is such an elegant idea.
20. Short V Tips with Rhinestones
This next idea is another one of our favorites! Here we have shorter nails and some are nude with white tips while others are nude with different designs. Every nail has sparkling rhinestones while the accent nail is covered in tiny textured rhinestones. It is such a fun, sparkly and gorgeous nail idea. The shorter nail length makes the mani easy to wear.
21. Glitzy and Glam Nail Idea
Next, we have another glitzy and glam nail idea. Some of the nails are nude with the white tips and two nails are nude white rhinestone art. It is a gorgeous nail design and it is perfect for parties and special occasions. Recreate this or try one of the accent designs instead of wearing both.
22. Artistic Stiletto Nails with White Tips
Looking for a more unique nail design? If so, this could be perfect for you. Here we have sharp stiletto nails. Three different designs have been used. Two nails have nude ombre with white tips, some nails are nude and one nail on each hand has an artistic face. It is a fun and trendy look and it is perfect for those who want to try something a little different.
23. White Tips and Cherries
The last nail idea is fun, pretty and summery. For this look, the nails are a trendy square shape. The nails are also nude with the bold white tips. This design is complete with cute cherries! It is a gorgeous and cute design that also has a vintage 50's vibe!
We hope you have found a stylish nail design to try!